Khudi Ali archive on Shia genocide in Pakistan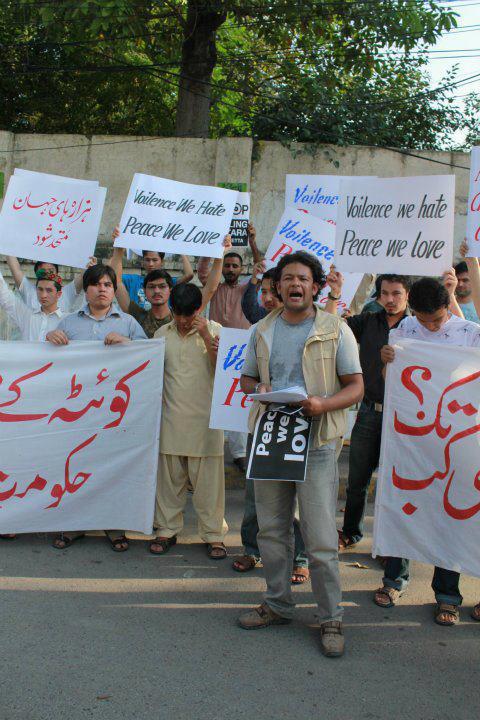 Shaheed Irfan Ali (Khudi Ali), a Shia Hazara peace and social activist, embraced martyrdom on January 10, 2013 in the second of the two blasts at Shuhada Chowk (Pearl Chowk, previously), Alamdar Road, Quetta while he was helping out the Shia and Sunni victims of the first bomb blast by Deobandi terrorists. Shaheed Irfan Khudi Ali was a leading voice from Qutta on Shia genoide and a symbol of an untiring struggle for human rights and peace.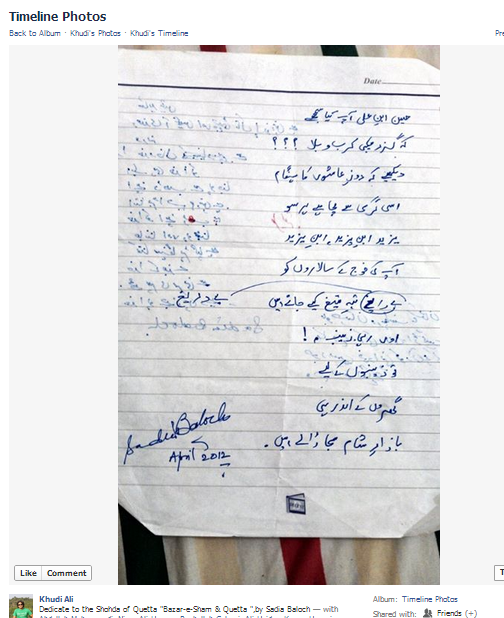 Khudi Ali: Dedicate to the Shohda of Quetta "Bazar-e-Sham & Quetta ", by Sadia Baloch: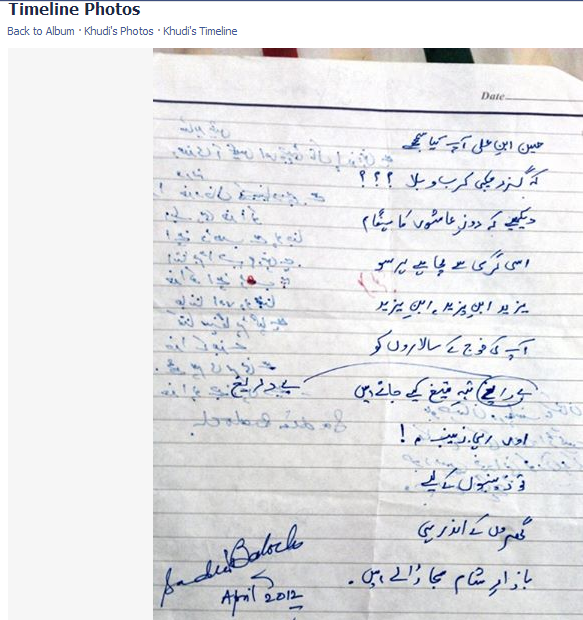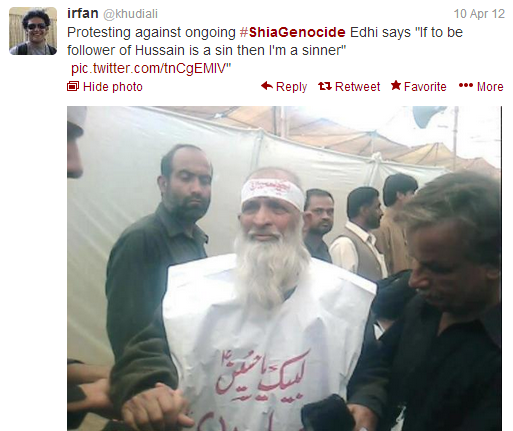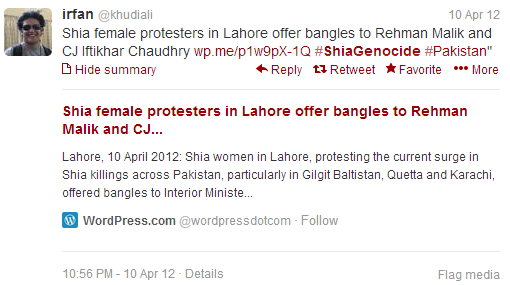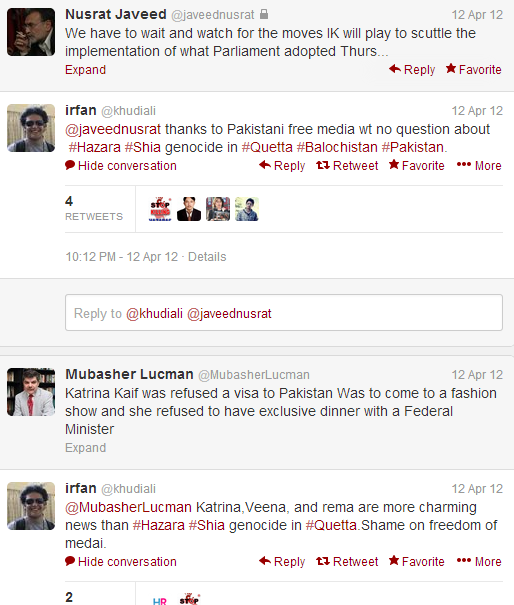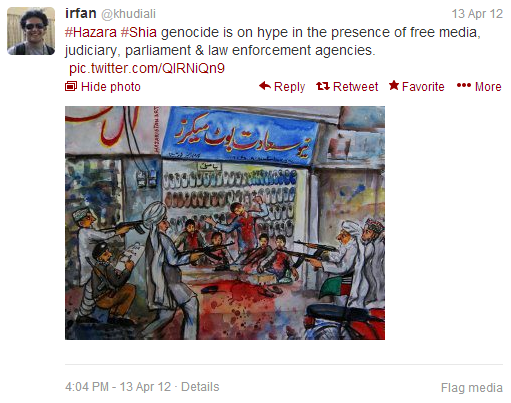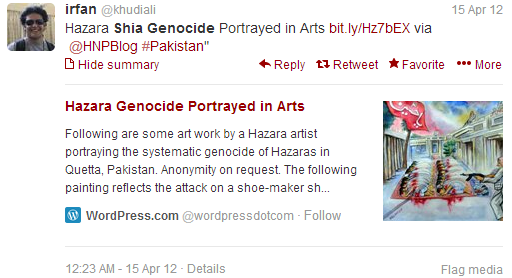 ————-
RIP @khudiali . The Shia Hazara community, Shias around Pakistan, and all other oppressed groups will miss you. #ShiaGenocide

Quoting @khudiali from what he told me at SOCMM #Pakistan: 'My people the Shia are dying. If I die, I want to die trying to help them'.

Sad to hear about @khudiali 🙁 Met him in Karachi and Islamabad. A brave fighter who fought for Shias and spoke against the Shia genocide.

@AnjumKiani One of My follower died in quetta blast today @khudiali My heart cries :(( He killed just because he was Shia :(( I cant believe

One of My follower died in quetta blast today @khudiali My heart cries :(( He killed just because he was Shia :(( I cant believe :((

Please say a prayer for Irfan @khudiali, an extremely cultured and vocal representative of the Hazara Shia cause, who died in Quetta blast.

What happened to @khudiali may happen to every single Shia, Ahmadi, moderate Sunni if we don't rise against Deobandi militants.

My God. @ShirazHassan is telling me that young Shia Hazara activist @khudiali is martyred in Quetta today. My God. I can't believe.

MT @nighatdad friend just confirmed that Irfan Khudi Ali @khudiali a young activist against shia genocide lost his life in Quetta blasts 🙁

A friend just confirmed that Irfan Khudi Ali @khudiali a young activist against shia genocide lost his life in twin Quetta blasts 🙁

Although supreme court ordered media in #Balochistan not 2 issue LeJ & SSP pres releases they openly gv thr statements 2kill #Shia #Hazaras

#Pakistan #Shia killing is confused wt mere sectarianism whl its deeper than that as SSP hijacked the historical term ahle sunnat wal Jamt

Lakki Marwa Southern Districts of Khyber Pakhtunkhwa in #Pakistan suicide bomber attack in Mohala Syedha near #Shia Immambargha

LeJ killed a #Shia police inspector in Pashen #Quetta,LeJ SSP hijacked name of Ahle Sunnat Wal Jamaat,& justified #terrorism

LeJ SSP filled walls 8 #Quetta Sabzal rd wt slogans aganst #Shia "Shio ka aik ilaj, aljihad aljihad","Jo Shio ka hami hai,wobe harami hai"

@khudiali: the death of a wanton killer of religious convictions should make their loved think that shia victims have families too 🙁

@MKKhan_ @beenasarwar religious clergies in international conference i ask abot sectarian killing of Shia & the response ws very cool

@khudiali because a big chunk of them r recruited from waziristan; anti-shia feelings very high amongst them. #Hazara's #Quetta

SSP lder Allama Abdul raham sajid,Hafiz nazir ahamad farroqi molan manan Jangvi mohammed mangal comnder umar Lahari provoke ppl agnst #Shia

"I visited Hazara graveyard in Quetta shocked seeing 700 hundred ppl rest thr,Dr,sportman,4 year boy, killed 4being Shia",senator Nilofar

"@roohgulzari: In 2012, at least 320 members of the #Shia population have been killed in targeted attacks. Human rights watch report."

1thing I want 2clear #Hazaras nevr tried 2impose thr faith on others,we hv alwys ben tolerant,its others made us feel we r #shia kill them

@hasnain300 This time more than thousands of #Shia #Hazaras seems to be targeted Rahman Malik just issues press statements,ppl need action

I request govt nt waste its energy on giving FC police power rather publish a white paper exposing real perpetrators of #Shia #Hazara kilng

@khudiali Jo Masoom Awam Kay Darmiyan Nafrat Kay Beej Bote Rahe Lakin Hum Her Us Aalim/Zakir (Sunni or Shia) Jo Nafrat Phailata Hai Usko 1/3

Rimsha u wr abot 2set ablaze bcz of #blasphemy,be strong #Shia #Hazaras are wt you, r butchered becz they r Kafirs n thr blasphemous faith

DPO Hamid Shakil has arrived 4 negotiations #Shia #Hazaras,but we have been confused and fooled with such negotiation 4 more than 10 years

This happened last night whn LeJ ppl killed & 2day the news totally twisted & distorted seems big conspiracy against #Shia #Hazaras

I knw most ppl get unhapy when we share news/reports/comments/talks abot #Shia Killing in #Pakistan,well we wnt 2tell the world abot justice

@sharmilafaruqi nice to remind abot the culture of silence on #Shia #Hazara Killings,bt don't worry more deaths & killing still planned 4Qta

After #Shia #Hazara police & Immbaragha attack in a meeting held by HRCP,late president press club Qta Ikramullha sd agencies pressure them

A journalist who wrote abot #Shia Killings in #Quetta was called by agencies threatened him becz he raised question abot Saifullha Kurd

Even a journalist who wrote abot #Shia killings in #Quetta when his atrial published he was called by the agencies & threatened

@khudiali Did you watch the video released today or whenever of the two Shia victims in Quetta? Why doesn't it shake everyone's conscience?

The local buses #Shia #Hazara ppl run frm Alamdar road 2 Pashin-bus stop now stopped due2 target killing & #terrorism,hundreds of ppl suffer

These campaigns against #Shia community is well known 2 Police FC Army & its intelligence services bt no action taken against LeJ-AHRC p298

#Quetta Dr arbab Ghulm Rasool released on interference of tribal leaders & govt high ups,bt when Shia Hazaras are kidnapped dead bodies come

Prof Ibrahim of Jamte Islami says shia killing is becz of #America bt Jashe #Islam claimes the killings in Qta,Jamte Islami & media confuses

@khudiali Its beyond acceptance, declared as infidels #Shia Muslims are supposed to be wajib ul qatal here … how degrading!!