Helpless Shia Muslims of Pakistani Gaza, Parachinar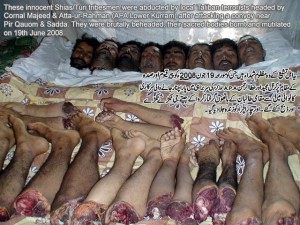 Parachinar is the capital of Kurram Agnecy and the largest city of FATA.Parachinar is situated on a neck of Peshawar is the closet point in Pakistan to Kabul and borders of ther Tora Bora.
Parachinar was a peaceful and beautiful area but now it has become a hell for shia Muslim.Taliban Militants looted and  shot dead the Shia Muslims.01-Oct-1986 FATA Parachinar Attacks by Fake Mujahideen on Shias of Parachinar and 13 shias were killed. Since 2007, at least three thousand Shia Muslims have been killed by Saudi-funded Takfiri Taliban and Sipah-e-Sahaba in Parachinar. Shia villages have been attacked, passenger buses and cars ambushed, innocent Shias beheaded or burnt alive; their bodies cut into pieces; dozens of women and school children have been killed.On 10 April 2007 35 people killed by haevy firing by Taliban.On 4 August 2007  Nine People were killed and 43 injured when a suicide car bomber triggere an explosion at a busy station in Parachinar.On 17 to 19 Nov 2007 94 people killed and 168 injured by heavy firing by taliban.
On 16 Februray 2008 a suicide bomber in Parachinar killed 47 people and 93 injured attending a politcal rally of PPP.On 19 june 2008 12 shias  were abducted by Local Taliban terrorist headed by Cornel Majeed and  Atta ur Rehman.After attacking a convoy  they were brutally beheaded,their scared bodies burnt and mutilated.On 23 August 2010 7 people were reportedly killed in a separate bomb attack.On 9  September 2010 at least 10 people were killed and another 6 others were reportedly injured after a passenger van struck a roadside bomb.On 9  December 2011 a landmine blast occured when a ontingent of securtiy forces stepped on it.On 17  February 2012 a suicide bombing in bazar in Parachinar.targeting shia Muslims ,killed 41 people.A splinter group of the Tehreek-i-Taliban Pakistan claimed responsibility for the attack.On 27 2013 July a blast in Parachinar killed 60 people and injured dozens.
Parachinar has beocme a Pakistani Gaza for 5 years.Parachinar has also been 5 years long blocked and there is no ground communication of Parachinar with the rest of its own country for the same period of time. The poeple living in the area has been facing severe humanitarian crises due to lack of foods, medicine and other basic amenities. The children are being dead due to lack of medicine.The government of Pakistan is completely silent over the blockage and is unable to solve the problem due to a large number of terrorists present in the area.The Shias of Parachinar are extremely traumatised due to the death and destruction caused, especially the road blockade since 2007.The residents of the Parachinar, upper and lower Kurram agency used to travel for provincial capital Peshawar through Afghan province Paktia and Kandahar since November 2007, when pro-Taliban  militants cut off the areas from the rest of the country, imposing a crippling blockade on the Shia communities in the region.
Now we ask the people of Pakistan why are Islamist and Liberals silent on Parachinar,the Pakistani Gaza? The people of Parachinar are also human beings, They also want to live in this world. What´s their fault. Why Taliban kill them? We demand to Government to  help them.They also want peace, justice, humanity, solidarity and a happy life. There are so many sects, religious groups and humans in this world and Shias are also a part of this. They are innocent people. So in the name of God please stop killing of  shia in Parachinar.
Now we want to draw the attention of Government and armed institutions towards the news according to incident in Parachinar on Friday 27 July 2013 still the dead bodies of many them are not even taken to hospital.National and international newspapers and magazines are continuously peblishing the reports that a country of Middle east is invsting huge amount for terrorism,ethnic,communal and sectarian violence in Pakistan.We demand to Government of Pakistan to take a serious notice of such reports and take effective measures to control the wave & epidemic of terrorism from counrty.
sources:- http://pakistanstudentsblog.blogspot.com/2013/06/history-of-shia-killing-in-pakistan.html
http://en.wikipedia.org/wiki/Terrorist_incidents_in_Pakistan_in_2013
http://worldshiaforum.wordpress.com/2012/11/21/why-are-islamists-and-pseudo-liberals-silent-on-parachinar-the-pakistani-gaza-by-abdul-nishapuri/
Comments
comments