U.S. Commission's report on faith-based violence and target killing in Pakistan (Jan 2012-Jul 2013)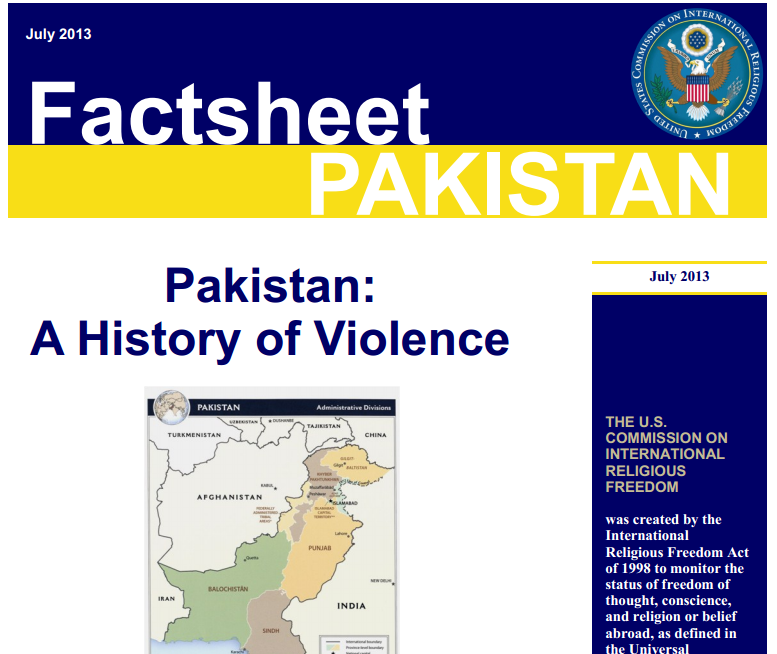 U.S. Commission on International Religious Freedom has published painful facts on the state of faith-based violence and target killing of religious communities in Pakistan. Over 90% of causalities in religiously motivated violence in Pakistan are Shia Muslims. It may be noted that Deobandi militants have also killed moderate Sunni Muslims in addition to Shias, Ahmadis and Christians.
The Pakistan Religious Violence Project, an undertaking of the U.S. Commission on International Religious Freedom, tracked over the past 18 months publicly-reported attacks against religious communities in Pakistan. The findings are sobering: 203 incidents of sectarian violence resulting in more than 1,800 casualties, including over 700 deaths. The Shia community bore the brunt of attacks from militants and terrorist organizations, with some of the deadliest attacks occurring during holy months and pilgrimages.
While Shi'a are more at risk of becoming victims of suicide bombings and targeted shootings, the already
poor religious freedom environment for Christians, Ahmadis, and Hindus continued to deteriorate, with a
number violent incidents occurring against members of these communities.
The Project's findings paint a grim and challenging picture for the new government of Prime Minister Nawaz Sharif. It was positive that the Prime Minister raised concerns about religious minorities during his maiden speech before the National Assembly, as well as travelled to Quetta after a recent bombing targeting Shi'a and tasked his government to act. However, concrete, resolute action is needed to ensure that perpetrators of violence are arrested, prosecuted and jailed. To stem the rising tide of violent religious extremism, groups and individuals responsible for attacks on religious communities must be punished.
Download full text of the report (PDF): Pakistan Factsheet July 2013 FINAL
Period: Jan 2012 – July 2013
Victims:
635 Shias, 22 Ahmadis, 11 Christians KILLED
834 Shia, 39 Ahmadis and 36 Christians INJURED
77 attacks on Shias, 54 on Ahmedis and 37 on Christians
Perpetrators:
According to empirical data collected by the University of Pennsylvania, radical Deobandi militants belonging to Sipah-e-Sahaba (currently operating as Ahle Sunnat Wal Jamaat Deobandi ASWJ or Lashkar-e-Jhangvi LeJ) allied with another Deobandi outfit Tehreek-e-Taliban Pakistan (TTP) are responsible for 95% of terrorists activities in Pakistan.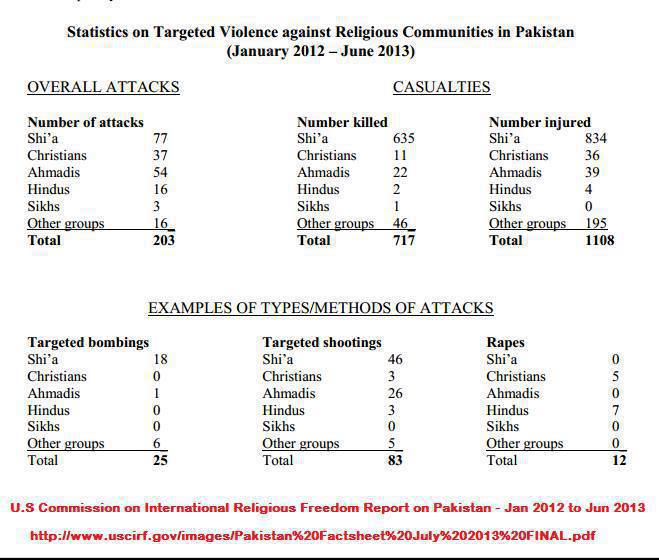 Comments
comments