Quaid's residencey to be rebuilt but who will rebuild Quaid's Pakistan? -by Nasir Saeed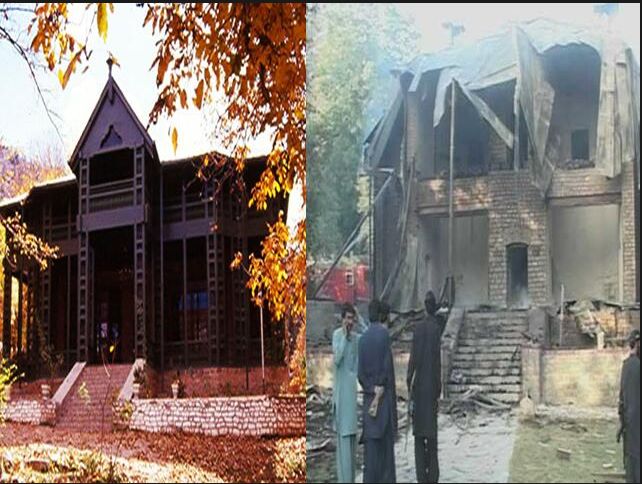 There has been an understandably strong reaction to the burning of Quaid e Azam's residence in Ziarat, near Quetta, and the destruction of most of his belongings. Every Pakistani has grieved whether they are Muslim, Christian, Parsi, Hindu or Sikh. Not only in Pakistan, but throughout the world wherever they are living, Pakistanis have condemned this heinous crime. The announcement from the government of Pakistan that the residence will be rebuilt in a few months goes some way to redressing the pain of the people and is an important gesture.
The Ziarat residence is a national treasure and national treasures are always precious and a source of pride for the people of any country. These assets always have myriad stories bound up in them and must be safely and responsibly passed on to the next generation so that they can also treasure and learn from them. Those nations that do not take care of and are ignorant of how important such landmarks are stand to lose respect in the world.
Pakistanis have a lot of love and respect for this residency building not only because of its part in the story of our nation's father, but also because it reminds us of the history and formation of Pakistan. I cannot help but feel we are all – including our government – responsible for the disgraceful attack on this monument.
The issue of Baluchistan has not been taken seriously and the new government must review this as a matter of priority. Although the new Prime Minister has set an encouraging precedent by appointing a non-Sardar Balouch Chief Minister and Governor, both short and long term polices are needed to fix the problem before it is too late.
In the recent election, the slogans promised the making of a new Pakistan and the making of Quaid's Pakistan. Although these were election slogans, the government and politicians shouldn't forget they were entrusted with votes because people believed in these promises. Quaid's Pakistan is needed much more than ever before if Pakistan is to grow into a peaceful and prosperous country.
It is sad that even after 65 years we are not even close to the kind of Pakistan envisaged by our Quaid. His speeches and public statements are all available to us and there is no room for ambiguity about his vision for Pakistan, but unfortunately some are interpreting and translating them for their own benefit – to the exclusion of women and religious minorities, who Quaid always saw as equal citizens.
I believe he would be saddened and horrified to know that religious minorities have not been given equal rights or status from the outset. Every government since the creation of Pakistan has followed suit, negating religious minorities into second class citizens. This injustice has even been recognised by Pakistani President Asif Ali Zardari, who admitted in his sixth presidential speech in parliament "that the women and minorities were the most vulnerable groups and efforts to protect and empower them needed to be kept up". "There is also a need to further strengthen interfaith harmony and prevent misuse of blasphemy law for settling personal and political scores," he added.
Minorities and women have become vulnerable in Pakistan but our Quaid had a very clear view of how they were to be treated. In a speech at Islamia College for women on 25 March 1940, he said: "I have always maintained that no nation can ever be worthy of its existence that cannot take its women along with the men. No struggle can ever succeed without women participating side by side with men. There are two powers in the world; one is the sword and the other is the pen. There is a great competition and rivalry between the two. There is a third power stronger than both, that of the women."
On more than one occasion, Quaid assured minorities that they would be equal citizens of the country. In his famous speech of 11 August 1947, he said: "We are starting with this fundamental principle that we are all citizens and equal citizens of one State." He stated further: "You are free; you are free to go to your temples. You are free to go to your mosques or to any other places of worship in this State of Pakistan. You may belong to any religion, caste or creed –that has nothing to do with the business of the State."
A year after Pakistan gained independence, he said in a recorded talk to the people of the United States of America: "We have many non-Muslims – Hindus, Christians, and Parsis –but they are all Pakistanis. They will enjoy the same rights and privileges as any other citizens and will play their rightful part in the affairs of Pakistan." On another occasion he said: "We are now all Pakistanis–not Baluchis, Pathans, Sindhis, Bengalis, Punjabis and so on–and as Pakistanis we must feel behave and act, and we should be proud to be known as Pakistanis and nothing else."
Sadly we have all forgotten what our Quaid said and set our own guidelines for the new country with the inevitable consequence we are now living in a totally different Pakistan. International organisations have noted the callous mistreatment of minorities and the serious violation of their rights. It is difficult to deny all the abuses and crimes against women and minorities. The time has come for the government to form an institution similar to the Council of Islamic Ideology to help the Pakistani government make policies and laws that will make real the vision of Quaid e Azam. It is the responsibility of the present government and the politicians who promised Quaid's Pakistan during their election campaigns.
Hindus are leaving Pakistan for not being treated equally and Christians are crying out because of the persecution against them as their towns and churches are torched; they are fearful about their future in Pakistan. I have no doubt that the Quaid i Azam Residency will be rebuilt, but I still question who will rebuild Quaid's Pakistan, a Pakistan where JN Mandal, CE Gibbon and Sir Zaffar Ullah khan are not treated on the basis of their religion, but are seen only as the Pakistanis they are.
The Writer is Director of UK based Centre for Legal aid Assistance and Settlement
Comments
comments