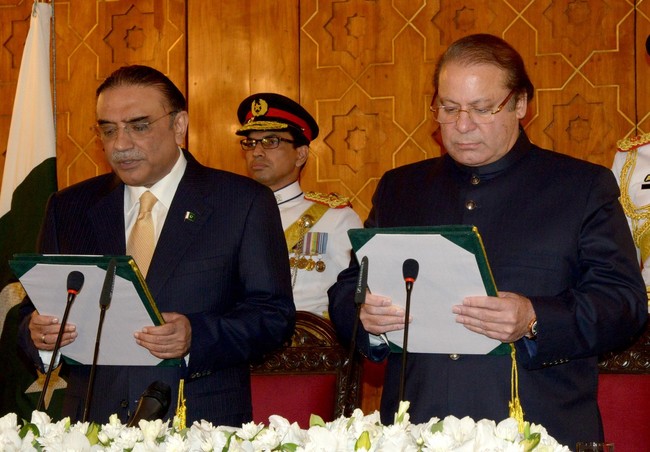 With the election of Mian Nawaz Sharif as the Prime Minister of Pakistan for the next five years, the process of Pakistan's transition from one democratic regime to another was concluded.
Out of the 317 votes cast, Mr. Sharif secured a resounding 244 votes – two thirds of the National Assembly – defeating Pakistan People's Party's candidate Makhdoom Ameen Faheem who got 42 votes and Pakistan Tehrik-e-Insaf's Makhdoom Javed Hashmi who got 31 votes.
Following his election, Mr Sharif gave his maiden speech as Prime Minister elect, hours before taking the oath of office.
Saying all the right things, his speech appeared to be a mixed bag aimed mostly at attempting to woo a range of political parties that are still trying to position themselves in the new political reality, and trying hard to balance the high horse of campaign rhetoric with a carefully administered reality injection to his constituent.
The fact that he was not able to secure the status of a Prime Minister elected unopposed like the PPP did in 2008, might be slightly discomforting to him and his party.
Sharif has been trying hard to win the title of 'statesman' ever since the results of the 11 May elections. Thursday's speech reflected the same approach wherein he expressed his willingness to consult with all the parties on issues of vital importance.
As a shrewd politician, he played his cards really well in Khyber Pakhtunkhwa and Balochistan. His party was in a position to make coalition governments in the troubled provinces of Khyber Pakhtunkhwa and Balochistan but gave way to other parties. Given Pakistan's flawed national security policies with tied hands under coalition government, Sharif knew he would not be able to deliver on his election promises. The smarter path was exactly what he chose to do – cede the trouble to others while enjoying media praise for being statesmanlike and sagacious.
The speech was an assortment of sweet talk with his election rivals, a reality check on his own election slogans and continuation of carefully chosen rhetoric. He admitted the gigantic imbroglio of problems that Pakistan confronts, but still failed to offer solutions or even a logical prioritization of the issues his government would be taking up.
Most of his emphasis remained on infrastructure development, economic revival and political stability, completely shutting down on the complex nature of inter-related causes. In his thirty minute speech, he did not utter the word 'terrorism' even once. Even when he made a passing reference to the looming violence in the country, he used the word 'bad-amani' (absence of peace) and extremism.
There was a peripheral comment on the need to 'safeguard our minorities' but no reference to sectarianism. Considering the hyperbolic increase in cases of targeted killings of Shias and terrorist attacks on them over the last few years in particular, it would not be too much to expect the new Prime Minister to clearly put out his position thereon. His party, not to forget, has had links and even electoral adjustments with the sectarian organizations. In 2010 PMLN's Punjab Law Minister was caught on camera with a leading sectarian terrorist figure in Punjab.
On economy too, Sharif's speech contained many promises of fighting corruption, nepotism and bad governance, but fell short of any concrete policy options to deal with macro-economic issues. The energy crisis figured in his speech with yet another promise to resolve it 'very soon' although there was no indication as to how he would do it. Infrastructure development, which has been an issue always very close to his heart, emerged as his primary focus in this speech too with promises of more roads and other big ticket items.
His dream project surfaced as a railroad from Kashghar to Khanjrab and Gawadar with a branch going up to Karachi. All this with the assistance of all weather friend China. What Sharif did not say however was who the railroad would cater to if terrorism and kidnappings of Chinese engineers continued.
And on the subject of China, Mian sahib in all his proverbial 'magnanimity', acknowledged the previous government's 'good work' in bringing China to manage the Gawadar Port in Balochistan. One can't help but recall his reaction when this agreement was signed months before the Elections.
In the presence of an American diplomat and son of slain Baloch leader Akbar Bugti, Mian sahib had said that the agreement was against the wishes of the people of Balochistan. Deciphering this change of position might be too early at this point, but it does indicate how the politics of Pakistan's political leaders is quietly dictated by the foreign factors.
Associated Press
Talking of economy and energy crisis, Sharif chose not to link these disasters with either increasing terrorism or flawed foreign policy choices mainly ordained by the military establishment. While he praised the previous government for the Pak-China Agreement on Gawadar Port, he skillfully quarantined the signing of the Pak-Iran Gas Pipeline project, one of the more sensitive areas for USA where Mian sahib has lately found many friends, as well as his old time Saudi friends who mediated his conflict with Pakistan's military dictator Pervez Musharraf.
When Mian sahib started dabbling in politics the state of Pakistan had already started succumbing to more and more Arabization in the form of cultural expression, social trends, political countenance, statute and statecraft.
With the current stint of PMLN, this tendency appears to be continuing and even thriving. His silence over Saudi sponsored extremism and the blind eye to Muredke's jihadists and Jhang's sectarian outfits need to be the moot point for debate. Trusting ultra right wing mainstream media, nothing of the sort could be seen happening in near future.
His failure to even mention even the superficial details of any counter-terrorism policy that his government would be pondering was worrisome. Whereas he tactfully avoided talking about foreign policy and terrorism, he did not miss demanding the immediate haltof drone attacks. As expected, he warned world powers to respect Pakistan's sovereignty but did not talk about the consequences of such breaches.
Eschewing any mention of violation of sovereignty by umpteen terrorist groups of foreign origins present in Pakistan's lawless tribal areas, he remained true to the establishment-backed narrative against the drones.
In the first few minutes of his speech, he strongly made the point of not repeating 'adventurism' and instead focusing on strengthening democracy. He appeared to be alluding to civil-military relations peculiar to his track record and hopes of liberal Pakistanis who would want him to strongly stand up to the excesses of the military establishment. Till a few days ago prominent dissenting voices in Pakistan were terming PMLN as the 'only anti-establishment' party.
Mian sahib, knowing the expectations of this constituency, has probably tried to tell them off at one hand and assured his uniformed watchers of his future conduct. He appears to be vowing to behave.
Despite having invited a couple of his Indian friends as personal guests to his swearing-in ceremony, Mian sahib avoided talking about the Pak-India peace process, not even mild measures for confidence building let alone heavier issues like trade with India or Most Favoured Nation (MFN) status. The speech brilliantly eluded the listener into believing it to be an altruistic and noble political gesture by inviting all the political actors on table for finding solutions to a 'jungle of problems' with little sense of priority and logical sequencing.
Speaking of decentralization lightly, the speech could not bring key requisites of the federalism project initiated by previous parliament, local bodies being one of them.
All in all, our new Prime Minister seems to have very little to offer in terms of concrete solutions based on even a rudimentary cerebral exercise. Good intentions can only be measured by the substance a government puts in its policy. For now, the new managers of Pakistan look as confused and clueless as the nation is.
Marvi Simed is a writer based out of Pakistan
http://www.firstpost.com/world/pakistans-new-prime-minister-speaks-what-he-didnt-say-847013.html