Why I am against Taliban Government – by H.A.Khan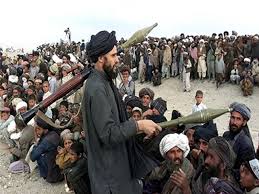 Yesterday I went to a cinema hall to watch an Indian movie. When our masses are being told that the lovers of Taliban and the extremist people whom want to bring a Shariah law in your country and it's the only way to a heaven in both worlds, at the same time I was so happy to see that the cinema hall was full with cinegoers and the large number of families came to enjoy a movie.There was huge rush and we didn't find a single seat vacant in the last show(From 10 pm to 1 am).Not a single thing bad happened and all the people had enjoyed the film with all joys and with clapping and whistling on some great performances.
After that film I began to think that why these Taliban lovers wanted to put my country to fell in the dark era.Whom have given them the right to decide about our destination and on whats principles.Why we are being divided and rule by this religious extremism and fanaticism over the years.Why these religious schools have been descanted into a child abuse and indoctrination of hatred.
I am indeed of this view that the religion should not be a matter of the state and people of all religions should live freely and out of any danger.I am against the implementation of any Islamic law because I firmly believe that if unfortunately this will happen in my country then that day will be considered the darkest day in our history,that day will be the announcement of the following acts.
The start of a dark era of hatred and extremism.
The start of killing all the people whom will have different opinions about religion.
The start of a day when you will be no more allowed to even think and dream.
The libraries will be put to fire.
The women will be cut off if they will come out of homes without mehrams.
All liberties for women will be banned.
Education will only enlighten not to think and just be a slave of past.
All sort of rights will be cancelled.
There will be more brutal acts introduced,so I am and will always voice against this implementation of any religious government.
I STAND FOR A STATE WHERE WE CAN LIVE INDEED FREELY AND WE CAN THINK & DREAM.
Comments
comments