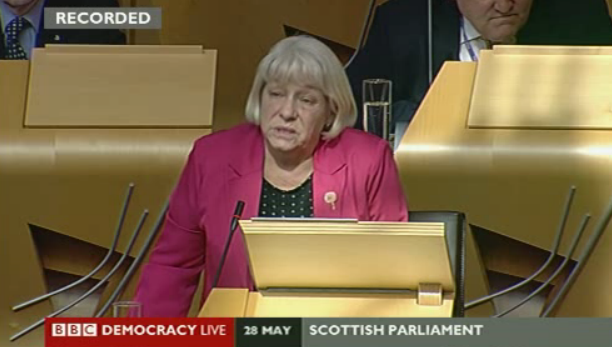 BBC (28 May 2013). SNP MSP Sandra White said it was right to condemn all extremism and violence as she lead her member's debate on sectarian attacks against the Shia community on 28 May 2013.
Ms White highlighted a series of attacks on the Shia community in Iraq, Syria, Lebanon, Pakistan and beyond. She in particular referred to the brutal murder of Shia lawyer Kausar Saqlain and his two young sons in Karachi by Takfiri Deobandi terrorists of the Sipah-e-Sahaba (currently operating as Ahle Sunnat Wal Jamaat Deobandi ASWJ-D).
The SNP MSP for Glasgow Kelvin said the recent attack in Woolwich had brought home the terrible impact of attacks and called on the chamber to "remember all those who have lost their lives in these terrible acts of violence".
Ms White praised the contribution the Scottish Shia community made to Glasgow and the country and said they had a "long long tradition condemning violence".
External Affairs and International Development Minister Humza Yousaf also condemned the violence against Shias.
Mr Yousaf said "We will do what we can with the UK government to end this evil scourge of attacks on Shia communities."
http://www.bbc.co.uk/democracylive/scotland-22693437
On behalf of Pakistan's Shia, Sunni and Ahamdi Muslims as well as Christian and Hindu communities, we thank Honourable NP MSP Sandra White for highlighting and condemning global sectarian violence against Shia Muslims by Jihadist Wahhabi and Deobandi militants.