Blood-soaked triumph of Islamofascism – by Mahpara Qalandar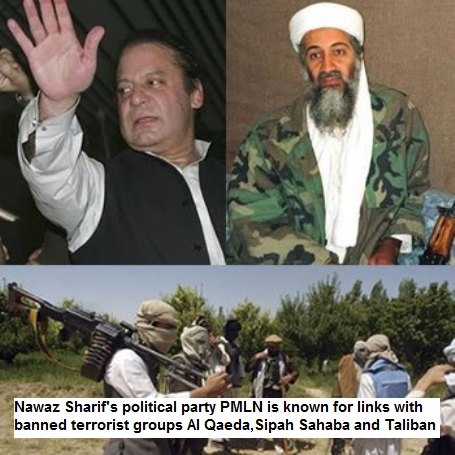 As we have been predicting at LUBP, Islamofascism has won as planned. So much blood of liberal elements was spilled under the wink of the Judiciary and the Army that the triumph of pro-Taliban parties like the PML-N and PTI was a foregone conclusion. Every powerful institution in the country contributed to the victory of Islamofascist parties. The media never condemned the Taliban. The almighty, arrogant anchors never took PML-N to task for giving tickets to LeJ/SSP/ASWJ terrorists despite the fact that these terrorist candidates during their campaign apostatized the Shias. The election commission allowed them to contest the polls in the first place and the 'Independent" Judiciary made sure no hurdle came these terrorists' way.
All pro-Saudi Arabia parties have won. The most liberal of the political parties, the ANP has practically been wiped out. The second most liberal party, the PPP, has been wiped out from Pakistan with the exception of Interior Sindh. The message has been clear from the day the election campaign started: Only those parties will be allowed to campaigns which are trusted by the Taliban. Through a terror campaign which killed hundreds, maimed thousands, and destroyed property worth billions of rupees, the Taliban reduced the PPP and the ANP to the status of TV commercial entities. All they could do was buy time on TV and air their slogans etc.
On the contrary, Jamaat-e-Islami, PML-N, and PTI staged political rallies to their hearts' content. They indulged in all kinds of festivities as the PPP and the ANP carried the dead bodies of their supporters to graveyards. As said above, no suo motu was taken by the Supreme Court, and no action was taken by the law enforcement forces. Even the care-takers who are supposed to be neutral watched the decimation of the PPP and the ANP from the sidelines and kept on saying that the elections would be historic.
Yes; historic they were. Never in the history of modern democracy so blatant and bloody pre-poll rigging was staged by those who call democracy ''haraam' and un-Islamic. But now democracy is good because it has made Islamofascism the winner.
Comments
comments