Call to vote, PUC urges imams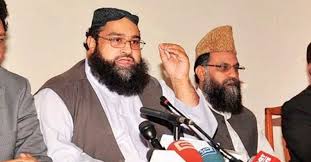 LAHORE: The Pakistan Ulema Council (PUC) has once again urged citizens to vote on May 11, calling it a religious obligation.
"Pakistan Ulema Council believes and wholeheartedly supports the view that a vote is a religious obligation so every responsible citizen, man or woman, must exercise their vote to choose an honest, patriot and a man of integrity to rule over Pakistan as its prime minister, as federal and provincial ministers and parliamentarians to the best of their abilities for the well-being, prosperity and progress of the people," said PUC chairman Hafiz Tahir Ashrafi.
The PUC has also appealed to all prayer leaders to call on their congregations on Friday to ensure that they cast their vote.
"Casting a vote is one of the most important religious obligations. So it is a trust that every Pakistani must ensure on the day of the election, failing which they would be doing gross injustice not only to their fellow-citizens but also to themselves. No doubt, it is the voice of one's conscience," said Ashrafi. pr
Source:
http://www.dailytimes.com.pk/default.asp?page=20135\10\story_10-5-2013_pg7_16#.UYyONLDuwbo.email
Comments
comments