PPP remains relevant as possible king-maker in Pakistan elections 2013 – by Amir Mateen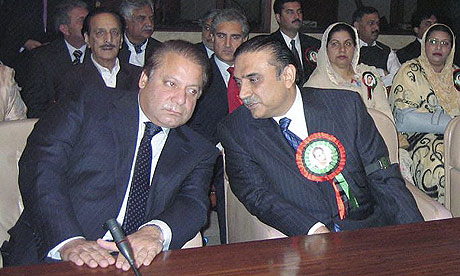 The PTI phenomenon may be difficult to predict in Election 2013 but it is relatively easier to assess PML (N) and PPP, if one goes by the old-style formula of measuring the worth of the so-called 'electables.'
This scenario puts PML (N)'s window of winning anywhere between 55 to 90 electoral seats and PPP between 40 and 55 seats out of total 272 electoral national seats. [However, more optimistic estimates by PPP cadre allocate PPP between 60 and 90 seats in view of the fact that right-wing Islamist vote is likely to be divided amongst PML-N, PTI, Jamaat Islami, JUI-F and MDM.]
This hypothetical scenario disregards the PTI claims — though extremely relevant ‑ of swaying the public mood through their mantra of change described as "Tsunami" and, that women and the disenchanted PPP workers outside Sindh are more likely to vote for the PTI. [Howeever, given that PTI represents right-wing Islamist side of the divide, PPP's centre-left secular vote bank may not be attracted to PTI and other right-wing parties.] This calculation is also based on the PML (N) contention that 40 million new voters, 45 per cent of the total registered votes, are not likely to vote for the youth-focused PTI.
But the PML (N) problems are not over even if we take the higher limit of its projected 90 seats. This means Nawaz League is not likely to make a government in Islamabad without the help of either PPP or PTI, the two parties it professes to hate so much.
This scenario will be a repeat of 2008 except that the PPP's 91 seats will be replaced by PML (N) and around 100 seats will be divided between PPP and PTI, and the rest among smaller parties and independents.
PML (N) sympathizers give the party a maximum of 80 out of total 148 seats in Punjab. If that be the case, this makes the chances of PML (N) making its government in Islamabad, without PPP or PTI, difficult. This is because PML (N) is virtually a Punjab party now with bleak electoral prospects outside its fortress. It secured only four national seats in Khyber Pashtunkhwa in 2008 and no seat in Sindh and Balochistan. It's more or less a similar situation even now. PML (N) stands a chance of winning just six to ten national seats in Khyber-Pahstunkhwa (KP), Balochistan and Sindh put together. It has a maximum chance of winning only four to six seats in the KP, including two or three from Hazaras' five seats. It has a 50 per cent chance of winning on hardly two seats in Sindh and even less on Balochistan's two seats (of Sanaullah Zehri in Khuzdar and Yaqoob Nasir in Loralai).
Winning 80 national seats in Punjab is a no walkover for PML (N). Particularly so because the party is evenly matched by the PTI in north where it may win five out of Rawalpindi Division's 13 seats and another two possibly going to the PPP-PML (Q) combine. Mianwali district may sway the PTI way [although PPP's influence in Saraiki areas may not be ignored]. At least ten independents are likely to win from Punjab this time. Independent as Faisal Saleh Hayat (Jhang), Raza Hiraj (Khanewal), Afzal Dhandla (Bhakkar), Mir Dost Mohammad Mazari (Rajanpur), Sahibzada Nazir Sultan(Jhang), Asghar Ali Shah (Bahawalnagar), Abdur Rehman Kanju (Lodhran) are all strong candidates. Most of them are likely to switch to the winning party in case of their victory but are generally opposed to PML (N), and some of them also enjoy PPP's support.
But the PML (N)'s soft belly remains the southern Punjab where it fares even behind PTI with PPP still in the lead. Nawaz League's stance on the Seraiki province, plus the loss of Ahmad Mahmood and Nawab Salahuddin Abbasi along with notable 'electables' has caused a big dent to the party. It is not likely to get more than nine seats out of roughly 45 seats in South Punjab. PPP still has a chance of winning from 15 to 18 seats in the Seraiki belt (four out of six in Rahimyar Khan, one to two in Bahawalpur, two to three in Multan, two to three in Muzaffargarh, one to two in D G Khan, at least one each in Layyah and Lodhran). PTI has a chance on six to eight seats and PML (Q) on three seats in South Punjab.
This leaves roughly 20 seats in the central Punjab for the PPP, PML (Q) and independents out of 103 seats. The PPP figure in Punjab comes to somewhere between 18 to 25 (or 30 to 40 in view of the Saraiki province factor and the divided right-wing factor). Add to this between 20 to 28 PPP seats in Sindh (or as per PPP cadre, 36 seats in Sindh) ‑ and this puts the PPP in the role of a king-maker-if not the king.
PML (N) is banking on the roughly 50 seats of rural Punjab along the G T Road, more specifically the divisions of Lahore, Gujranwala and Faisalabad. PML (N)'s nightmare scenario is that it is routed in South Punjab by the PPP-PML(Q)-PTI combine, matched by PTI in Rawalpindi division and in urban Punjab.
Worse, if the mythical 'tsunami' gets into action. These numbers are based on the PML (N) assumptions that may not work. PTI has gained even on the analysis based on the 'electables.' Most pundits who were not willing to concede PTI more than 20 seats a fortnight ago have revised their estimates between 45 to 60 seats. This is because of PTI 'electables' on Multan Road and its prospects of winning on probably 10 to 13 seats in the KP. However, it will be difficult for any single party to reach the magic number of 172 seats that are required to make the government in Islamabad. In other words, PPP remains relevant and important in future political scenario in Pakistan.
Source: The Spokesman, with minor edits and changes.
Comments
comments