A review of PPP government's 5-year performance in Pakistan 2008-2013 – by Abdul Nishapuri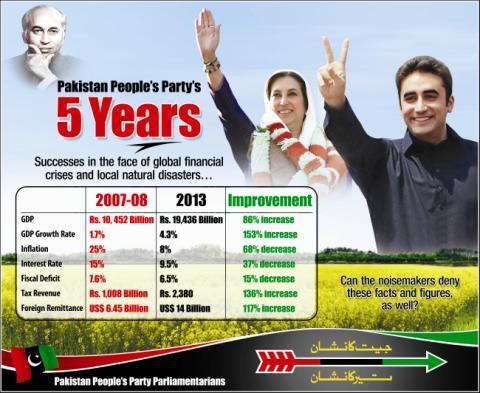 The present post is based on various media reports, independent analyses and also official report published by Pakistan Peoples Party (released in March 2013) that offers an overview of the party's five year performance, highlighting major achievements during 2008-2013 as ruling party in Pakistan.
– Constitutional reforms, including restoration of 1973 constitutions in its original form, enactment of the 18th, 19th and 20th amendments which provided provincial autonomy, transfer of presidential powers to parliament, smooth installation of caretaker governments and striking down of president's power to dissolve the assemblies.
– Self autonomy granted to the Election Commission of Pakistan
– Tough and clear stance against terrorism. Operation in Swat despite opposition by Taliban and pro-Taliban political and religio-political parties. Military operation in tribal areas.
– Important decisions and steps taken by the PPP government to mitigate sufferings of the people despite terrorism in the country. Record increase in wheat production, increase in salaries of govt officials up to 158 percent, disbursement of Rs 70 billion among 7.5 million deserving families through the Benazir Income Support Programmed and financial help to 135,000 deserving people by Pakistan Baitul Maal.
– Economic revival through a number of important projects, e.g., the Pak-Iran agreement on the gas pipeline, agreement with China on Gwadar Port, increase in foreign exchange reserves from $6 billion in 2008 to $16 billion in 2013, increase in export from $18 billion in 2008 to $29 billion in 2012, boost in stock market from 5,220 points in 2008 to 18,185 points in 2013 and reduction in interest rate from 17 percent in 2008 to 9 percent in 2013. These measures will have a long term healthy effect on the economy.
– The PPP-led government added 3,600MW of electricity to the system besides initiating additional work on Mangla and Tarbela dams for increase of 4,500MW in the system. The PPP government also got $3.5 billion for Basha Dam, initiated Neelum-Jhelum, Gomal and Satpara dams and Thar Coal project to get electricity from coal besides Jamphar project to get electricity out of air.
– Employment: The PPP government also reinstated thousands of government servants who were dismissed during the last 13 years and also regularised thousands of contract employees.
– Full freedom to media allowing 24/7 criticism of government ministers and office-bearers.
– Politics of reconciliation, no political cases or trials of political opposition
– Women's empowerment through anti-harassment legislation and other laws and schemes to support women
– National Finance Commission (NFC) Award successfully implemented in consultation with all provinces to ensure equal distribution of financial resources
– A number of steps were taken by the PPP government for welfare of the masses, eg, resumption of trade union activities, distribution of shares among 500,000 industrial workers, cheep tractors to farmers through Benazir Tractor Scheme, increase rural economy from 50 billion in 2008 to 800 billion rupees in 2013
– Development projects, eg, the Faisalabad-Multan Motorway and construction of thousands of kilometres of roads.
Benazir Employees Stock Option Scheme

Gilgit Baltistan Development

18th amendment / NWFP officially renamed as Khyber-Pakhtunkhwa

Waseela-e-Rozgaar

Development projects in Saraiki province including Multan

Reinstatement and Regularization of Employees

Waseela-e-Sehat

Waseela-e-Taleem

NFC Award

Economic Policies

Women's empowerment

Women's rights

Benazir Shaheed Youth Development Programme

Video: Jiyalay Teer Chala, Tu Pakistan Bacha
Bhutto di beti – by Abbas Ather
Comments
comments