Election Commission and Lahore High Court must not favour corrupt Sharif brothers of PML-N – by Ali Asad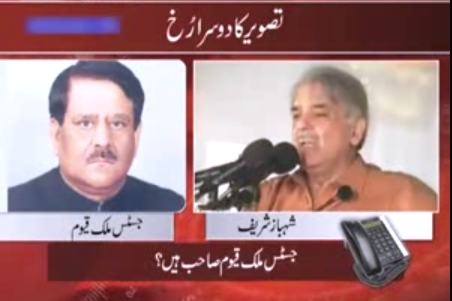 An advertisement being shown on TV channels with former Chief Minister Shahbaz Sharif asking a Judge Malik Malik Qayum to spare an MNA of PML-N on behalf of the then prime minister Nawaz Sharif has been banned by the Election Commission of Pakistan (ECP) on the orders of Lahore High Court (LHC). This video is comprised of audio tapes produced before a full bench of The Supreme Court of Pakistan in 2001 when they were hearing appeals from Shaheed Benazir Bhutto and Asif Zardari against conviction announced by the same judge (Malik Qayyum). Even setting apart the audio tapes, the appellants had very ably succeeded in proving the bias and enmity of the judge against them and also a very close relation between the then PM (Nawaz Sharif) and the judge. The bench of which Mr. Iftikhar Chaudhry was a part set aside the conviction and sent the case for retrial. The retrial could not start but the very revelation of these audio tapes forced two Judges to resign, one of them Chief Justice of the LHC and the other was Malik Qayum. Though verification of these tapes was never sought, but these resignations speak a lot in favour of their authenticity. Had these tapes been fake, the judges would never resign. These tapes were played in a TV talk show in 2010 and till then the PML N or Shahbaz Sharif himself never challenged their authenticity.
You may reach the following link to watch these shows:
Let us now come to LHC and ECP orders to restrain airing of these tapes. It is quite astonishing to see these two institutions (on whom lies the responsibility of accountability of corrupt practices and to scrutinize a person vying for public representation on the basis of Articles 62 and 63 for being Sadiq and Ameen), issuing orders clearly contrary to their duties. The ECP should have issued notice to Shahbaz Sharif and his big brother for cancellation of their candidature for brazenly asking a judge to spare his MNA on the corruption charges. The ECP and The Judiciary must know that this case has been a thorn in their back since these tapes were made public and a report of Transparency International in 2003 has termed this case as an example of judicial corruption.
These two institutions must resolve this issue on merit, otherwise it would look they too are a part of the Punjabi Islamo-fascist corrupt mafia.
Comments
comments