Imran Khan to Ahmadis: 'I want your votes, not your dirty name'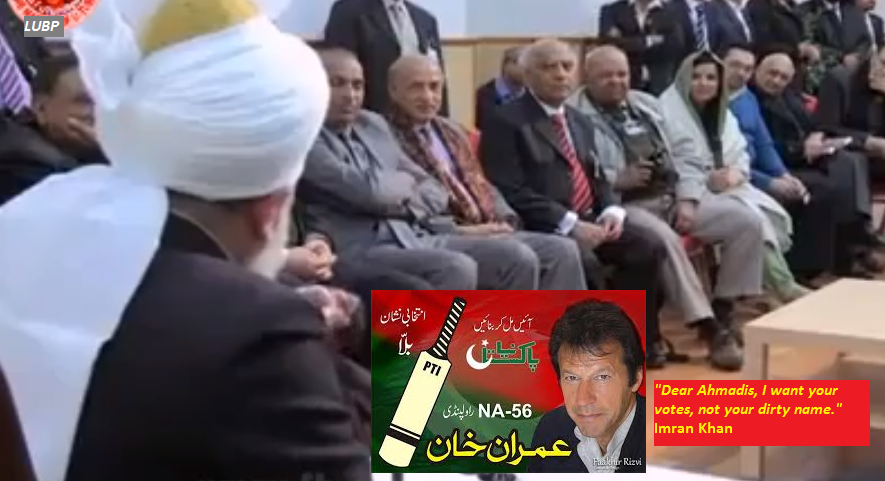 In a press release published on PTI's official website, Imran Khan has unabashedly chickened out in wake of criticism from Mullahs and right-wing parties and not only distanced himself from Ahmadiyya Muslims (an off-shoot of Sunni Islam) but also spoken contemptuously about them repeatedly using the Takfiri pejorative term 'Qadiyani' to refer to them.
Khan's clarification came in response to a video clip that surfaced on Twitter, showing a female PTI supporter in a meeting with Mirza Masroor Ahmad, spiritual leader of the Ahmadiyya community, in UK. In the press release, Imran Khan voiced his belief in the finality of Prophet Muhammad (pbuh). Khan said: "PTI totally subscribes to the article in the Constitution of the Islamic Republic of Pakistan on the Ahmadis. It is not part of the PTI agenda to seek amendment of the said article in the Constitution." The PTI Chairman was referring to article 260-3 of the Constitution that declares Ahmadis non-Muslims. Additionally, articles 298-B and 298-C prohibit Ahmadis from posing as Muslims, calling their faith Islam, proselytising, or "in any manner whatsoever" outraging the religious feelings of Muslims.
In a video message by a visibly distraught Khan, he dismissed the allegations as propaganda. "If you say that when the PTI comes to power and will amend the 1973 constitution with regards to the Ahmedis, this is propaganda."

This is quite characteristic of Imran Khan who has a habit of bitterly criticizing weak opponents (liberals, politicians, and now Ahmadis) but pandering to even the implicit demands of those he is scared of such as Taliban, the Military and other Takfiri Deobandi-Wahhabi terrorists. On this occasion, Imran Khan after having first sought Ahmedi votes has tried to be more Muslim than even the Mullahs and issued Takfir of Ahmedis and announced upholding of the constitutional amendment that declares them as non-Muslims.
Imran Khan loves to present himself as bold and upright politician but he actually is more timid and opportunistic than any other politician around. Despite commanding sizeable following among the youth in the urban centers of Pakistan, the cricketer-turned-politician and playboy-turned-jihadi has a despicable attitude towards minorities and has on numerous occasions proved to be a Taliban apologist.
Imran Khan presents a different face to the people in the West where he wears a somewhat liberal mask but does little at home to hide his bigoted face beneath. This has won him over a lot of followers among the bigoted youth of urban Punjab and a low of friends among the terrorists who do not attack his rallies while ensuring his rivals ANP, especially in the KPK, are not allowed to campaign.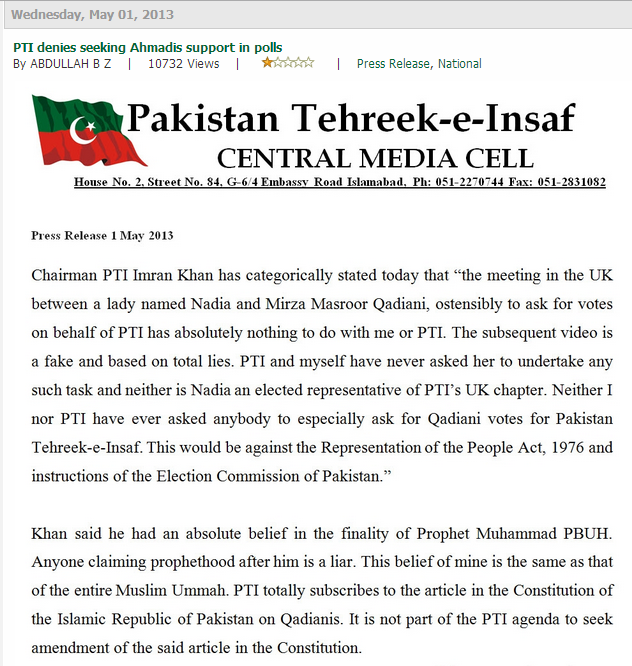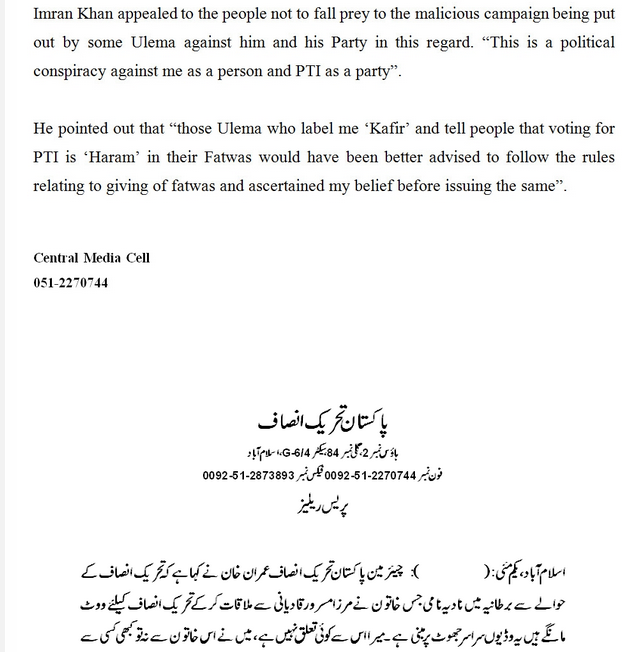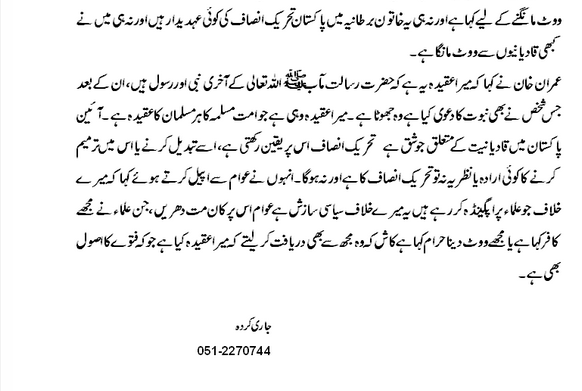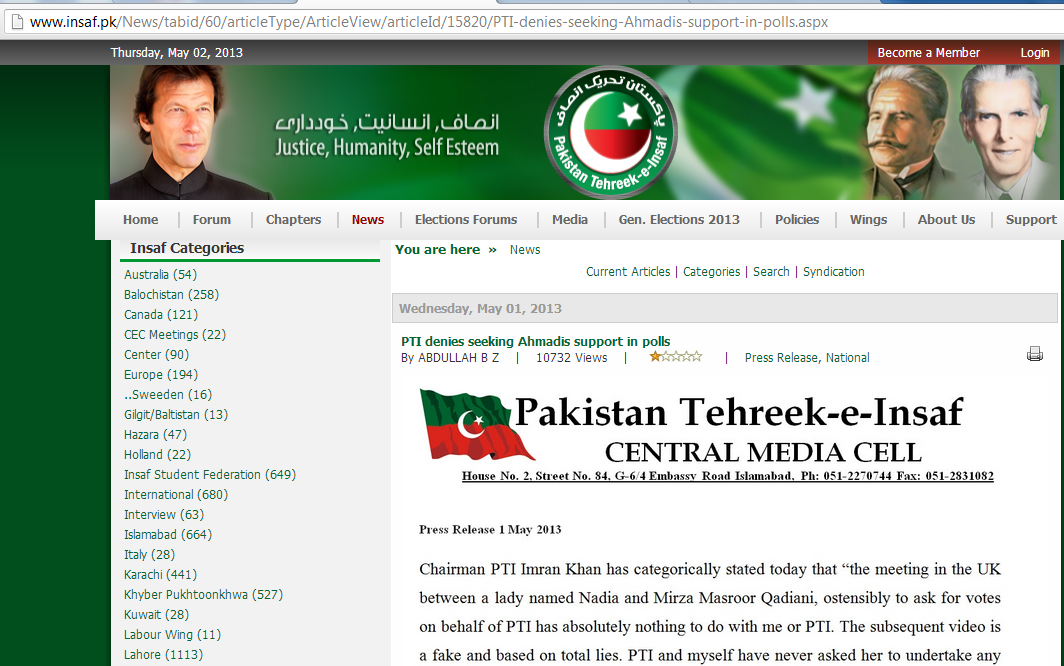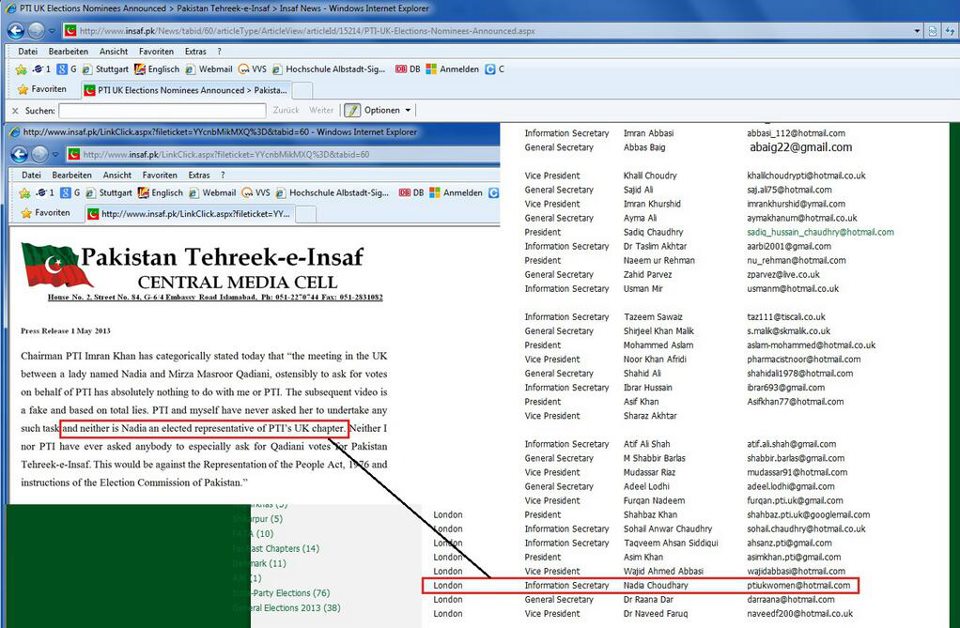 Comments
comments