Dr. Fayyaz, ASWJ-MDM's candidate in Karachi, is a car thief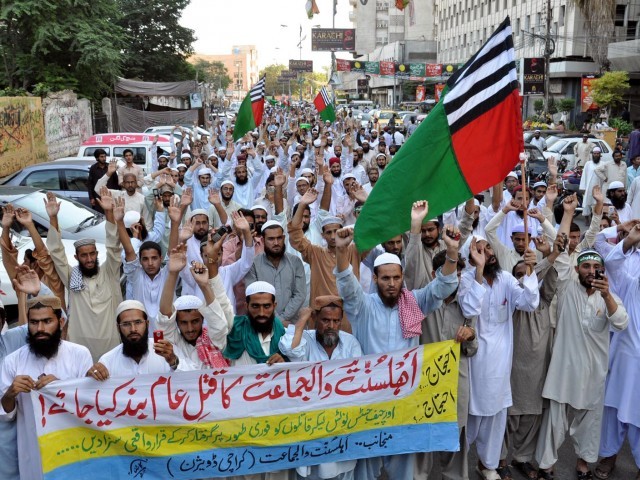 Dr. Fayyaz of banned sectarian outfit Sipah Sahaba (currently operating as Ahle Sunnat Wal Jamaat ASWJ) is contesting elections from NA-241 Karachi where the bomb attack on ANP worker took place.
Dr. Fazyaz is involved in car lifting and smuggled vehicles. He has an SUV which has Punjab number plate. Thanks to the tacit support by the ISI, Fayaz has links in Punjab Registration department, he makes documents of stolen or lifted vehicles and resells them
Also Ansarul Ummat(new name of HuM) had a jalsa (rally) few months back in the same area, Maulana Abdul Aziz Deobandi of Lal Masjid Islamabad spoke to that jalsa with massive graffiti around.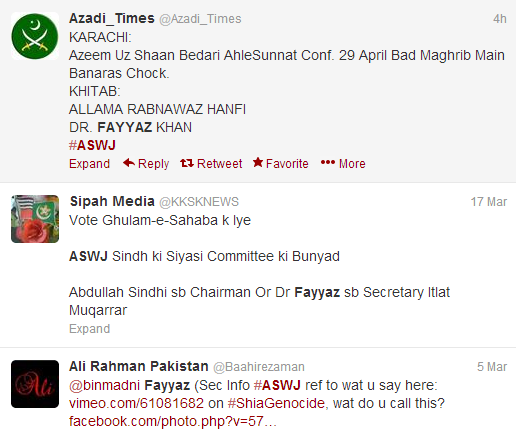 Banned terrorist group 'Sipah-e-Sahaba' issues warnings over activist killings
Published: November 5, 2011
A crowd of at least 400 people had amassed on the street outside the press club. PHOTO: AGENCIES
KARACHI: The white Hiluxes that rolled into the Karachi Press Club on Friday afternoon could easily be mistaken for those of government officials. At least two police officers were seated at the back of each car, along with gun-toting private guards in flak jackets.
Their occupants were not, however, government VIPs but the leaders of the Ahle Sunnat wal Jamaat (ASWJ), formerly known as the Sipah-e-Sahaba Pakistan (SSP) that was banned in 2002.
ASWJ's chief in Karachi, Maulana Aurangzeb Farooqui, stepped out of one vehicle, only to be mobbed by activists who stepped up to shake his hand and take photographs courtesy cell phone cameras.
One activist couldn't help but marvel to a friend. Referring to one of the ASWJ speakers, he murmured, "Fayyaz bhai used to have one police guard. Now he has three!"
By the end of the one-hour protest against the recent murders of seven activists, a crowd of at least 400 people had amassed on the street outside the press club.
Amid calls proclaiming another sect as apostates, the ASWJ leaders expressed outrage at the deaths of its seven men, including a division in-charge, and asked that the chief justice of the Supreme Court take notice of what it said was a resurgence in target killings.
One of the leaders to speak, Dr Fayyaz, declared over the microphone: "We will continue with the mission of Haq Nawaz Jhangvi." He was referring to the organisation's late founder.
Maulana Aurangzeb Farooqui added that they would continue to protest the deaths of their activists until the government takes action. The ASWJ blames Iran and a number of members of the National Assembly for the deaths, and has called for them to be investigated as well. But in a direct challenge to the government and other sects, Farooqui said that the ASWJ "could not be expected to maintain peace during Muharram and would stage a sit-in at MA Jinnah Road on Ashura if the government does not find and identify the killers." Dr Fayyaz pitched in to warn that the ASWJ or the government would not be able to control their activists if they decided to take action themselves.
http://tribune.com.pk/story/287906/one-hour-protest-group-formerly-known-as-sipah-e-sahaba-issues-warnings-over-activist-killings/
Comments
comments