Thanks to CJ Iftikhar Chaudhry and CM Najam Sethi, 55 charged sectarian terrorists allowed to contest polls from Punjab – by Amir Mir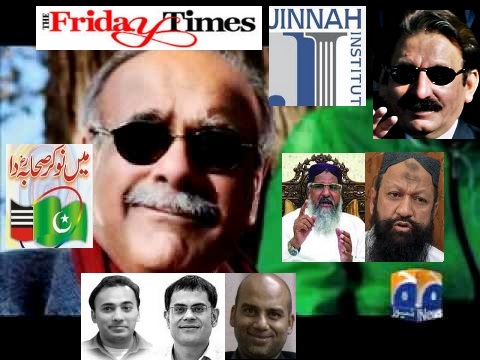 Source: Adapted with some changes from The News, April 24, 2013
ISLAMABAD: The Election Commission of Pakistan (ECP), led by Justice (retired) Fakhruddin G. Ebrahim, has simply failed to prevent 55 candidates from the Punjab, belonging to 10 different sectarian groups, from contesting the general elections despite the fact that intelligence agencies had warned the ECP that they were on terrorist lists and had provided all the names.
Punjab government is currently led by caretaker Chief Minister Najam Sethi, the journalist known for humanizing and glorifying the head of banned terrorist group Sipah-e-Sahaba (Ahmed Ludhianvi Deobandi) through his TV talkshow (Aapas ki Baat) and magazine (The Friday Times). Pakistan's apex court is currently led by Chief Justice Iftikhar Chuahdry who is known to have soft stance towards Taliban, Sipah-e-Sahaba and other right-wing groups.
These names (of Takfiri Deobandi terrorists contesting elections) are also listed on the 4th Schedule of the Anti-Terrorism Act 1997 for their alleged involvement in terrorist activities. According to well-informed sources in the Ministry of Interior, the intelligence agencies had provided to the ECP a complete list of 55 candidates who had filed their nomination papers to contest the national and provincial assemblies polls from 20 districts of the Punjab.
The ECP was further requested not to allow these candidates to contest the elections because they had been involved in terrorist activities due to which their names were placed on the 4th Schedule of the Anti-Terrorism Act.
Under this 4th Schedule of Section 11-EE of the Anti-Terrorism Act 1997, persons charged with terrorist activities, after being released from jail, are kept under observation and they have to inform their respective police stations before leaving their hometowns and upon their return. Such individuals are bound to provide a surety bond to the police for good behaviour and peaceful conduct.
The ECP subsequently forwarded the list of 55 sectarian offenders (most of them belonging to banned Sipah-e-Sahaba Pakistan, currently operating as Ahle Sunnat Wal Jamaat ASWJ) to the respective returning officers, with the direction to proceed against them. However, the ECP was informed that the returning officers were not legally empowered to impede these candidates from contesting the elections because the Code of Conduct issued by the ECP for the general elections lacked a particular clause to disqualify the sectarian elements.
Even though the ECP has strictly prohibited candidates from using caste, ethnicity and religion to seek votes and besides warning of a three-year jail term for any candidate found using such means in the campaign, no such proscription or jail term was recommended in the ECP's Code of Conduct for those running their campaign on sectarian lines. Therefore, the ECP was not in a position to press the returning officers on the issue any further.
A sympathiser of religious parties said these candidates are facing only terrorism charges and no court decision has come in this regard. He said several top politicians, including a former prime minister, were allowed to contest polls on the grounds that they were just facing charges, which were not yet proved.
According to the list of the sectarian elements running for the coming elections despite being listed under the 4th schedule 40 of the 55 candidates who have been allowed to run for the polls, belong to the defunct Sipah-e-Sahaba Pakistan (SSP) which has already been renamed as Ahle Sunnat Wal Jamaat (ASWJ), led by Maulana Mohammad Ahmed Ludhianvi Deobandi.
His second in command in the ASWJ is the Lashkar-e-Jhangvi fame, Malik Mohammad Ishaq, who is the vice president of the ASWJ. However, since the ASWJ did not register itself with the ECP, it has fielded candidates on Muttahida Deeni Mahaz (MDM/United Religious Front) platform.
Of the remaining 15 candidates, four belong to Jamiat Ulema-e-Islam (Fazl), three each belong to Jamaat-e-Islami Pakistan (JI) and Tehrik-e-Jafria Pakistan (TJP), two belong to the Jamiat Ahle Hadith (JAH) and one each belong to the defunct Harkatul Mujahideen (HuM), and the Sipah-e-Mohammad Pakistan (SMP).
Of the 55 candidates who are listed under the 4th schedule and are contesting the elections from Punjab, ten belong to Muzaffargarh, five each belong to Jhang, Faisalabad, and Rawalpindi districts, four each belong to Jhelum and Rajanpur districts, three each belong to the Bahawalpur and Chiniot districts, two each belong to Sheikhupura, Khanewal and Dera Ghazi Khan districts while one each belong to Lahore, Sialkot, Attock, Sargodha, Toba Tek Singh, Bhakkar, Okara, Layyah, Lodhran and Rahim Yar Khan districts of Punjab.
The following is a constituency-wise list of the sectarian elements along with the names of their organisations who have been allowed by the Election Commission to contest the coming polls: Umar Farooq of SSP/ASWJ (NA-86 Chiniot), Intizar Hussain of SSP-ASWJ (PP-73 Chiniot), Qari Shabbir Ahmed Usmani of SSP/ASWJ (PP-75 Chiniot), Rana Mohammad Arshad of SSP/ASWJ (NA-94 Toba Tek Singh), Malik Mohammad Bashir of JI (PP-33 Sargodha), Maulana Abdul Ghafoor Haqqani of SSP/ASWJ (PP-50 Bhakkar), Maulana Abdul Khaliq Rehmani of SSP/ASWJ (NA-156 and PP-213 Khanewal), Qari Rahimullah Mithu of SSP/ASWJ (PP-149 Lahore), Iftikhar Ahmed (NA-144 Okara), Hafiz Mohammad Ishfaq Gujjar of SSP/ASWJ (PP-167 Sheikhupura), Qari Saifullah Saifi of JUI-F (NA-50 Sialkot), Khalid Mehmood Butt of SSP/ASWJ (NA-113 Sialkot), Mohammad Ishfaq Abbasi of SSP/ASWJ (PP-1 Rawalpindi), Ansar Manzoor of SSP/ASWJ (PP-1 Rawalpindi), Abdul Shakoor of JUI-F (PP-2 Rawalpindi), Zahid Iqbal Bakhtavri (NA-54), Irqar Ahmed Abbasi (PP-15 Rawalpindi), Umar Farooq of MDM (NA-59 Attock), Sikandar Hayat of JAH (PP-54 Jaranwala), Maulana Sajid Farooqi of SSP/ASWJ (PP-56 Jaranwala), Hafiz Suhail of SSP/ASWJ (PP-72 Faisalabad), Maulana Suleman Jhangvi of SSP/ASWJ (PP-70 Faisalabad), Maulana Mohammad Ahmed Ludhianvi, Maulana Abdul Ghafoor Jhangvi, Mohammad Moavia, Masroor Nawaz and Hakim Ali of SSP/ASWJ (NA-89 Faisalabad), Maulana Mohammad Asif and Ikhlaq Ahmed of SSP/ASWJ (NA-90 Jhang), Malik Saeed Ahmed of SSP/ASWJ (PP78), Qari Sanaullah of SSP/ASWJ (PP-266 Layyah), Saifullah Khalid of SSP/ASWJ (NA-184), Malik Mohammad Aleem of SSP/ASWJ (PP-268 Bahawalpur), Rao Javed Iqbal of SSP/ASWJ (NA-186 and PP-269), Mohammad Ismail of SSP/ASWJ (PP-285 Rahim Yar Khan), Ans Bin Malik of SSP/ASWJ (NA-180 and PP-260 Muzaffargarh), Arshad Siddiqi of SSP/ASWJ (NA-176 and PP-251 Muzaffargarh), Tayyab Farooqi of SSP/ASWJ (PP-252 Muzaffargarh), Qari Taj Saqib of SSP/ASWJ (NA-177 Muzaffargarh), Ashiq Hussain Bhoot of SSP/ASWJ (PP-261 Muzaffargarh), Arshad Leghari of JI (NA-177 and PP-255 Muzaffargarh), Sabir Hussain of SSP/ASWJ (PP-225 Muzaffargarh), Mohammad Tayab of SSP/ASWJ (PP-259 Muzaffargarh), Mohammad Anwarul Haq of SSP/ASWJ (PP-247 Rajanpur), Dr Abdul Rauf of SSP/ASWJ (PP-248 Rajanpur), Tariq Mahmood of SSP/ASWJ (PP-249 Rajanpur), and Mohammad Tahir of SSP/ASWJ (PP-250 Rajanpur).
Approached for comments, a spokesman of the Election Commission of Pakistan simply expressed his ignorance about 55 sectarian offenders having been allowed to contest the elections.
But he clarified that the scrutiny of the candidates was the job of the returning officers who represent the judiciary. "They had carried out their duties as returning officers independently and the Election Commission did not interfere with their job on how to decide the fate of the candidates who had filed their nomination forms.
The ECP only provided information, as received, from the FBR, NAB, SBP and other governmental authorities, to the returning officers", the ECP spokesman added.
Specimen reaction on Twitter: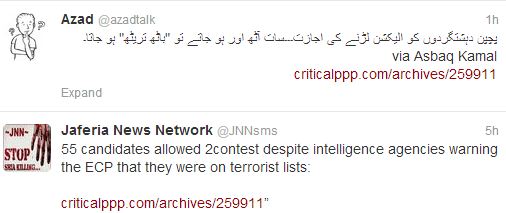 Comments
comments