Saudi-sponsored Wahhabi-Deobandi terrorists from Chechnya chief suspects in Boston bombing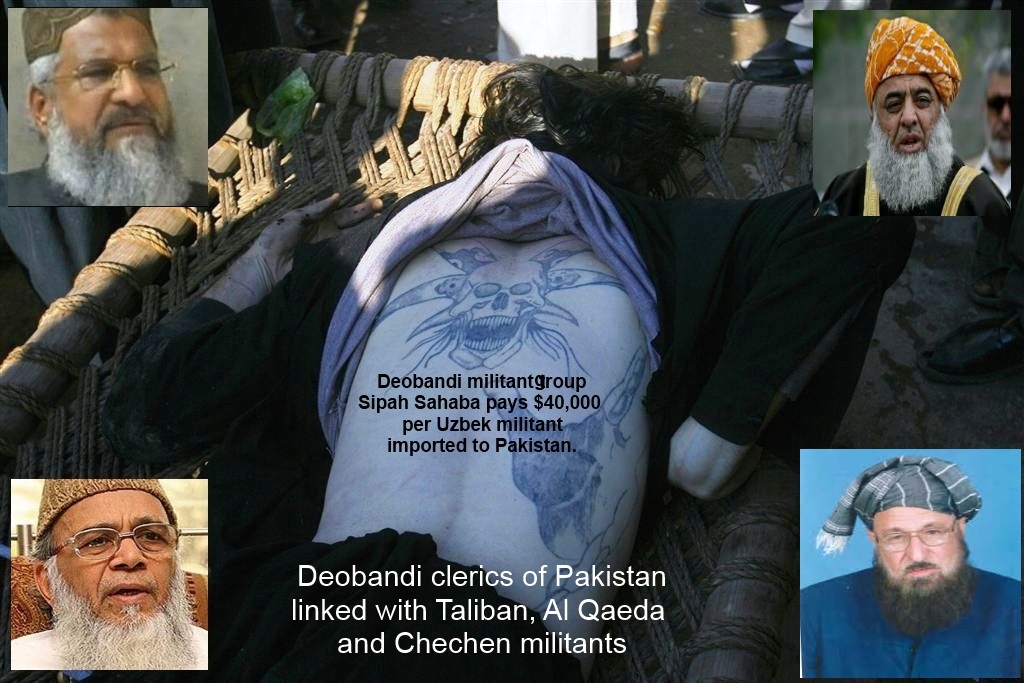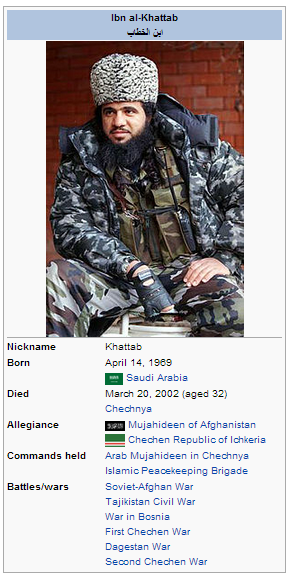 Related posts:
Boston bombing suspect ordered deported after Obama meets with Saudi minister http://fb.me/2sA8K9kAf
Exposed: Links between Deobandi militants of Sipah Sahaba Pakistan and Uzbek militants
It has unfortunately become clear that two Chechan Salafi-Wahabi Muslims are the prime suspects of the Boston Bomb blasts. We have been stressing the violence that emerges from this Wahabi-Salafi-Deobandi Islamofascist cult and how this violence has affected not only Western countries and other countries in Asia but also Pakistan where its victims include Shias, Sunnis (Barelvis, Moderate Deobandis), Hindus, Christains, Ahmadis, Sikhs, Pashtuns, Baloch etc.
It has also brought havoc to previously pluralist societies in Iraq, Syria, Mali, Nigeria, Somalia, Algeria, Egypt, Libya and Sudan. After 9/11 and Fort Hood Massacre by Salafi-Wahabi terrorist, this Wahabi-Deobandi terrorism has visited Boston. The epicenter of this terrorism is Saudi Arabia, Qatar and their minions. The Global community needs to stop supporting Al Qaeda and must take action before it is too late.
….
One of the suspects in the Boston Marathon bombings was killed early Friday morning after leading the police on a wild chase after the fatal shooting of a campus police officer, while the other was sought in an immense manhunt that shut down large parts of the area. Gov. Deval Patrick of Massachusetts said residents of Boston and its neighboring communities should "stay indoors, with their doors locked."
The two suspects were identified by law enforcement officials as brothers. The surviving suspect was identified as Dzhokhar A. Tsarnaev, 19, of Cambridge, Mass., a law enforcement official said. The one who was killed was identified as his brother, Tamerlan Tsarnaev, 26. The authorities were investigating whether the dead man had a homemade bomb strapped to his body when he was killed, two law enforcement officials said.
The manhunt for the surviving suspect sent the Boston region into the grip of a security emergency: residents of the city and the surrounding area were urged to stay indoors, as hundreds of police officers conducted a manhunt and all public transit services were suspended.
Col. Tim Alben of the Massachusetts State Police said investigators believed that the two men were responsible for the death of a Massachusetts Institute of Technology police officer and the shooting of an officer with the Massachusetts Bay Transportation Authority, the region's transit authority. "We believe these are the same individuals that were responsible for the bombing on Monday at the Boston Marathon," he said.
Officials said that the two men were of Chechen origin.
….
Two Dagestani brothers nembers of Chechen Wahhabi cell identified as responsible for Boston terror
DEBKAfile Special Report April 19, 2013
http://debka.com/article/22911/Two-Dagestani-brothers-nembers-of-Chechen-Wahhabi-cell-identified-as-responsible-for-Boston-terror
Parts of Boston, Watertown and other outlying towns were placed under curfew and public transport suspended Friday, April 19, as police huntedr one of the the Boston Marathon bombers who with his partner carried out a shooting spree at the MIT campus, during which a police officer was shot dead. After a shootout with the police, the second bomber died of his wounds having been taken into police custody. The second bomber, the one in the white cap, escaped in a SUV they snatched with a hostage, who was later released. While being chased, they threw explosives out of the window and critically injured a second police officer. Police warn that the escaped man is a terrorist, who is armed and dangerous and advise householders to stay indoors and not open the doors to strangers.
DEBKAfile reported earlier:
The police officer was shot dead when he responded to a disturbance caused by the appearance of two men armed with guns, explosives and wearing body armor. It is suspected they were preparing to seize a university building in a terror attack. After initial gunshots were heard at Building 32 on Vassar Street, dozens of SWAT teams, police moved toward the building, soon joined by FBI agents and a police helicopter. Gunfire and explosions were heard during the hunt for the killer indicating a gun battle in progress. One suspect is reported injured and taken to hospital under heavy guard. An MIT alert described the situation as active and extremely dangerous. One man is in custody, but it is not known whether he was involved. The situation remains unclear.
The incident occurred hours after the FBI released filmed images of two suspects in the Boston Marathon bombing on Monday with a request to the public for assistance in identifying them. A possible link between the two events is being intensely investigated.
DEBKAfile reported earlier:
The FBI released Thursday images of two suspects filmed on the move at the site of the Boston Marathon bombings of Monday, April 15. The footage with stills has been widely distributed and an FBI Tipline set up. Public assistance in identifying the two youngish men is considered critical to the investigation.
Suspect 1 is shown wearing a black cap and, walking fast close behind him, Suspect 2 in a white cap. Both carry large black packages and both have Middle East complexions.
FBI Agent Richard Deslauriers who is in charge of the investigation said Suspect 1 planted the first bomb, while a few seconds later, Suspect 2 was filmed placing a package at the site of the second, more powerful bomb, and walking away very fast.
Both men are dangerous, he said, and should not be approached by the public
The images the FBI released of the two suspects have been floating around the Internet for the past 36 hours. And so the suspects must know they are being hunted. DEBKAfile's counterterrorism sources add that both have either gone to ground in a pre-arranged hideout or have left the United States. The way they walk behind each other as they pass through crowds without losing contact strongly recalls the formation maintained by the suicide bombers who blew up the London Tube train on July 7, 2007
In the US and other Western media, removing the spotlight off of the Wahhabists (Saudi Arabia) is high priority business, thanks to the wonders of black gold flowing from Riyadh and Doha.
Ironically, USA, UK and other Western countries have been big supporters for Wahhabi-Deobandi Islamists in Chechnya, Libya, Afghanistan, Syria through their fanatic Wahhabi (Salafi) allies in Saudi Arabia. Now not unlike 9/11, Saudi-funded Wahhabis are at play once again. Saudi-funded Wahhabi terrorists from Chechnya, with known links with Saudi-funded Deobandi militants of Afghanistan and Pakistan (Taliban, Sipah Sahaba ASWJ, Al Qaeda) are responsible for the Boston bombings.
Video: Egyptian Salafi Wahhabi Cleric Murgan Salem: Boston Bombing Was Meant to Deliver a Message; Similar Attacks Expected in France
[youtube id="JrLsz-AIuzY" width="600″ height="340″ position="left"]
A radical Egyptian Salafi (Wahhabi) cleric said that the terror attack in Boston this week was meant to send a message to the West, that terrorists are alive and well. Not unlike Wahhabis and Deobandis of Pakistan, Afghanistan, Syria, Turkey, Libya etc, Salafis of Egypt too are heavily funded by Saudi Arabia and other Arab Gulf countries.
The cleric, Sheik Murgan Salem, also warned that similar attacks were expected in France. Salem made the comments during an interview on Tahrir TV on April 16, 2013. The interview was translated and posted to the internet by the Middle East Media Research Institute (MEMRI).
"Obviously, I do not know who carried out that operation, but if it was done by the mujahideen, it serves as a message to America and the West: We are still alive," he said. "Contrary to what you say, we have not died. The [Americans] wanted to send a message to the entire world that they had finished off the mujahideen – not just the mujahideen of Al-Qaeda, but the mujahideen all over the world. I do not know who carried out this attack, but if it was indeed the mujahideen, it was meant as a clear message to America and to the West," continued Salem, who said the terror attack "was not up to the standards of Al-Qaeda. It was extremely amateurish. The standards of Al-Qaeda are much higher."
The cleric goes on to say that he was "like one family" with both former Al-Qaeda leader Osama bin Laden as well as current leader Ayman Al-Zawahiri.
Spread of Saudi-funded Wahabi-Deobandi ideology into Chechnya
It is crucial to understand the extent and nature of Saudi Arabia's and other Arab countries involvement in the Chechen movement, as this has contributed significantly to changing the resistance from a nationalist movement to one tainted by religious radicalism of violent Wahhabis and Deobandis (semi-Wahhabis from Pakistan, Afghanistan and India).
The feeling that the conflict may spill over regionally and Russian theories about Islamic Wahhabi-Deobandi extremism spreading across the Caucasus have been fuelled by incidents like the threat of radicalization in Dagestan, the Chechen raid into Ingushetia in June 2004, and clashes in Kabardino-Balkaria in October 2005, where dozens were killed. Locals across the region deny these events are part of an evil foreign plot; instead they see them as an extension of the Chechen conflict and a reaction to Russian policies.
In 2003, the U.S. State Department designated three Chechen groups affiliated with Shamil Basaev as terrorist groups, and alleged that they had received millions of dollars from Al-Qaeda (a Wahhabi-Deobandi group). Thus, the Chechen resistance movement became forcefully identified with terrorism, although the same statement did not categorize all Chechens as terrorists.
Following the 1979 Soviet invasion of Afghanistan, a number of Wahhabis and Deobandis rallied to defend their fellow Muslims. Later, following the call of cleric Abdullah Azzam, transnational Islamic brigades were set up to defend frontline Muslim communities around the world. The International Islamic Brigade, which took part in the first Chechen war in 1994, was set up by Habib Abdel-Rahman Khattab Salafi (Wahhabi), a Saudi by birth. His aim was to radicalize the Chechen armed resistance and give it an extremist coloring.
As a teenager, Khattab had fought in Afghanistan alongside Osama bin Laden, under the leadership of Hussein al-Sarehi, in the battle of the Lion's Den in 1987. Later, fighting in Tajikistan, Khattab gained a reputation as a brilliant commander, before moving to Chechnya as head of the foreign mujahideen. He was appointed military commander of operations under Basaev. Bin Laden maintained a close ideological, technological, and financial relationship with Khattab, who helped in mobilizing mujahideen in Ingushetia, Ossetia, Georgia and Azerbaijan to fight the Russians in Chechnya and Dagestan, with money provided by Al-Qaeda. Later, Khattab married a Dagestani woman and lived in Chechnya until his death at the hands of Russian intelligence in 2002.
Several hundred Chechens were trained in Al-Qaeda's Afghan camps and armed. The Al-Qaeda-influenced Al-Ansar was considered the fiercest and most organized of the three major Chechen groups fighting the Russians. Most of the Chechen suicide attacks – previously an unknown tactic in that part of the world – were initiated by this group. European intelligence reports suggest that Al-Qaeda assisted Al-Ansar in weapons trafficking via Russian, Ukrainian and Chechen criminals.
Khattab's influence with Basaev extended to inciting a revolt among the top Chechen commanders and creating divisions that forced President Aslan Maskhadov, who did not share Basaev's radical vision, to implement an Islamic (Wahhabi-Deobandi) government and set up religious courts. Maskhadov's failure to impose law and order and control radical commanders, however, led to his loss of credibility in Moscow. His assassination in March 2005 at the hands of Russian intelligence was hailed as a victory by the federal government. In reality, it squandered a chance to pursue a political process in Chechnya with a key Chechen leader who had considerable influence among his people.
The exact number of foreign Islamic Wahhabi-Deobandi mercenaries fighting in Chechnya is unknown, but up to 300 Arabs reportedly took part in the war, according to Russian intelligence sources. The growth of this group's power in Chechnya played a key role in precipitating the second Chechen war following an armed incursion into Dagestan in 1999. This jeopardized all possible peaceful solutions for Chechnya's independence. Isolated, the Chechens tapped into the resources offered by Islamic organizations and networks in the Middle East and Asia. Warlords realized the benefits of forging alliances with radical groups, especially with respect to funding, training, recruiting and international contacts and support.
Moscow legitimately interpreted conflict or opposition as an Islamic Wahhabi-Deobandi threat, and blamed external actors for indigenous problems.
With 20 million Muslims in Russia, Putin attempted to play the Muslim card when he addressed the OIC summit in Kuala Lumpur in October 2003. Moscow also sought to reverse perceptions in the Islamic world that it was pursuing anti-Islamic policies, especially in the North Caucasus.
Russia's repeated accusations that Saudi Arabia was funding Chechen militants and was the main source for imported radical ideologies were somewhat toned down following Crown Prince Abdullah's visit to Russia in September 2003. Putin lauded the Saudi role in the war against terrorism and contending that both countries shared similar concerns on terrorism. The Saudi advice was that a solution to the Chechen conflict be sought through constitutional means, within the framework of a federal Russia. The Saudis also stressed that this was a domestic issue for Russia, an indication of the lack of Saudi government involvement in the conflict.
The assassination, by Russian agents, of Zelimkhan Yandarbiyev in Doha in February 2004, strained Qatari-Russia relations. Doha had repeatedly turned down Moscow's requests to extradite Yandarbiyev on terror charges. Besides being implicated in the Moscow theater takeover, he was the link to those in the Gulf financing Chechen militants. Following the assassination, the Russian Embassy's first secretary in Doha was expelled and two Russian intelligence agents linked to the assassination were put on trial, further intensifying the row. The issue was put to rest only after an understanding was reached between Russian and Qatari leaders, whereby the accused were returned to Moscow.
The international community has a responsibility to address the spread of Wahhabi-Deobandi violent ideology of Jihadism from Chechnya to Libya and from Syria to Afghanistan.
Read more: http://www.dailystar.com.lb/Opinion/Commentary/Mar/13/Arabs-and-Islam-in-the-Chechen-war.ashx#ixzz2Quc1cZoo
(The Daily Star :: Lebanon News :: http://www.dailystar.com.lb)
Saudi Arabia sponsors violent Wahhabi-Deobandi groups in Pakistan and other countries
Saudi Arabia, the cradle and citadel of Wahabism, was the main financial backer of the Wahabi-Deobandi organisations of Pakistan. It financed their activities in Pakistan to purify Islam and their participation in the war in Afghanistan. Not only the Saudi intelligence services, but also individual Saudi sheikhs like Osama bin Laden and his father, the owner of a rich construction company, which has the responsibility for the repairs and maintenance of the holy shrines in Saudi Arabia, contributed generously to the funds of these organisations.
Initially a purely Pakistani revivalist movement, with its emphasis more on religious preaching to make the people better Muslims and on proselytisation to convert the non-Muslims to Islam, it became a movement for the export of Wahabism and jehad.
It extended its activities to other countries where, in its perception, there had been similar corruption of Islamic faith and traditions such as India, Bangladesh, Sri Lanka, Myanmar, Malaysia, Southern Philippines, China, the Central Asian Republics (CARs), Chechnya, Dagestan, France, the UK, Belgium, the USA, Canada, the Caribbean, South Africa, Eritrea, Mauritania and Australia.
Its initial objective of ridding Islam of the corrupting influences of Hinduism expanded to cover ridding Islam of the corrupting influences of Christianity, Judaism, communism, the secularism of Turkey and the traditions of the Shia faith. Saudi Arabia and its sheikhs as well as rich Muslim businessmen of Egypt and other Arab countries have been liberally funding the overseas activities of these organisations.
The Saudi support for these organisations is motivated partly by religious and partly by strategic calculations. The religious reason is to expand the influence of Wahabism. The strategic calculation is to counter the influence of Turkey and Iran in the newly-emerged/emerging Islamic countries.
The increase in the activities of Deobandi-Wahabi groups and their tremendous political clout in Pakistan despite their being in a numerical minority have recently led to an attempt by the Brelvis to organise themselves in order to stop the advance of Wahabism with the help of Saudi money.
Pakistani Deobandi Tablighi Jamaat (TJ) and Chechnya
ACTIVITIES IN THE CARS, CHECHNYA AND DAGESTAN
Since Pakistani Government service conduct rules do not prohibit serving Government servants from participating in the activities of the TJ, after his appointment by Mr.Sharif as the DG of the ISI, Lt.Gen.Nasir continued to function simultaneously as Adviser to the TJ and, after his removal from the ISI under US pressure in 1993, he took over as the full-time leader of the TJ. After his rehabilitation by Mr.Sharif last year and appointment as Adviser on Intelligence matters, he continued to function as the head of the TJ. He is recently reported to have been removed from the post of Adviser on Intelligence matters by Mr.Sharif following his public criticism of Mr.Sharif's succumbing to US pressure for the withdrawal of Pakistani troops from Kargil.
It was during his tenure as the DG of the ISI that Lt.Gen.Nasir, in his capacity as Adviser to TJ, drew up the plans for the revival of Islam in the CARs, Chechnya and Dagestan in Russia and Xinjiang in China with the help of the TJ workers and funds from Saudi Arabia.
A large number of Pakistani, Saudi and Jordanian workers of the TJ were sent on preaching and proselytising missions to these countries and recruits for clerical posts in these countries were brought to Pakistan for training in Islamic religious practices. Simultaneously, they were also given arms training in the camps of the HUM and the Lashkar in Pakistan and Afghanistan. They were also sent on proselytising missions to other countries with Pakistani TJ workers to expose them to Muslim communities in the rest of the Ummah. After his removal from the ISI in 1993, Lt.Gen.Nasir himself frequently went on preaching missions to these countries.
An idea of the tremendous headway made by the TJ under the guidance of Lt.Gen.Nasir and with Saudi money in promoting Wahabism in these countries could be had from the fact that whereas in 1991, when the USSR collapsed, there was not a single mosque in Chechnya and Dagestan, today every village has a mosque, already completed or under construction. The TJ also organised visits by selected Muslims from Chechnya and Dagestan to Saudi Arabia on Haj/Umra.
It is stated that a majority of the members of the Chechen Cabinet had been trained in Pakistan by the TJ and, during their annual vacation, go on preaching missions for the TJ in Chechnya itself as well as in Dagestan and the CARs.
In the last week of June,1995, the Interfax news agency of Moscow quoted Mr. Arkady Volski, the Russian peace negotiator for Chechnya, as claiming that after the incident of kidnapping of 1,500 hostages in the South Russian town of Budennovsk in early June, Shamyl Basayev, the Chechen commando leader, had escaped to Pakistan where he had been given asylum. In a statement issued at Moscow on June 27,1995, Mr. Tanvir Ahmad Khan, the then Pakistani Ambassador to Russia, described the claim as false and warned that such allegations would damage Russia's relations with Pakistan.
The Russian authorities refuted the statement of the Pakistani Ambassador and alleged that Basayev had been living in Pakistan since 1991 when he had fled there after his involvement in the hijacking of a Russian plane to Turkey and that from Pakistan he had periodically been visiting Chechnya to organise terrorist incidents. In July,1995, Mr.Sergei Stepashin, who was in charge of counter-terrorist operations in Chechnya, and Gen. Nikol Ayev, chief of the Russian Border Security Service, alleged in separate statements that Basayev was amongst a group of Chechen terrorists trained in Pakistani camps.
Another Chechen insurgent leader reportedly trained in the camps of the HUM in Pakistan and Afghanistan is Salman Raduyev, who led a group of Chechen extremists on a raid into the Dagestan town of Kizlyar in January,1996, and took 2,000 Russian hostages. After this incident, President Yeltsin alleged that the raiding party under Raduyev included Pakistani mercenaries.
The Russian press thereafter carried a number of reports emanating from official sources in Moscow that the extremist elements behind the Islamic revolt in Chechnya had been trained in Pakistan. Strongly refuting these reports, the Pakistani Foreign Office said: " These reports do not serve to promote good ties between Pakistan and Russia which we desire. We hope Russia will also reciprocate our wishes. "
In a statement on January 17,1996, the Pakistani Foreign Office strongly denied Russian allegations that Pakistani mercenaries were helping Chechen rebels indulging in acts of terrorism in Dagestan.
In a statement on January 13, 1998, the Russian Foreign Office described as inadmissible a statement of Mr.Zafarul Haq, Pakistan's Minister For Religious Affairs, expressing Pakistan's support for "the noble cause of the Chechen Muslims". He reportedly made this statement while welcoming a delegation of Chechen Government officials in his office in Islamabad.
In November, 1998, a high level delegation of the Government of Chechnya led by Mr.Abdul Wahid Ibrahim in charge of Central Asian and Afghan Affairs in the Chechen Foreign Office, visited Afghanistan for the first time and reached an agreement on the establishment of formal relations between the Taliban-led Government of Kabul and the Government of Chechnya.
During the same month, the Russian authorities expelled from the Bashkortostan region a delegation of six preachers of the TJ for making anti-Moscow statements during their preachings. A statement of the Federal Security Service said that their statements were "aimed at fuelling ethnic and religious hostility and offending the dignity of other religious groups." The preachers were to go to Chechnya and Dagestan in January, 1999, but their visas were cancelled and they were expelled.
After the outbreak of terrorist incidents in Dagestan from August 7,1999, the Russian authorities have been repeatedly alleging that the incidents were organised by a raiding party of about 2,000 Chechens from Chechnya jointly led by Basayev and a former Colonel of the Jordanian Army called Khattab, that the Chechens were assisted by a multi-national group of 200 foreign mercenaries led by a Pakistani called Abu Abdulla Jafar, who is in charge of a training camp in Chechnya, that before the raids the raiders participated in a special prayer service in Chechnya conducted by three Pakistani Wahabi preachers called Sheikh Abdul Azim, Junaid Bagadadi and Abdul Omar and that Abdul Omar also read out to the raiders a fatwa received from a group of Saudi muftis calling upon them to establish an Islamic state in Dagestan.
Following a denial of these allegations by Mr.Mansur Alam, the Pakistani Ambassador, who wrote a letter on the subject to "Izvestia", the paper quoted Gen.Vladimir Rushailo, the Russian Interior Minister, as saying that "mercenaries from a number of foreign countries, above all Saudi Arabia, Pakistan and the UAE, have been taking part in the fighting in Dagestan" and that the Russian security services had concrete information about the involvement of the secret services of some Muslim countries in the Dagestan violence.
"Izvestia" also identified Abu Abdulla Jafar as a Pakhtun who had been residing in Chechnya for some years and running a training camp at a place called Serzhenyurt. The paper also alleged that the activities of the mercenaries in Chechnya and Dagestan were being funded by Osama bin Laden.
Since President Rafique Tarar, Prime Minister Nawaz Sharif, his father and Lt.Gen, Nasir have been associated with the TJ which has been instigating and assisting the extremist elements indulging in acts of terrorism in Chechnya, Dagestan and, possibly even Moscow, which has been rocked by explosions suspected to have been organised by Pakistani-backed fundamentalist groups, it is time the international financial institutions took notice of this and suspended all further assistance to Pakistan till it stopped assisting these terrorist groups.
http://pak-terror.freeservers.com/webarticle7.htm
Wahhabi-Deobandi militants are enemies of peaceful Sunni (Sufi) Muslims
The rebel leader, Doku Umarov, announced he was extended his movement's battle against Russian-backed security forces to include a wider "holy war" against the US, Britain, and Israel. "All those waging war against Islam and Muslims are our enemies," he said.
In proclaiming jihad, Mr Umarov marked a final break with the separatists' aims in the 1990s, when they gained international sympathy in their attempt to break away from Russia.
Chechnya's rebels started out as a largely secular force, led by the dapper former Russian air force general Dzhokhar Dudayev, who sported a pressed uniform and a neatly clipped moustache; now their main commanders are fundamentalists with ties in the Middle East who want to carve out an Islamic caliphate across Russia's North Caucasus region.
Moderates such as Akhmed Zakayev, the Chechen separatist envoy who lives in London, have been rapidly sidelined. The transformation in the rebel movement has allowed Mr Kadyrov and his pro-Kremlin allies to assume the mantle of moderate Islam by practising Sufism, a mystic form of the religion that emphasises a personal union with God.
The president's fighters, the Kadyrovtsi, who have a reputation for brutality, have stamped out most of the rebels, ushering in a shaky peace in Chechnya after more than a decade of war. Across the republic, new mosques are being constructed as part of a wider rebuilding programme.
"The Wahhabis offer nothing but death and destruction," said Sultan Mirzayev, mufti of Chechnya and a close ally of Mr Kadyrov, in an interview at his offices in Grozny. "We want to revive our homeland and give its people hope."
http://www.guardian.co.uk/world/2007/nov/22/chechnya.tomparfitt
Eduard Urazaev, the press secretary of the chairman of Dagestan's State Council, told Prism.
"During the war in Chechnya, units of Wahhabi volunteers from Arab countries came to help us. These units were very well armed, so our Chechens willingly joined them. Many of them became adherents of that doctrine, and tried to teach it to us, saying that we were distorting Islam. It is true that for a long time, we tried not to wash our dirty linen in public, saying that we had no problem with 'Wahhabism' in the republic. We tried to make peace with the 'Wahhabis'–we told them: 'Do what you like, but don't try to impose your convictions on us. Don't accuse us of heresy.' But unfortunately, nothing came of the dialogue. I hope that the present forum of Muslims of the Caucasus can help liquidate 'Wahhabism,' a sect foreign to Islam's fourteen centuries of history," the Mufti of Chechnya, Akhmed Kadyrov, told Prism.
According to Kadyrov, "Wahhabism" began to be spread actively in Chechnya when Zelimkhan Yandarbiev was president. "It was that man who is most responsible for 'Wahhabism' sinking such deep roots in Chechen soil!" Kadyrov told Prism.
But at the same time, according to Kadyrov, the Russian security services are responsible as well. "The Kremlin deliberately fostered 'Wahhabism' in the Caucasus, in order to divide Muslims and unleash yet another war–a religious war–there. Can you really think that it is a coincidence that the Russian Ministry of Justice picks this time–when we have had to join forces in the fight against 'Wahhabism'–to say that 'Wahhabism' is not an extremist doctrine?" Kadyrov asked Prism.
http://www.jamestown.org/single/?no_cache=1&tx_ttnews%5Btt_news%5D=7214
Saleh Abdullah Emir Khattab Salafi
A Saudi Wahhabi militant, Samir Saleh Abdullah Al-Suwailem (April 14, 1969 – March 20, 2002), more commonly known as Emir Khattab meaning Commander Khattab, and also known as Habib Abdul Rahman, was a Muslim guerilla fighter and financier working with Chechen Wahhabi-Salafist-Deobandi militants in the First Chechen War and the Second Chechen War. He died on 20 March 2002 following exposure to a poison letter delivered via a courier that had been recruited by Russia's FSB.
Khattab was born Samir Saleh Abdullah Al-Suwailem in Saudi Arabia. At the age of 18, Khattab left Saudi Arabia to participate in the fight against the Soviet Union during the Soviet invasion of Afghanistan. During this time, he permanently incapacitated his right hand and lost several fingers after an accident with improvised explosives.
Al-Khattab (while leader of Islamic International Brigade IIB) publicly admitted that he spent the period between 1989 and 1994 in Afghanistan and that he had met Bin Laden. In March 1994, Khattab arrived in Afghanistan and toured fighter training camps in Khost province. He returned to Afghanistan with the first group of Chechen militants in May 1994. Khattab underwent training in Afghanistan and had close connections with Al-Qaida. Several hundred Chechens eventually trained in Al-Qaida camps in Afghanistan.]
After the conclusion of the war, Khattab, by then wanted by Interpol on Russia's request, became a prominent warlord and commanded the Arab Mujahideen in Chechnya, his own private army with a group of Arabs, Turks and other foreign fighters who had come to participate in the war. He set up a network of paramilitary camps in the mountainous parts of the republic that trained not only Chechens, but also Muslims from the North Caucasian Russian republics and Central Asia.
Khattab would receive letters from his mother in Saudi Arabia, and the FSB found this to be the most opportune moment to kill Khattab, rather than attack his mountain hideout and risk losing soldiers. It was reported that the operation to recruit and turn Ibragim Alauri to work for the FSB and deliver the poisoned letter took some six months of preparation. Ibragim was reportedly tracked down and killed a month later in Baku Azerbaijan on Shamil Basayev's orders. Ibn Al-Khattab was succeeded by Emir Abu al-Walid.
(Source: Wiki)
"Innocent" Saudi has ties to several Al-Qaeda Terrorists
by Shoebat Foundation on APRIL 17, 2013
A couple of weeks ago we warned America about the very serious problem of Saudi infiltration; many of these Saudi nationals criminals and terrorists.
After the bombings, a Saudi by the name of Abdul Rahman Ali Al-Harbi was hospitalized and became a 'suspect', then a 'person of interest'. His apartment was searched by federal and local authorities. No confirmation has been given so far to his involvement. The Media were quick to claim his innocence, of course.
This brings us to the Boston marathon bombings. Foreign Policy is reporting that he's 'no longer a person of interest', which means he's "innocent", right?
Perhaps a quick look at the Arabic sources should raise the eyebrows of every American relative to the extent of the problem at hand. Many from Al-Harbi's clan are steeped in terrorism and are members of Al-Qaeda. Out of a list of 85 terrorists listed by the Saudi government shows several of Al-Harbi clan to have been active fighters in Al-Qaeda:
#15 Badr Saud Uwaid Al-Awufi Al-Harbi
#73 Muhammad Atiq Uwaid Al-Awufi Al-Harbi
#26 Khalid Salim Uwaid Al-Lahibi Al-Harbi
#29 Raed Abdullah Salem Al-Thahiri Al-Harbi
#43 Abdullah Abdul Rahman Muhammad Al-Harbi (leader)
#60 Fayez Ghuneim Humeid Al-Hijri Al-Harbi
Source: http://aalhameed1.net/vb/showthread.php?t=1565
Then you have Al-Harbi clan members in Gitmo:
Salim Salman Awadallah Al-Sai'di Al-Harbi
Majid Abdullah Hussein Al-Harbi
Muhammad Abdullah Saqr Al-Alawi Al-Harbi
Ghanem Abdul Rahman Ghanem Al-Harbi
Muhammad Atiq Uwaid Al-Awfi Al-Harbi
Source: http://www.muslm.net/vb/showthread.php?169019-أسماء-(90)-سعودياً-لا-زالوا-محتجزين-في-جوانتانامو
There are specific Saudi clans that are rife with members of Al-Qaeda, which makes it quite alarming as to why nearly a hundred thousand student visas are issued to these. Americans are clueless as to clan ties when it comes to terrorism.
Lesson one: Terrorism and crime by the Saudis is interlinked extensively within families, as we see in the Harbi clan.
Let me explain. Americans will never find the Kaczynski Clan official website supporting Ted Kaczynski.
Saudi Arabia is a far different story.
Take Khalid Aldawsari, a Saudi national. He is a student and an Al-Qaeda terrorist who planned to use weapons of mass destruction in the U.S., to include an attempted assassination of president Bush. Aldawsari was not a lone wolf; he was backed by an entire system. The wealthy and powerful Aldawsari clan, which includes the powerful Sheik Saud Bin Mut'ab who hosted a support group for the terrorist defending him publicly while funding his legal team.
Just translate "We are all Khalid Dawsari" into Arabic and see how much support the terrorist gets. The Aldawsari clan's main website (alduwasser.net) keeps track of everything that goes with every comment in support for the terrorist linking to other supporting groups.
http://adinakutnicki.com/2013/04/17/when-is-a-person-of-interest-no-longer-one-the-wahhabi-roots-linking-jihad-in-boston-commentary-by-adina-kutnicki/
Abdul Rahman Ali Alharbi, a 20-year-old college student, was temporarily held under guard in a Boston hospital after the bombing, and police searched his apartment.

McCarthy noted that the Saudi foreign minister met with Secretary of State John Kerry on Tuesday, then had an unscheduled visit with President Obama on Wednesday before Alharbi was sent back to Saudi Arabia on what were called "national security grounds."

"What these grounds are, whether they involve the bombing or whether they involve something else before the bombing, we don't know because apparently everything now is sealed and classified," McCarthy said.

McCarthy was quick to note that recent attacks and attempted attacks on U.S. soil are not the fault of President Barack Obama, but the president does not enhance the security of the country "by pretending that our enemies are our friends."

While Obama has been aggressive in attacking al-Qaida overseas, McCarthy says his policies have actually resulted in a resurgence of al-Qaida. "He makes the grave mistake for the country of trying to have good relations with the Muslim Brotherhood and other Islamic supremacist groups that are anti-American."

If the bombers end up being jihadists, how they are tried will depend on whether they fit the definition of enemy combatant defined by Congress, McCarthy said. "Even if someone is a jihadist terrorist, but is not directly related to al-Qaida, no authority exists to treat them as enemy combatants. Military force is authorized only against the people, nations, or groups that carried out 9/11 or those who harbored them.

Read Latest Breaking News from Newsmax.comhttp://www.newsmax.com/Headline/boston-marathon-bombing-suspects/2013/04/18/id/500248#ixzz2QvlQqdxL

Feiz Mohammad, the radical preacher cited by dead Boston Marathon bomber Tamerlan Tsarnaev, is a former boxer who blames women for being raped and called for a prominent Dutch politician to be beheaded.

Widely known as 'Sheikh Feiz', the preacher was born in Australia circa 1970-1 but fled to Lebanon, the homeland of his parents, eight years ago after becoming one of the world's most controversial Islamic lecturers.

He has been investigated by Australian police for inciting violence and terrorism, and was even captured on a British TV documentary encouraging children to become martyrs for Islam six years ago.

Feiz has been described by some as Australia's most dangerous sheikh, because of the number of connections he holds to known terrorists.

Although it is not known whether the hardline sheikh has any direct links to Al-Qaeda, he has regularly broadcast sermons from the group's spiritual leader, Anwar al-Awlaki, on his website.

http://www.ibtimes.co.uk/articles/459253/20130419/feiz-mohammad-tamerlan-tsarnaev-boston-marathon.htm
Comments
comments