Shura Hamdard discusses nation's responsibilities towards minorities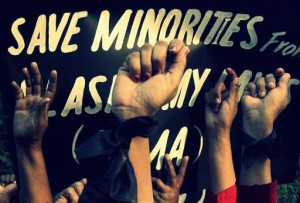 April 13, 2013
RECORDER REPORTER
Speakers at the meeting of Shura Hamdard Karachi chapter urged the government to improve governance, change the mindset of people and bring the minorities in main stream of the society in order to resolve their problems. The meeting was held on Thursday April 11, 2013 on the theme: "Minorities and our responsibilities", presided over by former chief justice, Federal Sharriat Court, Haziqul Khairi, at a local hotel.
Sadia Rashid, President, Hamdard Foundation Pakistan, was also present at the meeting. Speaking on the occasion, Zubeida Mustafa, guest speaker and a renowned journalist, columnist and member of Forum of Secular Pakistan said that she did not agree with the word of "minority", when we were all Pakistanis, having equal rights, responsibilities and citizenship of Pakistan, the question of being minorities didn't rise.
"To make people a minority on their numbers is equally wrong as women in Pakistan are lesser in number than men, but it doesn't mean that women are a minority in this country," she said adding that it was also wrong to consider some people a minority on religious ground. Because people who belonged to other religions such as Hindu, Christian, Parsi and others maintained that they were law abiding Pakistani and loyal to Pakistan and they claimed that they should not be considered as minorities.
She said that Quaid-i-Azam gave the concept of one nation is his speech of 11th August 1947, but this concept was distorted when political use of religion was started in our society and question of minorities arose that brought about much difficulties for minorities.-PR
http://www.brecorder.com/general-news/172/1174662/
Comments
comments