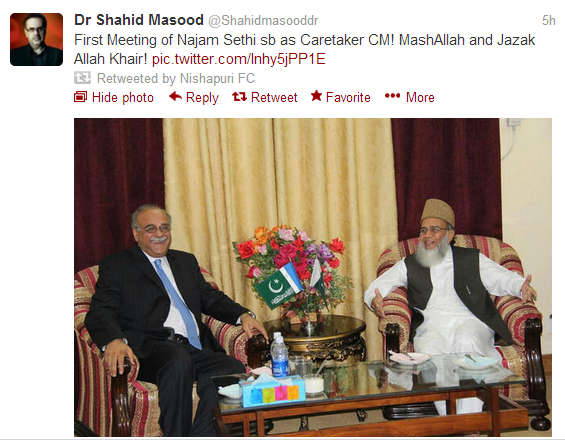 In recent episode of Bolta Pakistan (5 April 2013), veteran journalist Nusrat Javeed shames Najam Sethi and other lifestyle liberals (known as fake liberals) who remain mysteriously silent on pre-poll rigging by the election commission and judiciary on behest of Pakistan's military establishment.
Recently, a number of progressive and liberal politicians including Ayaz Amir, Waqas Akram, Jamshed Dasti etc have been disqualified on the basis of Islamist and other provisions inserted in Pakistan's constitution by military dictators Generals Zia and Musharraf (e.g., Articles 62 and 63, and requirement of graduate degree).
Interestingly but not surprisingly Najam Sethi, the caretaker Chief Minister of the Punjab province, remains tight lipped on pre-poll rigging by Pakistan's military establishment in which Ayaz Amir's papers are rejected but Ahmed Ludhianvi's nomination papers are accepted. Ludhianvi was recently promoted by Najam Sethi through his talk show on Geo TV and also through his magazine The Friday Times. Sethi was also a federal minister/advisor in the ISI-installed caretaker set up and oversaw heavy rigging in favour of Islamist parties during 1996 elections.
http://youtu.be/ve1kpeoMTog?t=13m40s
[youtube id="ve1kpeoMTog" width="600″ height="340″ position="left"]