In ISI-ASWJ's Pakistan, Ahmed Ludhianvi can contest elections but Ayaz Amir can't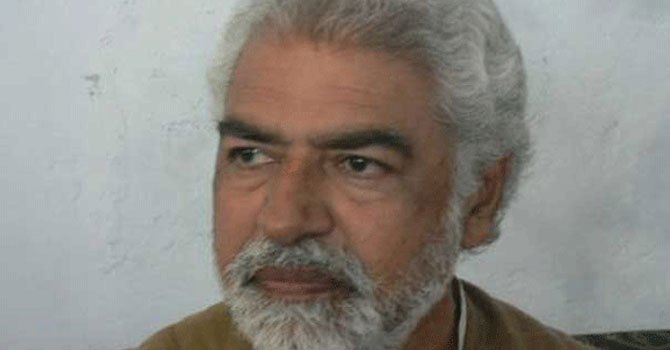 Lahore 4 April 2013: The Election Commission of Pakistan rejected the nomination papers of Pakistan Muslim League – Nawaz (PML-N) candidate Ayaz Amir.
Ayaz Amir is a leading progressive and liberal writer of Pakistan who has always taken strong position against Pakistan army's undue involvement in political affairs of the country and also has objected on ISI's support to Jihadist-sectarian militants.
Amir had filed his papers from Chakwal, Punjab, which is currently led by Caretaker Chief Minister Najam Sethi.
In the same province (Punjab), nomination papers of notorious Deobandi militant Ahmed Lduhianvi, mastermind of Shia genocide, and head of the Sipah-e-Sahaba Pakistan (currently operating as Ahle Sunnat Wal Jamaat ASWJ) were accepted by the returning officer. Ahmed Ludhianvi is allegedly a personal friend of caretaker Chief Minister Najam Sethi who has been promoting him through his magazine (The Friday Times) and talk show (Geo TV's Aapas Ki Baat).
http://tribune.com.pk/story/528963/general-elections-aswj-chief-files-nomination-papers-for-na-89/
The Election Commission has rejected the nomination papers of renowned columnist and Pakistan Mulsim League – Nawaz (PML-N) leader Ayaz Amir 'for writing against the ideology of Pakistan' in his columns.
Witnesses said residents Arif Mehmood and Babar Saleem had registered their objections with the local office of the election commission saying Amir's columns were in conflict with the ideology of Pakistan. Over which, the returning office rejected Amir's papers and referred them back to the ECP.
Amir, who had filed nomination papers for the NA-60 seat from Chakwal, confirmed that his papers had been rejected by the returning officer.
"Some local journalist raised objections on some of my columns, claiming they were against the ideology of Pakistan and Islam," he said.
According to the Constitution of Pakistan, one cannot be a member of Parliament if he "violates Islamic injunctions," or has "worked against the integrity of the country or opposed the ideology of Pakistan."
"This is the first time in Pakistan that nomination papers have been rejected on the basis of journalistic writing. Not everyone writes weekly columns. I'm among the few who do, I'm not sure if this would be applicable to other candidates."
Regarding his future course of action, Amir said he would file an appeal against the decision tomorrow.
Amir is a renowned journalist and columnist who has contributed to Dawn and The News International. He occupied the Chakwal district NA-60 seat from 2008 to March 2013.
Election Commission of Pakistan (ECP) must seriously check itself otherwise it will end in a mockery of an institute that has gained some semblance of respectability with Fakhruddin G Ibrahim as its head. Returning Officers should only be concerned with submission of forms and later scrutiny should be restricted to criminal record, sectarian or ethnic hatred, taxes paid and borrowing history.
http://tribune.com.pk/story/531062/ecp-rejects-nomination-papers-of-pml-ns-ayaz-amir/
http://dawn.com/2013/04/04/ecp-rejects-ayaz-amirs-nomination-papers/
پاکستان کے صوبہ پنجاب کے علاقے چکوال کے ریٹرننگ آفیسر نے مسلم لیگ نواز کے رہنما ایاز امیر کے کاغذات نامزدگی مسترد کردیے ہیں۔
ایاز امیر قومی اسمبلی کے حلقہ این اے 60 سے مسلم لیگ نون کے امیدوار تھے اور ریٹرننگ آفیسر نے ایاز امیر کے اخبارات میں شائع ہونے والے دو کالموں کو بنیاد پر ان کے کاغذات نامزدگی مسترد کیے ہیں۔
ایاز امیر کے کاغذات نامزدگی کو مقامی صحافی بابر سلیم نے چیلنج کیا تھا اور یہ موقف اختیار کیا کہ ایاز امیر نے نظریہ پاکستان کے خلاف کالم لکھیں ہیں اس لیے وہ انتخابات میں حصہ لینے کے اہل نہیں ہیں لہٰذا ان کے کاغذات نامزدگی مسترد کردیے جائیں۔
ایاز امیر کے مطابق انہوں نے نظریہ پاکستان کے بارے میں دو کالم لکھے تھے اور انہیں دو کالموں کی بنا پر ان کے کاغذات نامزدگی مسترد کیے گئے ہیں۔
قانون کے مطابق کوئی امیدوار اپنے کاغذات نامزدگی مسترد کیے جانے کے فیصلے کے خلاف الیکشن ٹربیونل سے رجوع کرسکتا ہے۔
ایاز امیر کا شمار پاکستان کے معروف کالم نگاروں میں ہوتا ہے اور تحلیل ہونے والی قومی اسمبلی میں وہ مسلم لیگ نون کی ٹکٹ پر رکن قومی اسمبلی منتخب ہوئے تھے۔
http://www.bbc.co.uk/urdu/rolling_news/2013/04/130404_rollingnews_3.shtml
پاکستان مسلم لیگ نون کے سابق رکن قومی اسمبلی اور معروف کالم نگار ایاز امیر نے کہا ہے کہ قومی اسمبلی کے حلقے این اے 60 چکوال کے ریٹرننگ افسر نے ان کے کاغذات نامزدگی مسترد کردیے ہیں اور اسکا جواز ان کے بعض اخباری کالموں کو بنایا گیا ہے۔
ایاز امیر پاکستان کے کثیر الاشاعت انگریزی اخباروں کے لیے پچھلی دو دہائیوں سے ہفتے وار کالم لکھتے آرہے ہیں۔ ہمارے ساتھی احمد رضا سے بات کرتے ہوئے انہوں نے کہا کہ وہ ریٹرننگ افسر کے فیصلے کے خلاف اپیل داخل کریں گے کیونکہ یہ اظہار رائے کی آزادی کے بنیادی آئینی حق پر قدغن کے مترادف ہے۔
http://www.bbc.co.uk/urdu/multimedia/2013/04/130404_ayaz_amir_twoway_rh.shtml
Comments
comments