Pakistan needs another Bhutto but not another Zia -by Riaz Ali Toori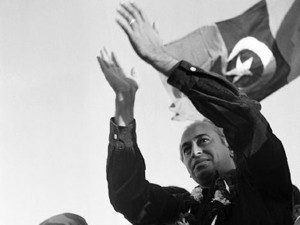 Today is April 4th -a gloomy day in the history of Pakistan. This day in 1979, the alluring leader and voice of the people of Pakistan, Zulfiqar Ali Bhutto was put to death in a most deplorable way by a military dictator in connivance with Pakistan's apex judiciary.
ZA Bhutto -an elected democratic Prime Minister of Pakistan was confined to the dark narrow barracks of different jails and was subjected to both physical and mentally torture for two years at the end of which, this only voice of the people of Pakistan was forced into eternal silence, extinguishing any flame of hope for the country's better future. The political history of Pakistan was stained with blood of another Prime Minister after Shaheed Liaqat Ali Khan but this time not at the hands of an unknown gunman, rather by Zia ul Haq, who then ruled the country for 11 dreadful years illegally and would have continued to do so, had he himself not be killed on 17 August, 1988.
Bhutto family's history is a bloodied one, starting with the judicial murder of Shaheed Bhutto to the ruthless slaying of Benazir Bhutto Shaheed. One by one, each Bhutto was mercilessly assassinated to put an end to PPP. To defame and deracinate the Bhuttos from the annals of Pakistan's history—not only through physical attacks on their persons and lives of their associates but as well as by negative propaganda and fake allegations hurled specifically by Zia's remnants.   While reading their life story from Shaheed Z A Bhutto to Shaheed Benazir Bhutto one becomes distraught and melancholic. No stone was left unturned in eliminating Bhutto from the hearts of people of Pakistan but each time the undemocratic forces failed in their horrible attempts.
All that Bhuttos have done so far for Pakistan is nothing but serving the country and its downtrodden and subjugated people, yet they are punished in such an unjust manner.  Even today, when Pakistan has entered the 21st century, the world around us is more civilized, peaceful and progressive. Democracy in Pakistan has burgeoned and the Constitution of Pakistan stands restored to its original form by the tireless efforts of Bhutto's followers, yet Pakistan remains a dangerous place for Bhutto's heirs.
Even today, Bhutto's grandson and Patron-in-Chief of PPP, Bilawal Bhutto Zardari's life is under threat more than any other leader's even though the young Bhutto has not completed 25 years of his age; because of which he is unable to freely lead election campaigns more efficiently like many other political leaders in Pakistan.
The political history is witness to the fact that none has done for Pakistan more than Bhutto, his heirs and his party. It was Z A Bhutto who introduced this nation with democracy and a people's Constitution. It was Bhutto who made Pakistan the first Islamic Atomic power and who led the country in the race of industrial revolution teaching the poor oppressed people of Pakistan to stand firmly and bravely for their rights.
Shaheed Zulfiqar Ali Bhutto was a charismatic leader not only for the people of Pakistan but was a beacon of hope for the Third World as well. He brought an end to the age-old taboos of status quo by empowering poor workers and labourers. He revolutionized the country that was considered as most vulnerable to any disaster. Those who take credit of making Pakistan invincible should not forget that it was Z A Bhutto Shaheed who brushed aside all kinds of threats from the developed world and founded the atomic program.
Bhutto family has occupied an eminent position in the world politics and surely, when one articulates about democracy in Pakistan, PPP emerges as the only party, which from the beginning of its foundation; laid by Quaid-e-Awam Shaheed Zulfiqar Ali Bhutto has persistently fought against dictatorship. PPP moved with its objective of "Islam is our religion, Democracy is our policy, Socialism is our economy, all power to the people and Martyrdom is our destination". Resisting the Martial Law of Ayub Khan and bringing an era of prosperity to Pakistan, regaining thousands of miles, that had been taken by India during the War of 1971 and later, the Bhutto Government, aimed at providing bread, clothing & shelter to the people of Pakistan, providing education and health facilities to everybody and removing unemployment and diseases.
Yes, it was Bhutto, who vowed to make Pakistan a nuclear power even if it culminated in the nation forced to eat grass. The world powers had warned the founder chairman of PPP Zulfikar Ali Bhutto not to launch nuclear programme, otherwise, he would have to face dire consequences, but ZAB set aside all threats and continued to peruse his goal. PPP founder chairman did not compromise on nuclear programme as well as national integrity for which he had to eventually sacrifice his life.
It is just because of Z.A Bhutto Shaheed that Pakistan is now an invincible State. Today, everyone is aware of the dubious role played by the then Generals and Maulvi Mushtaq in conspiring against a democratically elected leader. To this day, Bhuttos are still awaiting justice for their assassinated leaders, which is their constitutional right, being citizens of Pakistan. It is high time for the judiciary that was deposed by a dictator but restored by Bhutto's heir, Mr. Asif Ali Zardari, to think about giving justice to the family.
PPP has been the easiest prey of judicial activism and conspiracies of political actors and the pseudo analysts but yet it seems victorious in the court of public. History placed another crown of democracy on PPP when for the first time a democratic elected government completed its five year constitutional tenure after successful transition of power to the real representatives of people and restoration of the constitution of Pakistan.
As Pakistan is passing through very tedious times being confronted with multiple socio-economic issues and one of the worst forms of terrorism, PPP is participating in the elections with its inimitable manifesto of "Roti, Kapra aur Makan, Ilam, Sehat, Sub ko Kam, Dehshat sey mehfooz awam, ooncha ho jamhoor ka Nam" (Bread, clothing and shelter; education, health, jobs for all, a public safe from terrorism; democracy reigning supreme).
During last democratic tenure of PPP if Pakistan was not confronted with the evils of extremism and terrorism, democracy would have delivered more. For a better, prosperous, progressive and peaceful Pakistan, the public must denounce those political parties that side with terrorist organizations.
Today, once again we need someone just like Bhutto and definitely not like Zia who instead of abetting terrorists can give us a peaceful, progressive and democratic Pakistan.
The writer is a citizen of Pakistan's tribal area and an expert on FATA. He can be reached on analystoori@gmail.com and on twitter @RiazToori 
Source: Daily Times
Comments
comments