Ludhianvi, mastermind of #ShiaGenocide, files nomination papers for NA-89 Jhang Punjab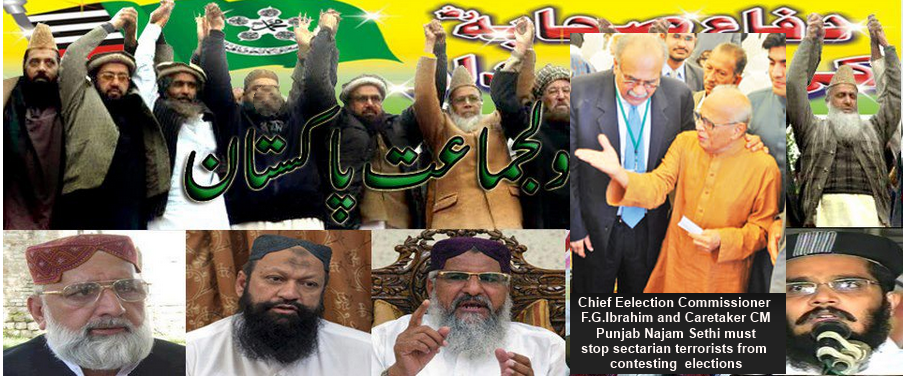 General elections: ASWJ chief files nomination papers for NA-89
Source: Adapted with some changes from Express Tribune, March 31, 2013
The chief of banned terrorist outfit Sipa-e-Sahaba Pakistan (SSP, currently operating as the Ahle Sunnat Wal Jamat -ASWJ) Maulana Muhammad Ahmad Ludhianvi Deobandi filed nomination papers on Saturday (30 March 2013) for two seats in the national and provincial assemblies from constituencies in Jhang, Punjab province.
The Punjab province is currently led by caretaker Chief Minister Najam Sethi who is known for humanizing and promotion of Ahmed Ludhianvi Deobandi. Apparently the Punjab government did not deem it fit to approach the Election Commission of Pakistan to get Ludhianvi's papers based on solid legal grounds. According to Pakistan's constitution and elections code of conduct, Ahmed Ludhianvi and other members of his sectarian outfit ASWJ-SSP are not allowed to participate in the elections. Shia, Sunni Barelvi, Ahmadi and Christian communities have appealed to the Chief Election Commissioner to stop Sipah-e-Sahaba (ASWJ) sectarian monsters from contesting the elections. https://lubpak.com/archives/255359
Ludhianvi will be contesting from NA-89 and PA-78, both constituencies which are in the urban areas of Jhang city.
Up till now, no other candidate – apart from Ludhianvi – has filed nomination papers for this seat.
In the 2008 general elections, Sheikh Waqas Akram, who contested NA-89 on the PML-Q's ticket, emerged victorious after securing 51,733 votes, while Ludhianvi secured 44,894 votes as an independent candidate. PML-N's Dr Abul Hassan Ansari secured 15,743 votes, while Pakistan Peoples Party Parliamentarian's Sheikh Waqas Ahmad Advocate secured a dismal 9,363 votes from NA-89. Sheikh Waqas Akram recently joined the PML-N, a move that annoyed Ludhianvi as he faces the prospect of once again contesting against his main electoral rival.
In the 1988 elections, the ASWJ, then known as the Sipah-Sahaba Pakistan lost this seat when Begum Abida Hussain defeated the SSP founder Maulana Haq Nawaz Jhangvi.
The ASWJ chief reached the office of the returning officer and Additional Session Judge Mian Shahid Mehmood in a convoy comprising of 150 activists.
According to an intelligence report, Deobandi militants, whose names have been placed in the 4th schedule of Anti Terrorism Act (ATA) 1997, because of their alleged involvement in incidents of terrorist and sectarian violence were also a part of Ludhianvi's convoys. The Punjab government, led by caretaker CM Najam Sethi, took no action against those who violated the 4th schedule regulation.
——–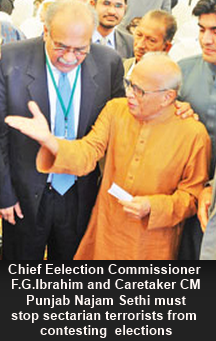 Appendix: Here's a list of Sipah-e-Sahaba (ASWJ)'s Deobandi militants who are contesting elections in the Punjab province under the watchful eyes of caretaker Chief Minister Najam Sethi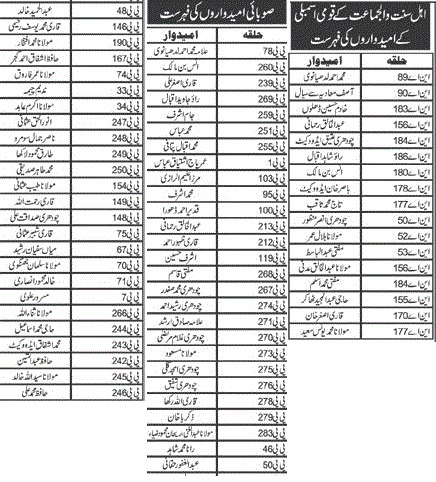 Comments
comments