The Feel Good Factor – by Umer Raza Bhutta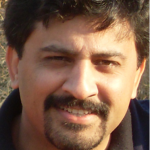 Pakistan is in the grip of that rare Feel Good Factor these days that grips it indeed rarely. All those politicians that were loathed, abused and mocked are out of governance frame for a couple of months. Those who are in this frame are perceived to be honest, gentle and corruption free. Remember they are just perceived to be so by the people in general, and according to their career record in particular, they have never done any major teasing with the system and apparently held their ground during some adverse circumstances. Most of these people are less known and have little apparent inclination towards any political party. Starting from Fakhar-ud-Din G. Ibrahim to the CM of Balochistan (whose name is yet to be famed) all are settled and good to go.
The feel good factor was at its peak when a famous journalist and a known media personality "Mr. Najam Sethi" took oath as the caretaker Chief Minister of Punjab. Because of his program on GEO he has become a very household name and after a long time, to many, it felt that someone amongst them has finally reached at a place which normally belonged to a different breed of people. Despite his past and some hidden contacts, he has developed into a refined and peoples person over the years. Mr. Sethi after taking oath and while talking to the reporters further added to the feel good factor. He said something that we wished any elected member could also say. He said that he has a number of friends, relatives and well wishers but till the time he is CM Punjab if any of his relative, friend  and well wisher takes his name and tries to influence anyone just do not get intimated and might as well report it in newspaper so that I could take notice myself. This message in itself speaks for its depth. This feel good factor is only for a while and we all wish that the feel good factor remains but the reasons should be changed. There will be other people running the affairs but these two months will leave good memories for all the next leaders to come.
Nation is now bracing towards listening and knowing as to who forms the next government. This is a very rare and refreshing time in the history of our country. Three generations might be witnessing this episode in our country for the first time. The episode is refreshing as through this act the rough, untidy, shameless political representatives will either be hashed away or they might get a tough time getting through. Another feel good factor also came forward that any voter can get the papers of any candidate for the polls by submitting a small amount of Rs. 10 per page. Those who are literate and know the value of a written word might understand that how important this step is. Our literacy is low, yet, we must confess that even if 25% people are able to have the papers and decide on its basis about whom to vote, they will take part in the process of change in an educated manner.
At the same time we must not be impatient as nothing will change in the June of 2013, when the new government will be in place. But it will take 3 to 4 such five year terms when the scent of change could be felt. This is the way of change and only this is the way that sustains the Change. All other means though quick in giving benefits but lack in maintaining roots. 
Comments
comments