Pakistan Elections 2013: Terrorists contesting elections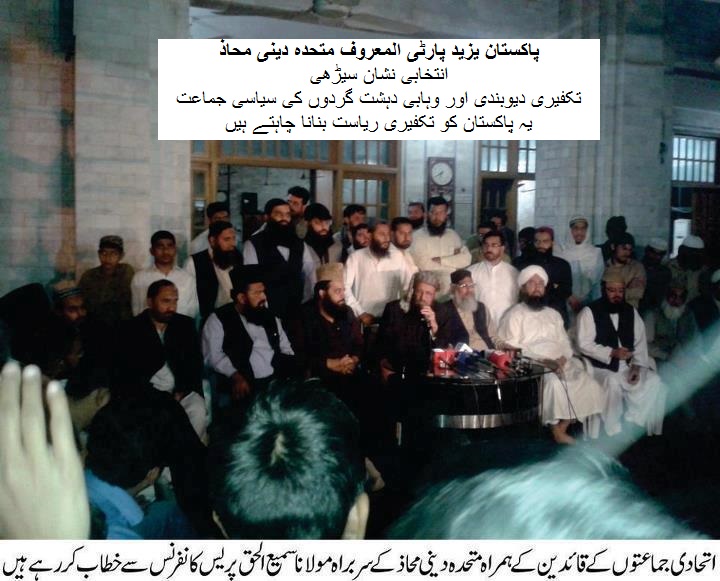 New archive
LUBP has decided to create a new archive of posts on Pakistan Elections 2013. In particular our attention will be focused on highlighting cases of Takfiri Deobandi terrorists contesting elections in independent or party-affiliation capacity.
The new LUBP archive will comprise two new tags:
Pakistan Elections 2013 https://lubpak.com/archives/tag/pakistan-elections-2013
and
Terrorists contesting elections https://lubpak.com/archives/tag/terrorists-contesting-elections
While the first tag is general and political in nature, the second tag will offer an archive of supporters and leaders of Takfiri terrorists namely Sipah-e-Sahaba (ASWJ-LeJ), Taliban, Jamaat-ud-Dawa (JuD-LeT) and other terrorists who are currently contesting or planing to contest the forthcoming general elections. This will enable our readers, rights groups, media and Pakistan Election Commission to monitor hate agendas and programmes of Takfiri terrorists.
Terrorists contesting elections?
Note: The following post is adapted with some important changes from a 2004 editorial published in the Daily Times.
In many constituencies in Pakistan, e.g. Jhang, Bahawalpur, Karachi, widely known persons belonging to banned terrorist parties and groups (Sipah-e-Sahaba aka ASWJ-LeJ) are talking part in the elections. These persons belong to Sipah Sahaba, the mother of all sectarian Deobandi jihadi outfits, which is currently operating as Ahle Sunnat Wal Jamaat (ASWJ, also operating as Lashkar-e-Jhangvi, LeJ).
In the list of contestants are included people like Aurangzeb Farooqi and Ahmed Ludhianvi who are responsible for the highest number of sectarian killings of Shias, not to speak of torture and mayhem inflicted on Shia Muslims from Karachi to Quetta, D.I.Khan to Gilgit. Others include a brother of the slain Azam Tariq, named after the great sectarian leader of Jhang, Maulana Haq Nawaz Jhangvi; and one Alam Tariq, 'khatib' at the Jamia Masjid of Jhang, one of the great apostatising leaders of our times, after Ahmed Ludhianvi, Samiul Haq and Malik Isahq. Shia and Sunni Barelvi political parties are planning to send their complaint to the Chief Election Commissioner.
The Chief Election Commissioner had better sit up and see what is going to happen once again in the land of the pure, the incubator of Shia genocide. On previous occasions, Election Commission has not be so careful. Maulana Azam Tariq, despite the fact that his party had already been declared a terrorist party and banned from the polls, was able to stand for the 2002 elections and get elected to the National Assembly. Most embarrassingly, his vote enabled the Jamali government to obtain a majority in the house, suggesting that the secret agencies (ISI) may have helped him win on the behest of the military dictator General Musharraf. Awakening late to the fact, the Election Commission went to court against his election and the matter was pending when Azam Tariq was gunned down in Islamabad in a revenge killing. The man had seen 21 attempts on his life and was a known patron of the terrorist outfit Lashkar-e-Jhangvi that is guilty of killing hundreds of innocent citizens and public servants. In any other country such negligence on the part of an election commission would not have been condoned.
In Pakistan, a country that has known no reality other than apostatisation and sectarian violence since the Ahmadis were declared non-Muslim by the state in 1973, Shias are facing the brunt of Takfiri Deobandi violence. The tehsils of Jhang, Shorkot and Chiniot (including old Rabwah renamed Chenab Nagar) and districts of Bahawalpur and D.G.Khan have been ravaged by the infighting Deobandi mullahs whose creed has spread to the entire country, not without some help from our Saudi and Bahraini friends. Deobandi mullahs have also become increasingly powerful in Karachi, Quetta, D.I.Khan and parts of FATA. People of public spirit have absolutely no chance of getting a vote because they don't have the 'fire power' that gives protection to people from the hoods 'on the other side'. Our Election Commissioner should wake up to the nightmare of Jhang and other areas, and pay special attention to who might get elected in the elections. He should take it well to heart that ASWJ, Jaish-e-Muhammad and Lashkar-e-Jhangvi, who are aligned with the Taliban and Al Qaeda, have been the offspring of Sipah Sahaba, which was founded in Jhang in 1985. Maulana Haq Nawaz Jhangvi (1952-1990), the founder, was assisted by the intelligence agencies spearheading General Zia's plan 'to teach the Shias of Jhang a lesson' after they had refused to pay zakat.
Takfiri Deobandi militants of the Sipah-e-Sahaba, an offshoot of the Jamiat-e-Ulma-e-Islam (Deobandi religo-political party, led by two separate factions of Fazlur Rehman and Samiul Haq) has killed at least 21,000 Shias, thousands of Sunni Barelvis, moderate Deobandis and Salafis, Ahmadis and Christians. Deobandi militants have also killed a number of foreign diplomats and officials belonging to Iran, United States, France etc.
The thugs are back in the reckoning in 2013 with a new electoral alliance (Muttahida Deeni Mahaz – MDM) of pro-Taliban pro-Al Qaeda Deobandi-Wahhabi groups (ASWJ-LeJ, JUI-S, Ahle Hadith, Rahe Haq Party etc), and if the Election Commission lets them into the political mainstream, we are all done for.
The Takfiri alliance MDM demands enforcement of Deobandi-Wahhabi Sharia in Pakistan, and all public offices to be held by male Sunni Muslims. Apparently, all Shia, females, non-Muslims and all non-Sunni Muslims will be banned from public offices if the MDM manages to come to power.
Comments
comments