Deobandi militants of ASWJ Taliban threaten to assassinate General Musharraf
The Deobandi militants (operating in Pakistan's Tribal Areas as Taliban and urban and settled areas as Sipah-e-Sahaba (ASWJ) have vowed to assassinate former President General (retired) Pervez Musharraf on his return to the country, a spokesman for the terrorist group said in a video message online.
Taliban / ASWJ will send out a "death squad" to kill him, Ehsanullah Ehsan Deobandi said.
One of the squad members addressed Musharraf in English, demanding the former president surrender himself.
After resigning in 2008, Musharraf spent five years in self-imposed exile in London and Dubai.
In 1999, the then-chief of Pakistan's army became its president in a bloodless military coup. He remained in power until resigning in 2008 — a period that included the U.S.-led invasion of neighboring Afghanistan.
In a Taliban (ASWJ-LeJ-TTP) video obtained by Reuters, Adnan Rasheed Deobandi, who took part in a previous attempt to assassinate Musharraf and who the ASWJ-Taliban were able to get released from Bannun Jail in April 2012 by rogue ISI's connivance , warned: "The mujahideen of Islam have prepared a special squad to send Musharraf to hell. There are suicide bombers, snipers, a special assault unit and a close combat team."
Musharraf angered the Taliban and other Deobandi militants groups by joining the U.S. war on terror following the September 11 attacks and by later launching a major crackdown on Deobandi militancy in Pakistan.
Musharraf is also facing political cases but his most immediate concern may be the Deobandi Taliban, who are seeking revenge for his crackdown on militants fighting to topple the U.S.-backed government and impose their austere version of Islam.
"When the jackal's death is near he heads to the town," said Adnan Rasheed Deobandi, who was among 400 prisoners who were broken out of the Bannun jail by Deobandi militants in 2012.
Deobandi militants were especially enraged when Musharraf's security forces launched a full-scale attack on Islamabad's sprawling Red Mosque (Laal Masjid) in 2007 after followers of radical Deobandi clerics running a Taliban-style movement from there refused to surrender.
The government said 102 people were killed in fighting when the complex was stormed.
"The Pakistani Taliban is fully prepared to deal with this Pharoah. If God is willing, we will give this devil what he deserves and give satisfaction to the victims of the Red Mosque," said Taliban spokesman Ehsanullah Ehsan Deobandi in the video.
DEOBANDI MILITANTS TRAINING
In the footage, hooded militants in combat gear clutching AK-47 assault rifles conduct training exercises along hills. Some practice making a roadside bomb, which later explodes.
"Pervez Musharraf you see the death squad around me," said a bearded man who appears to be their trainer, in English. "We urge you to surrender yourself to us, otherwise we will hit you from where you will never reckon."
On the Ulmae Deoband hate site (Pakistan's largest Deobandi web portal), co-moderate by Aamir Saeed Deobandi of Peshawar, threatening videos and messages against Pakistan army and General Musharraf. In the last few years, Deobandi militants of ASWJ-Taliban have killed thousands of Shia Muslims, Sunni Barelvi (Sufi) Muslims, Ahmadis and Christians.
Pakistan's mainstream media continues to obfuscate Deobandi militant of the Sipah-e-Sahaba (ASWJ) Taliban as Sunni radical militancy.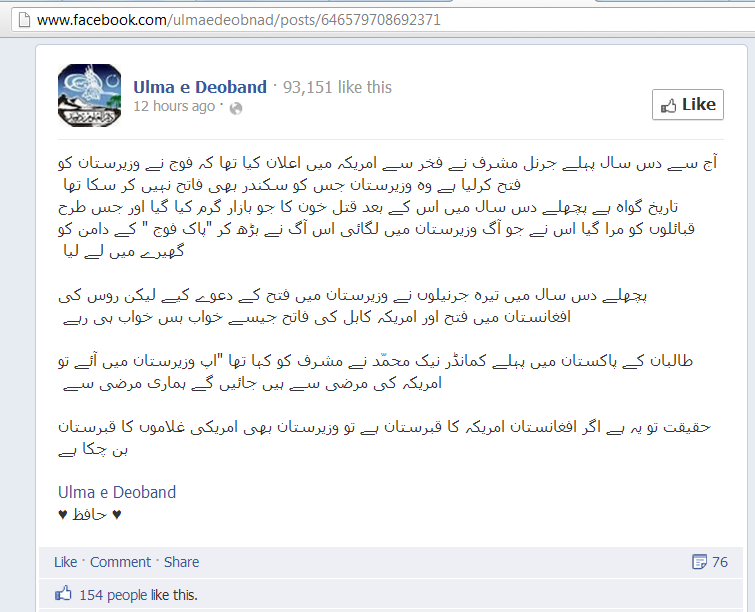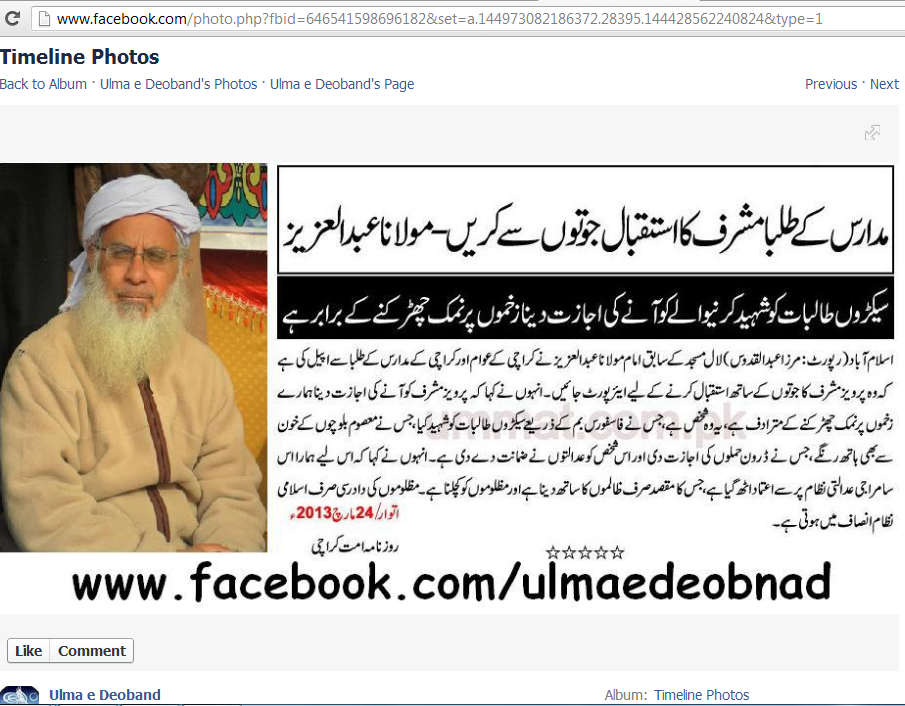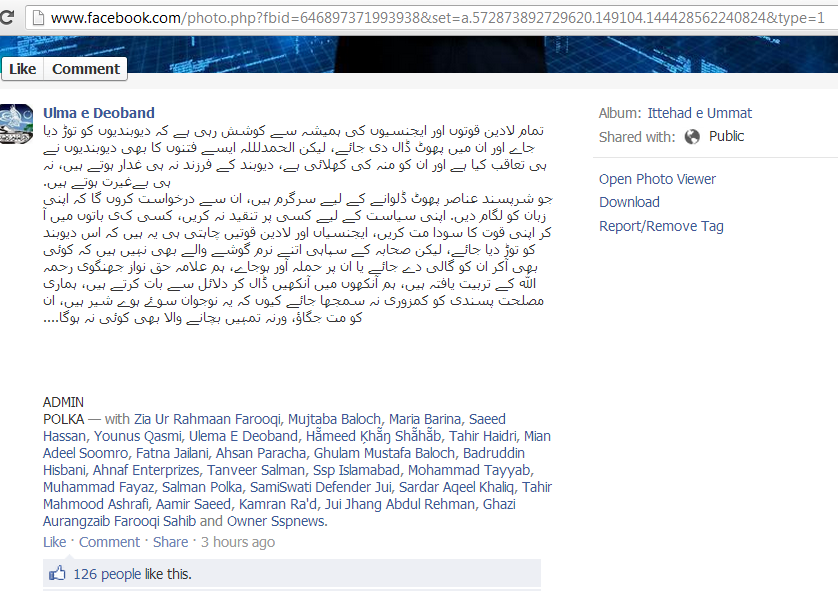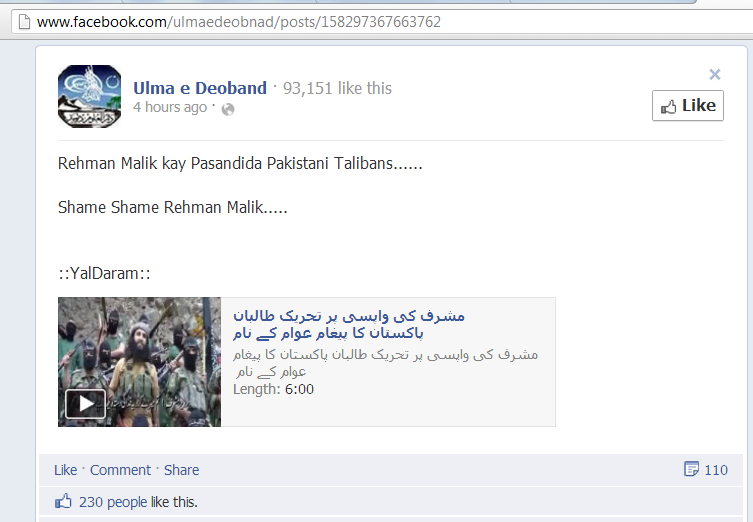 A Pakistani jihadist who escaped from prison during a Taliban jailbreak last spring appeared in a video in which he threatened to assassinate Pervez Musharraf, the former President of Pakistan who has recently returned from self-imposed exile. The jihadist, Adnan Rasheed, said he formed an assassination team and plans to attack Musharraf.

Rasheed appears on a video with Ihsanullah Ihsan, the spokesman for the Movement of the Taliban Pakistan, who is wanted by the Pakistan government. The video was produced by Umar Studio, the media arm of the Movement of the Taliban Pakistan, and obtained from a Facebook page by the SITE Intelligence Group.

In the video, Rasheed, who speaks in both English and Urdu, is shown training a group of fighters who have supposedly been assigned to assassinate Musharraf.

Rasheed says the "death squad" is split up in groups of "fedayeen, sniper team, special assault team, and close combat team." The term 'fedayeen' is often used to describe suicide bombers.

"Musharraf, you can see this death squad around me. We warn you to surrender yourself to us, otherwise we will hit you from where you will never reckon," Rashid says in English while surrounded by his team.

Rasheed issues the threat to Musharraf as he is surrounded by his "death squad." Fifteen men wearing masks and military uniforms are seen armed with RPGs, sniper rifles, and assault rifles.

Musharraf returned to Pakistan yesterday and said he is seeking to return to politics. He left Pakistan in April 2009 after resigning the presidency in August 2008. Pakistan's Supreme Court was planning impeachment hearings just before Musharraf resigned. Upon his return, Musharraf was photographed with a protective vest that is visible underneath his clothing.

Rasheed is a longtime jihadist associated with al Qaeda

Read more: http://www.longwarjournal.org/archives/2013/03/pakistani_taliban_th.php#ixzz2OgHUFSBN
Sources:
http://www.reuters.com/article/2013/03/23/us-pakistan-musharraf-taliban-idUSBRE92M01P20130323
http://edition.cnn.com/2013/03/23/world/asia/pakistan-taliban-musharraf-threat/index.html?sr=sharebar_twitter
Comments
comments