Nowruz in Pakistan's Parachinar valley – by Riaz Toori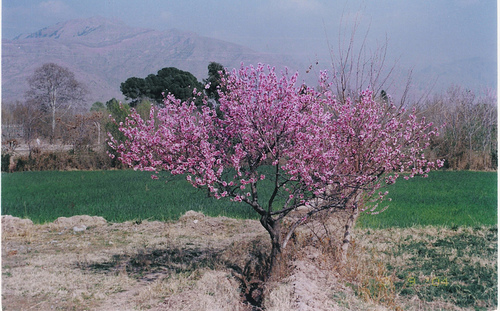 Blossom is a sure sign that spring has arrived in the earthly paradise of Parachinar.
Related post: Nowruz: The forgotten spring festival of subcontinent – by Shaheryar Ali
Every year on 21 March, the festival of Nauroze (or Nowruz) is celebrated with great fervor, enthusiasm and vehemence in Parachinar, Pakistan.
Men, women and children adorn themselves with new clothes and every family cooks seven different dishes which mostly include grains and vegetables. Rice pudding, sweetmeats and vermicelli are prepared and distributed amongst, neighbors, families and friends. Young girls, wearing colorful attire throw ropes over branches of trees to make swings while men in large numbers throng the local Mazar-e-Ali to raise a flag in an attractive and graceful ceremony.
At the Shrine of Ali (famous as Ali Ziarat Zeran) during flag raising ceremony everyone eagerly tries to touch the flag with his hand. Slowly and steadily the flag is raises up to height of 100 feet with chanting slogans of the Naara e Takbeer, Risalat and Haidrei. This event is followed by rendering of Qawwali by local singers in which people in thousands, perform dhamaal amid loud slogans. The flag remains hoisted for 40 days and people in groups and families from nearby villages come there for recitation and entertainment.
It is strongly believed that on this, day Hazrat Ali was formally ordained as Imam, a deputy to the Prophet Muhammad (peace be upon him and his progeny). When at one time, Parachinar was a peaceful region and situation was much more peaceful than it is now, Aziz Mian Qawwal graced the occasion by their performance at Mazar-e-Ali.
For the farmers, Naurooz holds special significance as it heralds the appearance of Spring and bids farewell to the harsh Winter. The fields are ploughed with the help of oxen in such a way that early in the morning sweets are distributed among the many children gathered there and the plough is moved symbolizing the start of a new cultivation of crops.
The city of Parachinar is full of hustle and bustle with people enjoying seekh and chapali kebabs, seekh tikka and other traditional foods with their friends. Just like Spring ushers in new life for plants and trees in the same way, Nauroze comes as a breath of fresh air for the people of Parachinar.
The day is a great landmark in the cultural milieu of Parachinar. Mothers refrain their children from doing anything wrong as it is believed that whatever one does today, one has to bear its brunt throughout the year, therefore children rush to greet elders who in return bless them with prayers and cash gifts.
This festival that represents peace, solidarity and happiness which is not detrimental for any human being no matter what religious faith he professes, should be promoted. Many Sunni Sufis, Shias and people of other faiths and sects celebrate this festival not only in Parachinar and other areas of Pakistan but also in Afghanistan, Iran, Central Asia and other counties and regions. Such expressions of culturlal plurality are appreciated by everyone except some puritanical Deobandi and Salafi extremists. Such festivals not only bring about positive changes in people's lives, they also add colors to cultural activities as well as create harmony, promote love, peace and tranquility among one and all.
Today when I am miles away from my home-town Parachinar, I miss my childhood years I spent there celebrating such events of joys, happiness and peace. The melodies and the music echo in my ears as the 21st March comes close. May Allah bless my earthly paradise and entire Pakistan with eternal peace, happiness and tranquillity.
Video: Jashn-e-Noruz in Parachinar
Source: Riaz Toori's blog
Comments
comments