Pakistan intelligence agencies unwilling to protect Shia Muslims – Press TV's report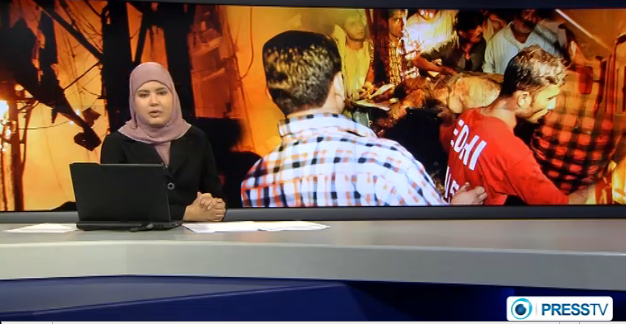 An analyst says The Pakistani government and its intelligence services are unwilling to protect Shia Muslims across the violence-wracked country.
The comment comes as at least 45 people have been killed and 150 others injured in a bomb explosion in a Shia neighborhood of Pakistan's port city of Karachi.
Reports say the blast, which took place in a Shia neighborhood of Abbas town on Sunday, also caused a number of homes to catch fire.
On Tuesday, Pakistan's Supreme Court ordered authorities "to take long-term measures" to protect the country's Shia Muslims.
Press TV has interviewed Ahsanullah Khan, Founder for Pakistani Advocates for Civil and Human Rights, New York about this issue. The following is an approximate transcription of the interview.
Press TV: Many thanks for joining us here on Press TV. Now we've been here before as well as far as Pakistan goes and the targeting of Shias. Why do you think the government has failed to take appropriate measures to stop the carnage?
Khan: You know my position over here is, it's not just me rather the vast majority living in Pakistan and overseas Pakistanis are witnessing that the Pakistani government is unwilling and unable to protect the people of Pakistan predominantly now this is the Shia community which is under attack.
And it cannot happen– it is beyond any question that without the support of the Pakistani army which has predominantly intelligence agency ISI (Inter-Services Intelligence) and its support and its blessing these religious extremists I keep saying cannot operate and the chain of command comes from the Pakistani army headquarters and all these religious extremist elements which include all these Taliban, Lashkar-e-Taiba, Jaish-e-Mohammad, Lashkar-e- Jhangvi, all of them the leadership of these groups are sitting there in Islamabad, are somewhere in the safe haven, under the protection of the Pakistani army.
Press TV: Mr. Ahsanullah Khan, I'd like to pick up on that point when we saw the bombings taking place in Quetta as well a lot of the victims' families as well as people in Quetta had demanded that the army come and take over and protect the civilians.
Why do you think there is a conception then amongst many Pakistani citizens that the army is what can come and save the security situation in Pakistan as the government has proved to be inadequate?
Khan: It's very clear that A: this is an ignorance; B: the army and its intelligence agency has so much deep-rooted in the Pakistani community; they have their informants in every neighborhood on the grassroots level to the higher level and they have created a force of, you know, their informants, those who are controlling the viewpoint.
And it is not the demand of average people, average people still want- I was at the protest, you know, the other day and I've been talking to all the Shia leadership here and back home and all the journalists that are independently working in different regions everybody is clear that it is the army that is behind all these things, who is behind all these actions and all these bombings, killings and the demand to bring armies is just a political demand that they want the army to be in power.
They want the army to regain the upper hand power so they are always in power, so they are always in control but, you know, they always keep demanding to their cronies, to their informants to the army who can save us via infiltrators.
Press TV: Let me just come in here we are quickly running out of time. What does the army have to gain from creating instability in a country and among citizens that they have sworn to protect?
Khan: The US and US aid and all the funding which is coming from the war on terror, they want to keep this case alive; they want to have a lot of terrorists who are out of control and they really try to do the democracy and do the Western bird and stuff and they get money from the US and other ally forces.
VG/JR
http://www.presstv.ir/detail/2013/03/05/292056/pakistan-unwilling-to-defend-shia-muslims/
Shia Hazara Muslims hold Pakistan army responsible for anti-Shia trrorism
Comments
comments