A village where Shahbaz Sharif is a villain – by Mirza Khurrum Shahzad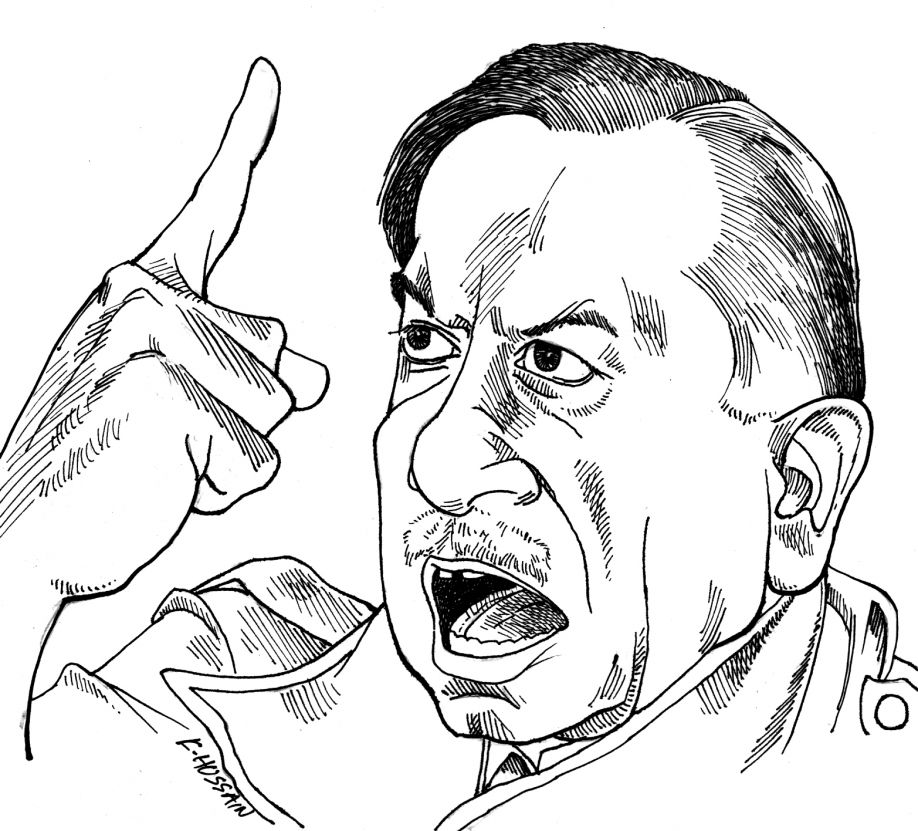 ISLAMABAD: When Shahbaz Sharif and his Punjab government will go out following an announcement for new elections, people in Indian Prime Minister Manmohan Singh's village will be very happy.
In the ancestral village of Dr. Manmohan Singh, Gah, Shahbaz Sharif is known as a villain and is the most hated person because he remained the main hurdle in the development process during his whole five years in government in the Punjab province.
Gah, a village of 2,500 people on the brink of Lahore-Islamabad motorway near Balkasar interchange in Chakwal district, where the humble Indian Prime Minister was born, was declared a model village by General Pervez Musharraf on the personal request of Dr. Manmohan Singh in 2004.
Musharraf ordered his then Punjab Chief Minister Chaudhry Pervez Elahi to provide every basic necessity to the village.
Chaudhry Pervez Elahi immediately initiated the development work on various projects in the village and built a brand new carpeted road connecting Gah to motorway, separate high schools for girls and boys, a hospital, a veterinary clinic, a water supply scheme and a vocational training center for girls in the village.
But as these projects completed in 2008, both Pervez Elahi and Musharraf were ousted from the government and could not provide staff to all of these institutions.
After elections in 2008, Shahbaz Sharif came in power in Punjab and immediately after taking charge as the Chief Minister, he abolished all development projects initiated by Chaudhry Pervez Elahi.
So after spending millions of rupees from the kitty of Punjab's people, these projects were abandoned and no staff was provided.
Buildings of schools, hospitals and vocational center were left standing and later ruined as no maintenance and care was provided because of unavailability of proper staff and funds.
On the other hand, the Indian government installed a solar lights system in streets and a water heating system in the village mosque, which are still running very smoothly. The Indian government sent its team of engineers last year to check the system again and remove any deficiencies.
But Punjab government is unwilling to provide any staff to these institutions because the Chief Minister thinks that if the projects start running efficiently, the credit will go to Chaudhry Pervez Elahi, who constructed the buildings.
In mid 2012, when India and Pakistan discussed dates for a proposed visit of Manmohan Singh to Pakistan and also scheduled his visit to Gah, the provincial government considered completion of pending projects and appointment of staff.
They appointed five teachers for the girls' school and also issued some tenders for the resumption of construction work to avoid embarrassment. However as soon as the visit was cancelled, the provincial government took back the initiative and stopped the funds again.
The people of the village are running from one office to the other. But they are unable even to see local PML-N representative Sardar Mumtaz Tamman, who is a sitting MNA.
"We could not catch MNA Mumtaz Tamman during his whole tenure. All our projects are still stalled," said Aashiq Hussain, former Nazim and the village representative who is looking after the development affairs.
But PML-N believes that the buildings are still under completion and staff can be appointed only after its completion.
Source: http://www.thespokesman.pk/index.php/component/k2/item/1820-a-village-where-shahbaz-sharif-is-a-villain
Comments
comments