Interfaith conference: Once again Zardari stabs the hearts of Pakistani victims of Islamofascism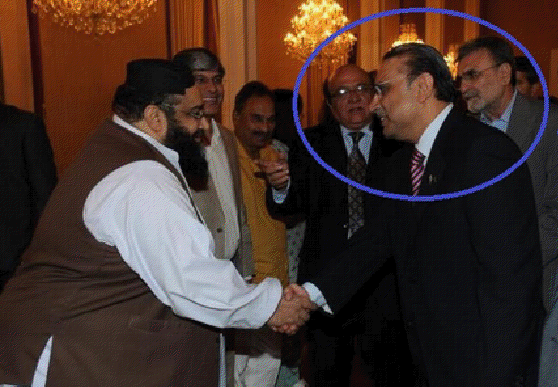 Author: Mahpara Qalandar
On 22 February 2013, President Asif Zardari addressed an interfaith conference called "Living together with diversity – Interfaith and inter-cultural dialogue".  (Reports on his address can be viewed at: http://tribune.com.pk/story/511421/interfaith-conference-president-faults-global-counter-terror-approach/ and http://www.dailytimes.com.pk/default.asp?page=2013\02\23\story_23-2-2013_pg1_1)
What he said at the conference once again proves his insensitivity to the plight of Pakistanis (Ahmadis, Brelvis, anti-Taliban Lashkars, and, above all, Shias). The conference was arranged by an Orwellian-sounding Ministry of National Harmony. The most significant persons in attendance were Bilawal Bhutto, Advisor to Prime Minister on National Harmony Dr Paul Bhatti, Justice (Retd) Rana Bhagwan Das and Chairman Central Ruet-e-Hilal Committee Mufti Muneebur Rehman.
Here is how LUBP looks at Zardari's insensitivity which was evident at the conference:
Does Pakistan need an interfaith conference?
This can only be understood by looking at the statistics. Whereas Christians and Hindus have as much right to live and operate in Pakistan as the rest of Pakistanis, the question is: How many Christians and Hindus have been killed by Islamofascists led by the likes of the Taliban and the Lashkar-e-Jhangvi (LeJ, currently operating as Ahle Sunnat Wal Jamaat ASWJ)?
The total number of Christians and Hindus killed in Pakistan on the basis of religious differentiation is less than 1,000. Hindu women are kidnapped and forced to convert to Islam and Hindu men are abducted for ransom is not an interfaith issue. Both incidents happen only in interior Sindh. There are a few exceptions where Hindu traders were kidnapped in Balochistan. However, the problems faced by the Hindus are confined to interior Sindh.
Christians have fared better than Hindus. In recent years, the only significant anti-Christian incident happened in Rawalpindi where a Deobandi/LeJ-affiliated imam of a mosque accused a Christian girl of blasphemy, but later he was arrested for making a false accusation and the girl was set free.
Another significant point to note is that no government institution has ever been blamed for officially backing crimes against Christians and Hindus, though the infamous attack on the Christians of Toba Tek Singh in Punjab a couple of year ago was planned and executed by the politicians belonging to Nawaz Sharif's PML-N. https://lubpak.com/archives/1313
On the contrary, the Shia genocide is not confined to just one area in Pakistan. From Quetta to Karachi to South Punjab to Kurram Agency to Gilgit-Balistan, there is hardly a place where Shia blood has not been shed with impunity. As many as 21,000 thousand Shias have been killed with impunity. Not a single culprit has been punished. The Shia genocide in Pakistan is facilitated by state institutions like the notorious ISI. The government of Punjab is headed by Shahbaz Sharif who is the patron of the LeJ. The Punjab government provides physical refuge and financial backing to the likes of Malik Ishaq Deobandi. Nawaz Sharif has recently received the SSP leader Mullah Ahmed Ludhianvi with open arms and has inked an electoral alliance with him. Punjab's Minister of Law who is Shahbaz Sharif's right hand is not only affiliated to the SSP, has repeatedly taken part in its anti-Shia rallies. The Sipah-e-Sahaba Pakistan (SSP/ASWJ) is the political wing of the LeJ, so one can imagine where the bullets cutting down the Shia are coming from and with whose blessing. The web site of Asian Human Rights Commission has amply documented the role played by the ISI in the Shia genocide. https://lubpak.com/archives/244183
Ahmadis, Sunni Barelvis, and anti-Taliban lashkars also face the wrath of the Taliban and the LeJ though their suffering is far less compared to the suffering of the Shias of Pakistan. It must be said here that their suffering is as condemnable as that of the Shias.
Zardari's anti-Shia stance
We are not talking about his intention and what lies inside his head. However, to all intents and purposes, Zardari is as bad as General Zia in Pakistan and King Fahad in Saudi Arabia when it comes to the Shias. How?
Zardari's conscience is pricked when Christians and Hindus suffer. But when it comes to the Shias, he is completely silent. In the beginning of his presidency five years ago, he would react to Shia killing through a one-liner, "Muslim cannot do that!" But now he has stopped even doing that. The LeJ kills the Shias at will, but Zardari does not even utter a word. Nor does his PPP issue a statement condemning the Shia genocide. One can certainly forget about Zardari condemning the Saudi role in the genocide and holding the ISI accountable for it.
Zardari's anti-Shia stance is proved from the fact that in his fraudulent interfaith conference, not a single Shia was invited to tell him and his hand-picked crony spectators what it means to be a Shia in Pakistan today. He has closed his eyes to the very existence of the Shias of Pakistan.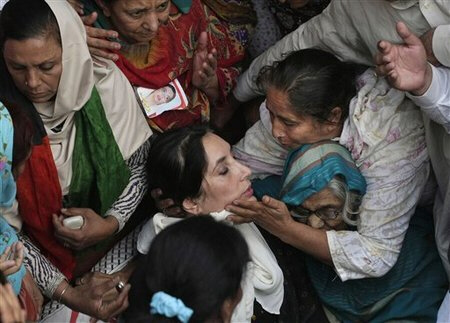 Shia genocide: Zardari vs Benazir
Had Benazir been alive, she would have joined the Shias whenever or wherever they were killed. That was how she was. She was a person with empathy. She was a very brave woman too. She would have condemned the LeJ and done her best to stop them.
Zardari on the contrary has proved to be extremely insensitive and cowardly. He seems to be obsessed with holding on to his seat, and not to the people who vote for him and die for the part he heads in the name of Benazri and her father.
Zardari, the bunker whistler
No wonder the interfaith conference was held in the presidency. Zardari does not move from there. His official residence is his refuge. This is a metaphor for how cut off from the people he is. Has he ever visited a Shia town where they were killed? Has he ever visited Shia orphans, widows, or elderly who have lost everything? The answer is: NO. Zaradri visits Benazir's and her father's graves. Occasionally he visits Shahbaz Qalandar's grave too. But these are political stunts which are indeed acts of extreme insult to these personalities because in their lives they stood for the masses and their suffering, and died for them.
Zardari lives in a bunker from where he whistles about what ails the minorities like the Christians and the Hindus. The whistle makes no noise about the Shias.
Zardari concluded by saying, "We must extend developmental support to those societies which are faced with interfaith friction or extremism." What are "those" societies? Zardari wants to give support to all the societies in the world, but has nothing to say about his own society over which he has been presiding for the past five years and has also been witnessing the worst Shia killing in the history of Pakistan.
Comments
comments