Khoon: A powerful song-video by Topi Drama on how we are all complicit in #ShiaGenocide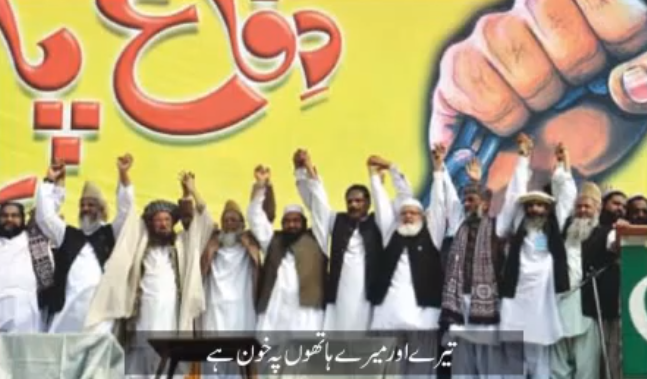 Since January 2012, more than 1700 Shia Muslims have been killed in various parts of the country, particularly in Quetta, Karachi, Gilgit Baltistan, Rawalpindi and Parachinar, by Takfiri terrorists. In the last few decades, the total number of Shias killed in Pakistan exceeds 21,000.
For years, we have witnessed the inhuman massacre of the Shia Muslims while we all knew who the culprits were, i.e, Takfiri Deobandi terrorists of Lashkar-e-Jhangvi who freely operate as Ahle Sunnat Wal Jamaat (ASWJ, previous name Sipah-e-Sahaba). We all knew the ones who pulled the triggers, and also those who nurture and protect them for cross-border Jihadist militancy.
However, we stood on the sidelines- the silent majority, the silent media, the silent politicians and institutions of this country. This song is about us and the blood we have on our hands.
Topi Drama band comprises two Sunni Muslims and a Christian, who decided to confront the collective Nazi-style obfuscation and silence on Shia genocide in Pakistan. "Khoon" is the first ever song-video in the history of Pakistani music that openly sympathizes with Shia Muslims, identifies the ASWJ-LeJ killers and questions the silence of Pakistani politicians, media and other institutions.
Comments
comments