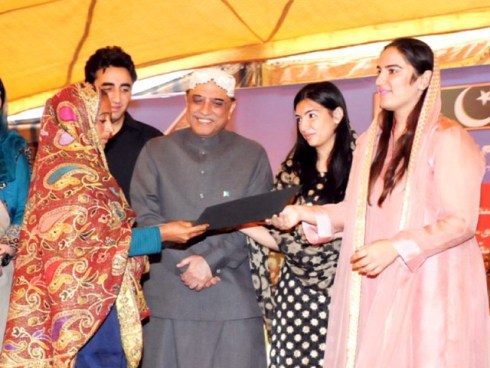 On the eve of January 25, 2013, I am obligated to inscribe a sensation, which is intense enough to grip every speck of my existence; yet remain truncated. It is the chronicle of a survivor – the oceanic of my feelings, and every gulp of air associated with my being yells out the catchphrases of "Zinda Hai Bibi, Zinda Hai". Born in a terrain, known for its mayors' longing for the Bhuttos' blood, I am at pains to quote the names of those warriors, who, ostensibly undeterred by the forces of repression preserved their unyielding devotion to this patch of green, thus far desolate; and its people – creditable, yet impecunious. Alarmed by the cries of the exposed and famished countrymen, who sleep under the open skies in the gloomy winter nights, and those who bleed to the torment of losing their treasured ones, I protract my pursuit to find my heroine, who remains the axis of my entire planet, and who also happens to be a healer to the lesions of the dejected ones; about whom I had heard that she does live, for the martyrs never die, and their blood is bound not to go in vain. I had numerously read the account of a Savior who even after losing her father and two young brothers revisited her motherland – that was beseeching for her blood to ensure continuation, and she readily accepted that atrocious, nonetheless superlative destiny. I, for a second time cannot resist going through the captions of the 1990s, which read: "Baby girl, born to Benazir". The name Benazir perforates the heart, for that is certainly, an implausible dream. The lyrics of "Apologies" initiate to cure the pang, and in the entire consternation, "Bakhtawar Bhutto Zardari" materializes as a spring from the paradise – the everlasting gift, Benazir Bhutto Shaheed left for the inhabitants of her native land.
Bakhtawar Bhutto Zardari is more than an idol of veneration for me – the portent of good fortune, Itty had to undergo more than everybody else for an egalitarian and affluent Pakistan as envisaged by her grandfather, Quaid e Awam Shaheed Zulfikar Ali Bhutto. She grew up to the vile upshot of the country's political affairs; viewing her father behind the bars for most of her youth, and her mother, fighting for the people of Pakistan, and the fictitious corruption accusations against her family, banishments and detentions.
A "Benazir" daughter, Bakhtawar is!
As I come down the stairs to leave for the airport, my 7-year-old daughter, Bakhtwar, looks up. Casually waving, she says, "Bye, it was nice seeing you. Come back soon."
"What do you mean," I say. "I am your mother. I am stuck to you like that arm of yours for life."
"But, Mama, my arm keeps going away," she complains.
"But it always comes back," I reply.
"Yes, it does, it does," says my 8-year-old son, Bilawal, as he gives me a hug.
Bearing the Bhutto genes, Bakhtawar has learnt to sacrifice from the very beginning. From a very uncomplaining baby, who scarcely cried during the entire journey to the Bakhtawar, who keenly lent her moments to her mother's binder to the people of Pakistan, she recognized the enormity, and the bondage of the mantle she was carrying.
It was a superwoman again who gave a concluding cuddle to Shaheed Mohtarmah Benazir Bhutto on her departure to Pakistan on October 18, 2007. However, the matchless mother did have dreams – those of spotting her dearest daughter at the zenith of accomplishment, and that was comprehensible, when she continued to message her about her university application during the rally
"How we sat and played cards, even argued for hours
And went out for movies, you couldn't drop me to uni
Chance got taken away, If you lived one more day
I got so much more left to say"
Eyes fog to evoke the very appalling realism that she could not live up to the day, hitherto, on June 28, 2012, Bakhtawar made both her parents proud by graduating from the prestigious University of Edinburgh with a degree in Literature with flying colors.
"Nobody understands – they didn't just take a leader
They took our mother from our hands…"
December 27, 2007 filched her mother from her, who was the sheer hope of millions. Heart thaws to recall those yanking instants when the firmament was actually stooping in approbation to the audacity of my heroine, and her uniformly fearless daughter, Bakhtawar Bhutto Zardari. Those tears transformed into an adamant pledge to the cause of the martyrs, and from the jingles of "Pakistan Khappay" to "Democracy is the best revenge", Bakhtawar always stood by her father, President Asif Ali Zardari. Mentality cannot impede to revert to the September 2008 afternoon, when she was seen stepping inside the Presidency at the side of her father, holding the Holy Quran in her hands. The other moment, when I saw her in Monaco, my eyes had been gaping at Benazir. The white dupatta, that characterized her mother was perched on her head, and I had seen a proud daughter in Bakhtawar, receiving an award for her martyred mother, and standing in the vicinity of her photograph with a scarlet flower for her – If you want to interpret a proper love story, don't bother to go afar Benazir and Bakhtawar: I bet you would never be able to find anything better!
Bakhtawar is the mirror image of her mother, and the strength of her father.
Bakhtawar is a Benazir sister!
Like her mother "Pinky", Bakhtawar continues to be a favorite child, and her friendliness with her siblings is beyond compare. Having constantly stood by her brother, Bilawal, who is also the Chairman of the Pakistan Peoples Party, Bakhtawar reveals the future of Pakistan – very brilliant and buoyant, for she has always offered insistent support to the young leader, who is now the depiction of Bhutto's principles and the largest political party of Pakistan, the PPP. They are of course, the Rahul and Priyanka Gandhi of Pakistan! On the other hand, she has also dynamically volunteered for the anti – polio programme in Pakistan that is led by her little sister Aseefa Bhutto Zardari. Her enormous love for her baby doll is evident in her tweets, and every portrait of the family. A gorgeous illustration of it is the recent graduation ceremony of Bilawal Bhutto Zardari.
Bakhtawar is a Benazir leader!
She caught everyone by surprise by the manner she conducted herself in Monaco to obtain an award on behalf of her martyred mother, and later, on her foremost official address to the party workers of the PPP, the watchwords of "Zinda Hai Bibi, Zinda Hai" were accompanied by those of "Best of Luck Bibi"; who "Bibi"? That was my leader, and my sister, Bakhtawar Bhutto Zardari. "Is mulk ki kismet ap k hatho may hay, so let's make a difference…" – There was the regeneration of Benazir with every word she spoke – and how plainly she was sentient of her destination, and her rationale to serve the deprived masses of the country, and erect a better Pakistan, free from starvation, ailments and violence, which was Quaid e Awam's vision, and for which the Daughter of East had laid down her life.
Bakhtawar has Benazir's compassion, which aches to the torments of her countrymen, and this is not an idle claim. When the country was drowning to the shattering floods in 2010, it was Bakhtawar Bhutto Zardari, who took the initiative to lend a hand to those dislodged sufferers by forming an NGO "Save the Flood and Disaster Victims Organization", and during her entire vacations, worked untiringly to recuperate every house affected by the floods. She not only amassed funds for them, but also visited them to make certain that their leader did not let them suffer alone. "Shaheed Mohtarma Benazir Bhutto is the most inspiring figure in my life. She was larger than life. I always thought of a tribute which could do some justice to her grand abilities. The very core aim of this NGO is inspired from her passion that was the true emancipation of the people of Pakistan. So I ask in her name for help. Let us come together and rebuild Pakistan. Let's rebuild it in an even better way. Let's turn this grave tragedy into an opportunity. We have to rebuild a new bright and shining Pakistani society, to which our commitment is total and unending."
Moreover, she has protracted her mother's dream of an educated Pakistan through the Shaheed Zulfikar Ali Bhutto Institute of Science and Technology. Her hard work and devotion to the institute Shaheed Mohtarmah Benazir Bhutto so fondly established would undeniably be making her proud. Bakhtawar has placed her heart and soul in this soil, like her martyred mother, and has earned an enormous esteem and love in the hearts of her countrymen, who cite her as "Benazir Junior" – the only healer of the troubles of the marginalized!
To me, Bakhtawar Bhutto Zardari implies an intact world, and I am certain that every fragment of my survival is dedicated to her. If I could, whittle her name on the skies with my blood, and make a red carpet for her with my very heart.
Happy Birthday to my heroine Bakhtwar!
Darling, You are the best daughter a mother could have…