Hafiz Saeed Wahhabi obfuscates Saudi Arabia's role in spreading terrorism -by Saeed Ahmed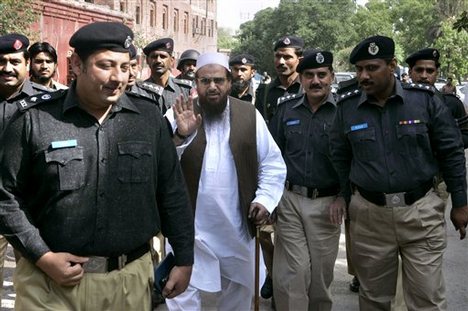 In this video clip (taken from Mubasher Lucman's Khara Sach – ARY TV), Hafiz Saeed's hypocrisy is revealed as he refuses to condemn them on various different counts. While Mubasher Luqman predictably asks him easy questions, both he and Hafiz Saeed conveniently duck the core issue which is Saudi Arabia's massive funding to spread extremism and intolerance in Pakistan.
To see the tentacles of religious extremism here, one has to go beyond the stage actors and look at their directors and producers also. The producers of these hate mongering bigots are Saudi Arabia, UAE and Qatar along with some other countries. The directors are the Pakistani generals and the Judiciary that goes out of its way to protect people like Hafiz Saeed. It is not just the media, and not just Urdu anchors like Mubasher Luqman who ask them easy questions without any proper follow ups. Some months back, Ejaz Haider, a self described "liberal" writing for the Express Tribune goes out of his way to make a legal case in favour of Hafiz Saeed.
It seems that his Ejaz Haider's prayers were answered today when the Jihadi friendly judiciary appointed an amicus curiae to look into defending Hafiz Saeed http://tribune.com.pk/story/501258/hafiz-saeed-lahore-high-court-appoints-amicus-curiae/ . Earlier on, Supreme Court Justice Khosa released Hafiz Saeed on the grounds that he is with Jamaat ud Dawa which, as per the Pakistani Supreme Court, is different from Lashkar-e-Tayabba.
PPP should take note and ask all is ministers to change their names to get away from the one-sided judicial campaign against them. Ofcourse, the Hafiz Saeeds and Malik Ishaqs can rest assured that as long as they have Pakistan's Media-Judiciary on their side and the Generals behind them, no one can touch them.
Comments
comments