A woman is not a lollipop! – by Shazia Nawaz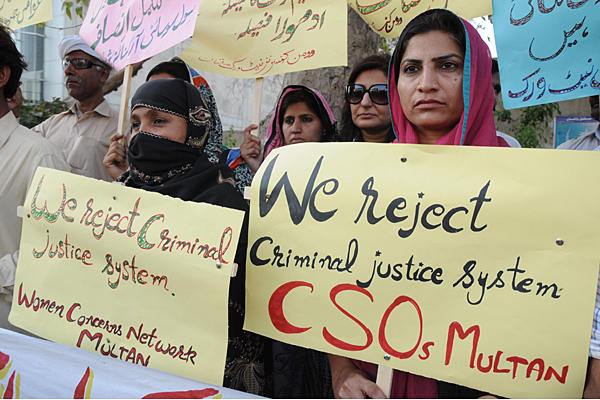 India's brutal gang rape has shocked the world. But this was also an opportunity for us to look inside the minds of average Pakistani and Indian people. Not only several Indian and Pakistani men, but a few Indian women too blamed the rape victim, without knowing that they were actually blaming the rape victim for her own rape. Two most common arguments that you hear are: "why was she out so late?" and "if women covered themselves properly, rapes would not happen."
People who make these two arguments have not seen the civilized world. They probably don't know that there are parts of the world where women are treated as equal to men; where women too stay out late like men and no one feels that it gives them the right to rape them; where women too can wear whatever they want to wear with out getting raped.
If a woman's clothes give a man the right to rape her, then a woman should be able to slap a man's face if she did not like his outfit. Also, these people need to understand that if a woman chooses to show her beauty, it is just left at that in the civilized world. You can look, but you can not touch. Just like a shirtless man in indo-pak does not deserve to be beaten to death for not wearing a shirt.
If you do not like someone's insufficient clothes, you can dislike it in your brain but you can't attack that person. And yes, there are parts of the world where men are not animals. They don't become out of control just by the sight of a woman's naked legs.
A lot of Pakistani men compare women with a lollipop, "see, how when a lollipop is not covered, flies come to it." And there is actually a picture on the internet to "support" this argument.
This tells us what big degenerates we are producing in Indo-Pak. Our men compare women to a piece of candy.
They are not raised being told that women are not candy but equal humans, with similar brains, hearts, goals and ambitions; they must have the same freedom of mobility as men do.
Caging women inside the houses just because men can not "control" themselves is an argument of a deranged society. If men are a danger to women, then they should be caged in the houses, so women could walk freely on the streets.
Also, if a woman has one boyfriend, it is does not give others the right to force themselves upon her. Again, only a society of deranged thinks that a woman can not be in a relationship with her own free will. Yes, a woman can choose to have sex with one man, or several men of her choice, and others can not touch her with out her permission. You can not touch even a professional sex worker without her permission. This is how civilized societies work. You can call that woman "bad" if you like. You do not have to be like that woman, but you can not rape her, touch her, or even yell at her.
One Indian man made an argument on my Facebook page that Indian society is not as mature as westren societies are. Now, this is equal to saying that Indian men are inferior in wisdom to westren men.
عورتیں بالکل اپ کی طرح کی انسان ہیں اور لولی پاپ نہیں
دہلی کے گینگ زنا بالجبر کے کیس نے پوری دنیا کو ہلا کے رکھ دیا ہے. اس بحث میں ایک اور بات پھر سامنے ائی ہے، جس سے ہمیں یہ اندازہ ہوتا ہے کے پاکستان اور انڈیا ایک دوسرے سے زیادہ مختلف نہیں. جہاں لوگ زنا بل جبر کرنے والوں کو برا بھلا کہ رہے ہیں، وہاں بوہت لوگ ایسے بھی ہیں جو پھر سے ہمیں بتاتے ہیں کے انڈیا اور پاکستان کو مہزب قومیں بننے میں ابھی سو سال اور لگ سکتے ہیں. نہ صرف کے بوہت سارے پاکستانی اور انڈین مردوں نے کہا کے زنا بل جبر کی زمی داری عورتوں پر بھی عاید ہوتی ہے کیوںکہ وہ پورے کپڑے پہنے بغیر گھر سے باہر نکل جاتی ہیں اور یہ کے وہ رات کو اکیلی گھر سے کیوں نکلتی ہیں، کچھ انڈین عورتوں نے بھی ایسی باتیں کیں. ایسی باتیں کرنے والے لوگ وہ لوگ ہیں جنہوں نے مہذب معاشرے نہیں دیکھے. دنیا میں ایسے ملک بھی ہیں، اور خوش قسمتی سے میں بھی ان ملکوں میں سے ایک میں رہتی ہوں، کہ جہاں عورت رات کوباہر جا سکتی ہے، جہاں وہ جو چاہے پہن سکتی ہے اور کوئی یہ نہیں سمجھتا کے اس کو بہانہ بنا کے وہ ایک عورت کو ظلم، تشدد یا زنا بل جبر کا نشانہ بنا سکتا ھے
اگر مرد نے شارٹس پہنی ہوں، اور مجھے پسند نہ ایے ، تو کیا میں جا کر اس کے چہرے پر تھپڑ مر سکتی ہوں؟ اتنی سی بات سمجھ لینی چاہیے کے کسی انسان کو دوسرے تو ہاتھ لگانے کا کوئی حق نہیں. اگر اپ کو کسی کے کپڑے یا اندازے زندگی پسند نہیں، تو آپ پھر بھی ان کو کچھ نہیں کہ سکتے
بوہت سارے پاکستانی لوگ عورت کو لولی پاپ سے تشبیہ دیتے ہیں اور کہتے ہیں کے اگر لولی پاپ پر اس کا کور نہ ہو تو اس پر مکھیاں ا جاتی ہیں . اس سے ہی ہمیں اپنی ذہنی پسماندگی کا پتا چلتا ہے کہ ہم ایک انسان کو ایک کینڈی سے موازنہ کرتے ہیں. عورتیں مردوں کی طرح انسان ہیں اور کینڈی نہیں . جس طرح مردوں کو آزادی سے چلنے پھرنے کی اجازت ہے، ویسے ہی
عورت کو بھی وہی آزادی حاصل ہونی چاہیے
میں بھی یہی سمجھتی تھی کے عورت پر ہی ساری ذمےداری ہے . مجھے امریکا جیسے مہذب معاشرے میں رہ کر پتا چلا کے عورتوں کو تشدد اور جملے بازی سے بچنے کے لئے جیل میں رہنے کی ضرورت نہیں. مردوں کو یہ بات سمجھنے کی ضرورت ہے کے عورتیں بلکل ان کی طرھ کی انسان ہیں . جس طرح سے مرد عورت کی طرف متوجہ ہوتے ہیں، اسی طرھ عورتیں مرد کی طرف، کیا سارے مردوں کو گھر میں بند کر دیا جائے ؟
اور اگر مرد سڑکوں پر عورتوں کے لئے خطرہ ہیں تو پھر مردوں کو گھروں کی جیلوں میں بند کیا جانا چاہیے تاکہ عورتیں آرام کے ساتھ سڑکوں پر چل پھر سکیں
اگر ایک عورت کسی ایک مرد کے ساتھ اپنی مرضی سے جاتی ہے، تو یہ باقی مردوں کویہ حق نہیں دیتا کے وہ اس کے ساتھ زبردستی کریں. صرف گھٹیا معاشرے اس ترھا کی سوچ رکھتے ہیں. اپ کسی کال گرل کو بھی اسکی مرضی کے بغیر ہاتھ نہیں لگا سکتے
اگر ایک عورت اپنی خوبصورتی دکھا تی ہے تو اپ اس کو صرف دیکھ سکتے ہیں اور ہاتھ نہیں لگا سکتے. مہذب معاشرے تو یہ بات سمجھتے ہیں
جب اپ کسی پر حملہ کرتے ہیں، تو یہ اپ کا اصل چہرہ دکھاتا ہے، اس بندے کا نہیں جس پر اپ نے حملہ کیا. وہ ملک اچھے ہیں جہاں عورتیں گھروں میں بند ہیں اور باہر نکلنے پر زنا بل جبر کا شکار ہوتی ہیں یا وہ جہاں جو مرضی پہن کر جہاں مرضی پھیریں اور کوئی کچھ نہیں کہ سکتا؟ بوہت ہندوستانی اور پاکستانی مرد کہتے ہیں کہ ہمارا معاشرہ اتنا بالغ نہیں جتنا امریکا یا یورپ کا، تو ہماری عورتیں نہ ہی باہر جائیں تو بہتر ہے. یہ کہنا کچھ اس طرہ کہنے کے مترادف ہے کہ ہمارے لوگ یورپ اور امریکا کے لوگوں کے مکابلے میں کم عقل ہیں. اور کتنا ٹائم لیں گے آپ بالغ ہونے میں؟ ٹائم آ گیا ہے کہ آپ بالغ ہو ہی جائیں
Comments
comments