Souls March delegates provide concrete suggestions to Pakistan Consul General in New York to stop Shia genocide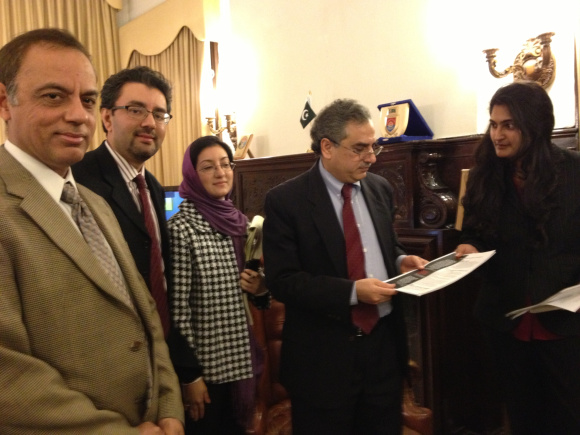 Exactly two weeks after the 10,000 Souls March in NYC, a delegation of Souls March and Imamia Medics International representatives met with Consul General Faqir Syed Asif Hussain at the Consulate of Pakistan to discuss the targeted killing of Pakistani Shia Muslim and constructive ways through which these crimes within Pakistan can be stopped. The delegation, comprised of Dr. Azra Raza, Dr. Shehla Naqvi, Dr. Arif Zaidi, Mohammad Naquvi, Sakina Rizvi and Saman Naquvi, met with the Consul General for almost 2 hours.
The delegation emphasized the urgency and importance of action by the Government of Pakistan. The targeted violence against Pakistani Shia Muslims, as well as other vulnerable communities including women, not only tarnishes the image of the nation and decreases its credibility regarding its commitment to human rights as a new member of the United Nations Human Rights Council, but also threatens Pakistan as a whole. Extremist groups are increasing the levels of violence against Pakistani Shia Muslims to inflame sectarian tensions across Pakistan, as well as to annihilate a community based on its faith without any accountability. Sakina Rizvi also noted that the promotion of rule of law is fundamental to both human rights and sustained economic progress, saying "Lack of accountability for these crimes not only prevents justice for victims, but impedes Pakistan's economic development, as well."
Delegates discussed concrete short and long-term actions with the Consul General such as trainings for police officers, forensic officers, judiciary members and infrastructure development to address the deteriorating situation in Pakistan and requested the Government of Pakistan to:
Provide accountability: urgently investigate and prosecute those responsible for recent attacks, and the increasing violence against Shia Muslims and all vulnerable communities in Pakistan.
Provide reasonable compensation and increased livelihoods development for injured survivors and victims' families.
Ensure active protection for those facing attacks from militant groups to address the growing perception that state authorities look the other way when Shia Muslims are attacked.
Remove land-mines from the country-side and roadways leading to Khurram Agency designed to particularly target and impede the movement of the Shia Muslim community.
Maintain the ban on terrorist groups within Pakistan including the Sipah-e-Sahaba, Lashkar-e-Jhangvi, Tehrike-e-Taliban, as well as Ahle Sunnat Wal Jamaat (essentially the new name for the banned Sibah-e-Sahaba).
Actively investigate allegations of collusion between militant groups and military intelligence and paramilitary forces, as well as members of the judiciary, holding personnel responsible if found to be involved in such criminal acts.
Mohammad Ali Naquvi highlighted the wide public support received and the social power of the movement against the targeted killing of Pakistani Shia Muslims. Building on this, Dr. Arif Zaidi complimented the Consul General's understanding of the issue and the need for immediate action by the Government of Pakistan and asked, "How can we help the Government of Pakistan to do what needs to be done?"
Dr. Shehla Naqvi emphasized that after years of meetings on this with Government of Pakistan officials since the early 90's, the level of violence has increased to such a degree, that inaction was not an option saying, "We are looking for a plan to be made and steps to be taken." She also noted that the specific action of reasonable government compensation for victims of targeted anti-Shia violence "sends a very strong message that the government holds itself responsible for the protection of human life." Noting, "Barbarity is a small word for what is happening," Consul General Hussain agreed that protection of Pakistani Shia Muslims as well as all Pakistanis "IS the Government's responsibility."
In discussing the Consul General's request for 100% accurate and verified data on the increased violence against Pakistani Shia Muslims, delegates mentioned that a very conservative estimate of 10,000 victims was being used by Souls March until the ongoing work was completed to verify the almost 20,000 deaths reported due to targeted anti-Shia violence, including 200 Shia Muslim doctors targeted for their faith. Delegates also noted the need for the protection of human rights defenders in Pakistan. Citing the account published by Zahir Janmohamed on the Washington Post blog where he described being held at gunpoint by a police officer in Karachi, Sakina Rizvi emphasized that whether real or perceived, "the community saw the incident as a threat to silence any investigations on this issue," and feels increasingly isolated and vulnerable. Rizvi continued, "The communities as well as human rights researchers must be provided protection."
Discussing the lack of accountability and apparent impunity for perpetrators, Dr. Raza showed a video of Lashkar-e-Jhangvi terrorists beheading 2 Pakistani Shia Muslim doctors that has gone viral after being uploaded by perpetrators and called for accountability in light of specific evidence. "We are enraged not just as Shias but as Pakistanis. This is not Islam. This is not Pakistan." The Consul General, visibly moved, noted the need for long term improvements through law enforcement reforms, police officer trainings, forensics trainings and witness protection to ensure that the prosecution has untainted evidence and strong witnesses to hold perpetrators responsible.
The Consul General assured delegates that he would do whatever he could on this issue, including faithfully transmitting all documents given and messages to the appropriate authorities in Pakistan, as well as regular follow up meetings with the delegates starting next month.
The documents presented to the Consul General are available on our blog at: http://wp.me/p2ULl9-cZ and http://wp.me/p2ULl9-bZ.
Source : http://soulsmarch.wordpress.com/2012/12/26/souls-march-delegates-press-issue-with-consul-general-faqir-hussain-providing-concrete-steps-and-suggestions/
Comments
comments