Why do Takfiri Deobandis of Sipah Sahaba Taliban want to kill Maulana Muhammad Khan Sherani Deobandi?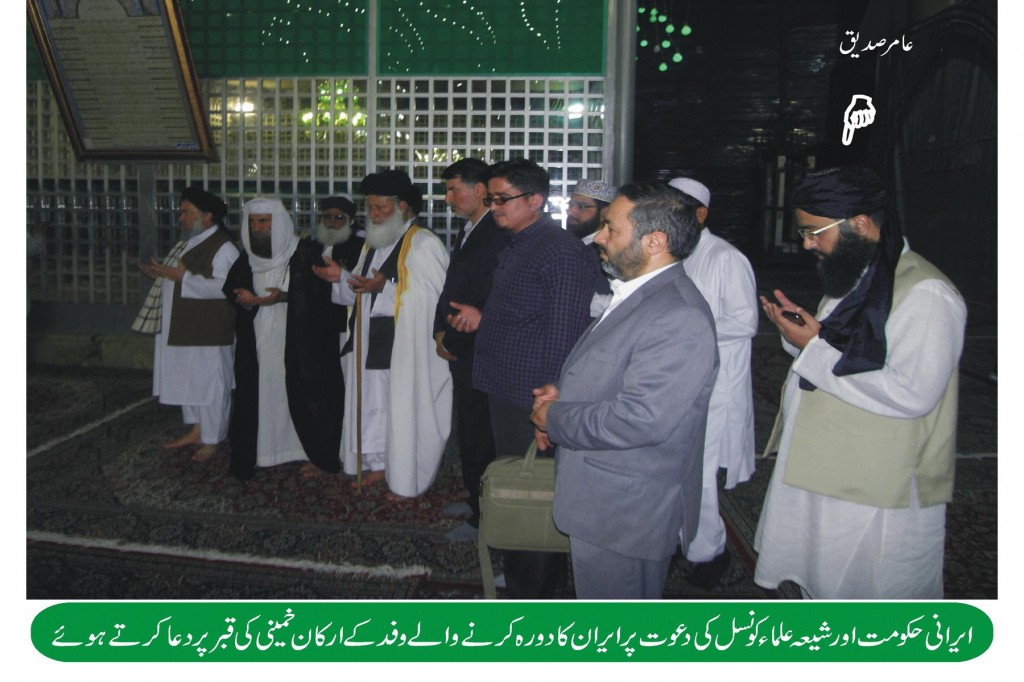 Senior Sunni Deobandi scholar, central leader of Jamiat-e-Ulma-e-Islam (JUI-F) and Chairman Council of Islamic Ideology (CII) Senator Maulana Muhammad Khan Sherani has said the need for the unity of Muslim Ummah is the only solution to the political and economic problems of the Muslim world. Maulana Sherani said that Sunni and Shia Muslims should be united against enemies of Islam and Pakistan. He said that both Sunni and Shia follow the same Quran, Prophet and there is wide agreements of basic principles of Islam. Maulana Sherani said that a violent and terrorist group Sipah Sahaba is misusing the name of Deobandi sub-sect to carry out acts of violence against other fellow Pakistanis. He said there is no room for terrorism in Pakistan.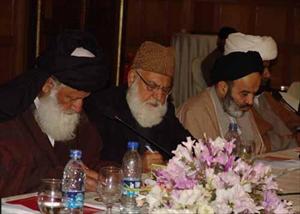 In January 2012, Maulan Sherani addressed a seminar of Sunni and Shia religious scholar and said that unity among Muslim Ummah is the only solution to the problems of Muslims across the world. The seminar tilted "International economic and political crises and responsibilities of religious scholars" was organized by Coordination Council of Religious Leaders and Intellectual Pakistan (CCRLIP) at a local hotel. The seminar was also attended by Jamiat Ulema-e-Islam Chief Maulana Fazlur Rehman, Former chief of Jamaat-e-Islami Qazi Hussain Ahmed, Hojjatoleslam Abolhasan Navab and Raja Nasir Abbas of MWM, Hizb-e-Islami Afghanistan chief Gulbuddin Hikmatyar's representative Dr Ghayrat, Qazi Niaz Hussain Naqvi etc. (Source)
It may be recalled that last year (2011), Maulana Muhammad Khan Sherani led a 9-member delegate in an official visit to Iran upon the invitation of Iranian government. The delegate also included Maulana Amir Siddique, the second in command (Naib Khateeb) at the red mosque (Lal Masjid) in Islamabad. Despite opposition by Takfiri Khariji terrorist group (Sipah Sahaba), Maulana Sherani and Maulana Amir Siddique remain committed to Sunni Shia unity and reject all types of violence in the name of Deobandiat and Islam. It is to pertinent here that Maulana Siddique assumed the responsibility of Naib Khateeb on May 17, 2009, replacing Ghazi Abdul Rashid after his death and was also one of the main activists who played a pivotal role in Aziz's release. After his visit of Iran it was said by Sipah Sahaba that his visit hurt the sentiments of Deobandi sect, however, JUI Chief Maulana Fazlur Rehman and JUI central leader Maulana Sherani rejected such harassing tactics by Takfiri Khariji terrorists. (Source)
Amir JUI Balochistan, Chairman Council of Islamic Ideology Senator Maulana Muhammad Khan Sherani has said that Pakistan government and society must should kick out terrorists from amongst ourselves. Maulana Sherani said that during coming days religious parties should sit together and adopt a course of action for betterment of the country and security of people as people do not finger to religious parties. He said even today people were using name of religion were not only causing damage to the religion but also to the country. Concrete steps are needed for dealing with such elements he added. (Source)
It may be noted that Takfiri Khariji terrorists of Sipah Sahaba have tried to kill leading Deobandi scholars in the past. For example, in 2009, a suicide attack was committed on Maulana Sherani, Provincial Amir of JUI-F Balochistan chapter, in Pashin district in a religious madrassa which resulted eight casualties including suicide bomber and a dozens sustained severe injuries but Sherani remained safe. Maulana Sherani is the main powerful person in JUI-F more than Maulana Fazalur Rehman; Ahmed Rasheed described him in his book "Taliban" as the main person who connected Taliban with Pakistan military in the 1980s. The political analysts said that this attack was a expression of anger by Pakistani Taliban and Sipah Sahaba because Sherani refused to endorse their violent and terrorist activities in Pakistan, and he also annoyed the Pakistani Establishment and ISI by changing his previous support to the Taliban. (Source: Last edited by zalmayzia; 03-03-2009). According to Rahimullah Yusufzai (The News, 4 March 2009), Maulana Sherani had blamed a group of the Afghan Taliban led by Mulla Dadullah, who was later killed by US forces in Afghanistan, for a previous attack on his life some years ago. His allegation created rift between the JUI-F and Afghan Taliban. It also caused differences in the JUI-F, as one faction of the party didn't believe that the Afghan Taliban were behind the previous failed attack on the life of Maulana Sherani.
A few years ago, while speaking to newsmen in Kalat (Balochistan, JUI(F) Secretary General Maulana Abdul Ghafoor Haideri and party's Amir for Balochistan Maulana Mohammad Khan Sherani have held the government responsible for deteriorating law and order situation in Balochistan, attacks on religious places and killing of people on sectarian and ethnic basis. Talking to media at Markaz-e- Islami, the JUI(F) leaders said the present situation in the country speaks volume of inefficiency and failure of the rulers. They said killings on the basis of sectarianism and ethnicity was only benefiting the enemies of Pakistan. They said the JUI( F) believes in respect to all nations and sects . They said it was necessary to keep the people united and internal problems be resolved through political dialogue. (Source)
When Sunni Deobandi, Sunni Baerlvi and Sunni Ahle Hadith Ulma (religious scholars) have objected to violence and terrorism by Takfiri Deobandi militants of Sipah Sahaba and Taliban, they have been forced to remain silent. When one such political leader, Maulana Sherani, disapproved of the tactics employed by the Taliban he was twice attacked, and narrowly escaped both times
In July 2004, Takfiri Khariji terrorist of Sipah Sahaba Taliban tried to kill Maulana Sherani:
JUI leader escapes attempt on life

By Saleem Shahid

Source: Dawn, 19 July 2004 http://archives.dawn.com/2004/07/19/top7.htm

QUETTA, July 18: Provincial president of Muttahida Majlis-i-Amal Maulana Mohammad Khan Sherani MNA and three other JUI leaders escaped an assassination attempt when a powerful bomb exploded near their vehicle in the Gawal Haiderzai area of Qila Saifullah district on Sunday evening.

The Land Cruiser in which the JUI leaders were travelling was partially damaged. However, all the leaders remained unhurt. "It was a remote-controlled bomb which exploded when Maulana Sherani's vehicle reached near it," Mohammad Essa, a levies official of Qila Saifullah, told Dawn by telephone, adding that the levies had arrested two people in this connection.

"A bomb and a remote control have been recovered from the accused," sources said. The sources said Maulana Sherani and Maulana Anwaruddin, district Amir of JUI Zhob, had gone to Qila Saifullah along with two other JUI leaders for a party meeting.

After the meeting, they left for the Chena Baratkhel area for another party meeting. When they reached the hilly area of Gawal Haiderzai, some 45km from Qila Saifullah, a powerful explosion rocked the place soon after their vehicle passed through it.

Splinters from the bomb hit the rear side of the vehicle, smashing its glasses and damaging some other parts. District administrative officer of Qila Saifullah, Akhtiar Bungulzai, and other officials reached the site along with a heavy contingent of levies force and cordoned off the area.

They arrested two suspects from the Gawal Haiderzai area and recovered a bomb and a remote control from their possession. The arrested persons belonged to the Zhob area, the sources said. However, their names could not be ascertained. "At this stage we cannot say what was the reason behind this attack," a senior administration official told Dawn, adding that an investigation had been launched to ascertain the motive of the attack.

Maulana Sherani and other leaders continued their organizational visit to the area and left for their next destination after the blast. The levies have registered a case against two people and further investigation was in progress. The Levies force has started conducting raids in Gawal Haiderzai and Zhob for the arrest of culprits involved in the blast.

PRESS CONFERENCE: Central leader of Jamiat Ulema-i-Islam Maulana Noor Mohammad MNA strongly condemned the attempt on the life of Maulana Sherani and other party leaders and demanded a judicial probe into the incident. Speaking at a press conference here on Sunday night, he demanded that a judge of the Balochistan High Court should be appointed to conduct an inquiry and unmask those involved in the blast. He said Maulana Sherani had no enmity with anyone. "It was a conspiracy to eliminate the top leadership of the JUI," Maulana Noor Mohammad said. He said anti-Islam forces who had also killed Mufti Nizamuddin Shamzai, Munawwar Suhrawardy and many other leaders in the recent past, were involved in the attack. The JUI leader claimed that after the blast the area people caught two persons from the Gawal Haiderzai area and handed them over to the levies. Hand-grenades, a wireless set and a satellite phone was recovered from their possession, he added. He said that if the government failed to expose the real culprits, the JUI would lodge a strong protest and would itself expose the culprits.
A year before the 2004 attack, Maulana Sherani had given a number of strong statements in 2003 in support of Shia Sunni unity and in condemnation of the Sipah Sahaba Taliban's Takfiri terrorism against Shias:
QUETTA, Aug 25 2003: MMA provincial chief Maulana Mohammad Khan Sherani MNA has accused the American CIA of planning bloodshed in Afghanistan in collusion with some Takfiri Deobandi in the ranks of Taliban. Speaking at a Jamiat Tulaba-i-Islam convention and a public meeting at Qila Saifullah, about 185km from here on Saturday, Maulana Sherani said any attempt to attack Iran in the garb of anti-terror war would be resisted. On the occasion, the MMA leader also advised supporters of the religious parties alliance not to dub every murderer as mujahid or any bloodbath a jihad. The MMA leader alleged the US was trying to divide Afghanistan along the ethnic lines by pitting Pakthuns against the Persian-speaking people. He said the US also planned to attack Iran on one pretext or the other and maintained that cooperation between the intelligence agencies of Islamabad and Washington was not a good omen for Muslims in this region. Maulana Sherani said hidden forces tried to create misunderstandings between major Muslim sects in Quetta by organizing terrorist attacks on the followers of a particular sect but the farsightedness of Ulema foiled the conspiracy (Source: Dawn, 26 August 2003).
JUI blamed the July 2004 attack on a group of the Afghan Taliban led by Mullah Dadullah, who was later killed by U.S. forces in Afghanistan. Maulana Sherani later lost the election of 2008 to a candidate of JUI (Ideological), a splinter group that was against Sherani's rhetoric against the Taliban. Further, even though Sherani supposedly took a stance which is relative more clear and bold than dubious statements by certain other JUI leaders, Sherani enjoys strong support among the top hierarchy of JUI. In 2011, he was made the chairman of the Council of Islamic Ideology, an advisory body that recommends government on legislation as per Islamic law. Even though the various factions of JUI have distanced themselves from openly supporting the Takfiri Deobandi of the Taliban or Sipah Sahaba, they don't openly criticize them either. Open criticism would entail huge political costs in an area where any outsider cannot help notice the widespread wall-chalking, praising the Jihad and its martyrs. Such vocal condemnation of the Taliban or its practices, might elicit a violent terrorist backlash. (Source)
مولانا محمد خان شیرانی مسلک دیوبند کے جید عالم دین ہیں آپ جمیعت علما اسلام بلوچستان کے صدر اور اسلامی نظریاتی کونسل کے سربراہ بھی ہیں
جمیعت علمآ اسلام کے اکابر علما اور دار العلوم دیوبند کے جید علما کی طرح مولانا شیرانی نے بھی کلمہ حق کو ہمیشہ بلند رکھا ہے اور اسلام ، انسانیت اور پاکستان کی خدمات میں پیش پیش رہے ہیں یاد رہے کہ دار العلوم دیوبند سنی، شیعہ دیوبندی بریلوی فرقہ واریت سے بالاتر ہے یہی وجہ ہے کہ آج تک دار العلوم دیوبند نے سنی بریلوی اور شیعہ مسلمانوں کی تکفیر کو کوئی فتویٰ جاری نہیں کیا اور دیوبندیت کے نام پر فرقہ واریت پھیلانے والے تکفیری خارجی گروہوں کی ہمیشہ مذمت کی ہے
دار العلوم دیوبند بھارت اور جمیعت علما اسلام پاکستان کے نمایاں دیوبندی علما نے ہمیشہ سنی بریلوی، اہلحدیث اور شیعہ علما کے ساتھ مل کر استعمار اور استعماری ایجنٹوں کی سازشوں کے خلاف جدو جہد کی ہے
پاکستان میں سنی شیعہ اتحاد اور دیوبندی کلمہ حق کو آگے بڑھانے میں حضرت مولانا فضل الرحمن اور حضرت مولانا محمد خان شیرانی کا نام نامی شامل ہے
یہی وجہ ہے کے پاکستان اور اسلام کے دشمنوں کا تنخواہ دار تکفیری خارجی گروہ سپاہ صحابہ طالبان جو اپنے آپ کو سنی دیوبندی کہ کر سنیوں اور دیوبندیوں کا نام بند نام کر رہا ہے نے پاکستان کے چیدہ چیدہ سنی اور دیوبندی علما کو شہید کیا جن میں مولانا حسن جان، مولانا نظام الدین شامزئی، مولانا سرفراز نعیمی وغیرہ شامل ہیں
سپاہ صحابہ (در اصل سپاہ یزید پلید) کے تکفیری خارجی دہشت گردوں نے جو استعمار کے تنخواہ دار ہیں مولانا محمد خان شیرانی اور مولانا فضل الرحمان کو بھی قتل کرنے کی کوشش کی آج تمام دیوبندیوں کا فرض بنتاہ ہے کہ اپنے آپ کو تکفیری خارجی دہشت گردوں سے دور کریں اور اکابر علما یعنی مولانا فضل الرحمان، مولانا محمد خان شیرانی، وغیرہ کی پالیسیوں پر عملدرآمد کریں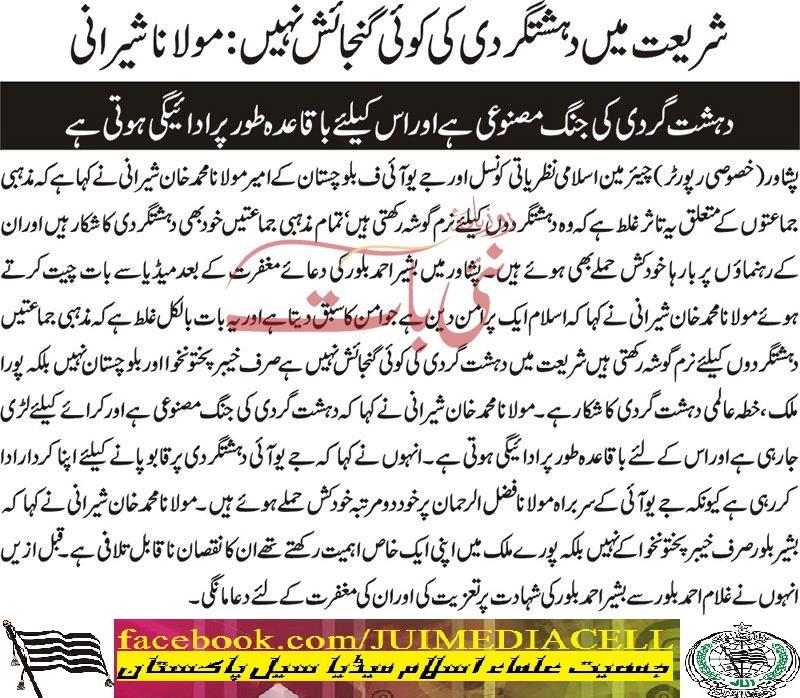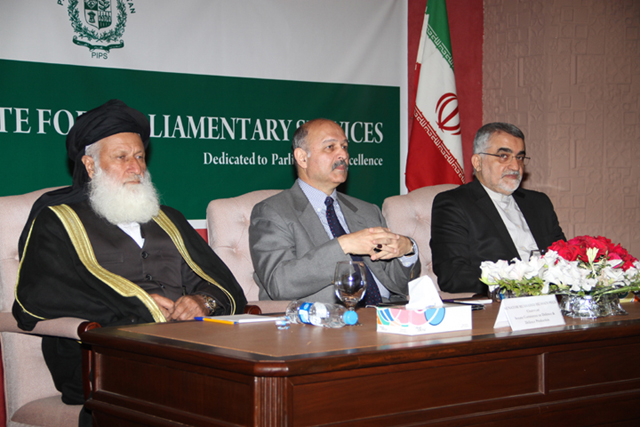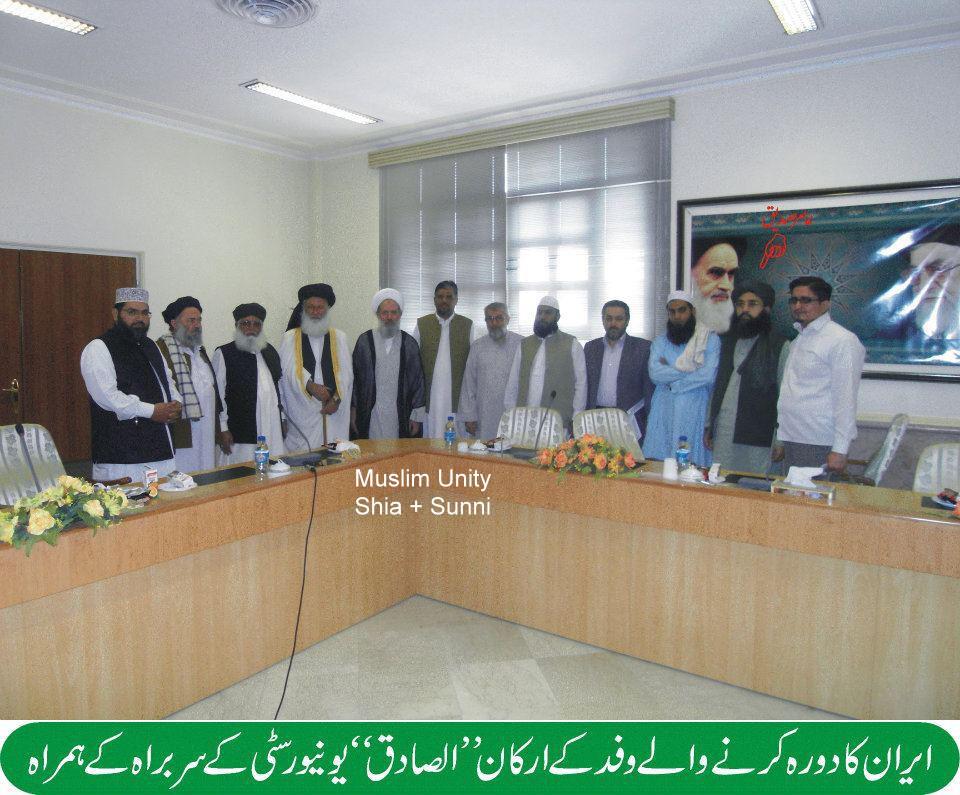 Comments
comments