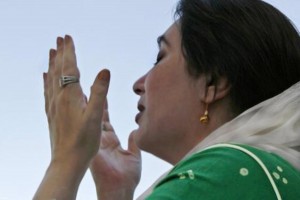 Chale jo hoge shahadat ka jaam piker tum
Rasool-e-Pak ne banhoon main leliya hoga
Ali tumhari shuja'at pay jhomte honge
Husain pak ne irshad yeh kya hoga
Tumnhe Khuda ki razain salam kehti hain
The above verse is in Urdu, it means; when you walked after having kissed the martyrdom, The Prophet (PBUH) must have taken you into his arms. Ali (SA) must have rejoiced and enjoyed your myatyredom beyond imagination.  Hussain (RA) must have said Gods acceptance salutes you.  The translation may not be perfect but this is what I have always understood and imagined every time I heard the above verse. I cannot claim to know poetry but this verse has so much impact on me that I cannot recite it without hiccups and tears rolling down.
This verse is part of the poetry that was written to pay tribute to the gallantry sacrifices rendered by the soldiers in the 1965 war.  For Muslims the personalities mentioned in the verse are above any imaginable esteem and respect, no tribute can equal the situation described in the verse.  No doubt nothing can be more precious than one's own life, when one offers his life to save others, no deed can be above it.  When a soldier takes oath it is understood that loss of his life is possible at any time and taken as a professional hazard.
In normal societies such sacrifices are hardly expected and loss of one's life is taken as a professional hazard for a politician.
When I review the last five years and beyond when Benazir Bhutto decided to return to Pakistan my imaginations takes me to her where she seems incomparable in gallantry.  When a soldier goes to war he understands that he could be a random target of several bombs that may be falling on the land scattered.   When Benazir returned back for the second time after having explained to her family and party she knew that she was the only target of the enemy.
She came back in spite of the dangers and warnings; can I search another to compare with her. Who can explain to me what I lost. And what reception she must have gotten when she reached heaven.