Dr. Pervez Hoodbhoy and Malala Yousafzai: Janus-faced society -by Javed Akram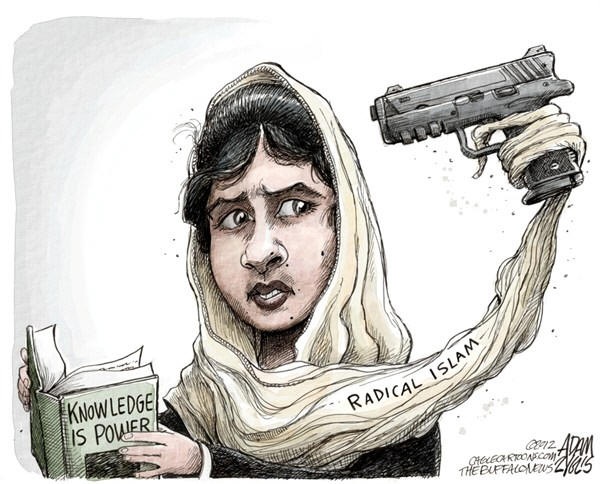 On 9 October 2012, a girl with a name Malala Yousafzai was shot in the head and neck in an assassination attempt by Taliban gunmen while returning home on a school bus. Ehsanullah Ehsan, chief spokesman for the Pakistani Taliban, claimed responsibility for the attack, saying that Yousafzai "is the symbol of the infidels and obscenity," adding that if she survived, they would target her again. She is known for her education and women's rights activism not even for Pakistan but also for world. Former British Prime Minister and current UN Special Envoy for Global Education Gordon Brown launched a United Nations petition in Yousafzai's name, using the slogan "I am Malala" and demanding that all children worldwide be in school by the end of 2015. Here the question arises why Taliban need to attacked on a teenager, the answer is very simple, because they can not face criticism from a 14 year old girl. This mindset, you can see not only from Taliban but also from many other pseudo-liberal elites of Pakistan.
Let me put your attention towards a recently dispute of Pakistan's eminent scholar Prof. Pervez Hoodbhoy's upcoming departure from the Lahore University of Management Sciences. The professor verify ideological differences are the reason his contract is not being renewed, something which the university denies. Prof. Hoodbhoy's current contract expires in December. Prof. Hoodbhoy, speaking to The Express Tribune confirmed that he recently faced a lot of criticism when he introduced a course titled "Science and the Contemporary World Order". He says the course, which discusses science and politics, "gave rise to ideological differences". Nevertheless LUMS administration denies allegations, saying that the matter is of a contractual nature.
Prof. Hoodbhoy's work for the promotion of science in Pakistan is well known. He spent months and years producing television programs such as "rastay ilm kay", and "bazm-e-kainat, which explained in simple terms the scientific method and topics such as black holes, quantum mechanics and particle physics. In general the LUMS decision to fire Hoodbhoy is a bad signal for Pakistan's liberal thinkers, when LUMS which is known for its liberal thoughts can refuse to allow room for debate and dialogue, then what you can accept from other institute of Pakistan's.
From last one decade, it is really hard to have a differences of opinion in Pakistan, for example, Shia community always facing threats from other ethnic groups of Pakistan. These days, Ahmadi, hindu or any other minority communities become a easy target from someone how is inquisitor for haven. Due to life threats many monitories migrated from Pakistan, first it was Jews during and after General Zia-ul-Haq era and now recently Hindus from last decade. We have also witnessed intense antagonism between the judiciary and the executive. The Judges hold up that they have the last word when it comes to the interpretation of the law and the constitution, whereas the executive accuses them of overstepping their mandate.
And now recently, Taliban threatens to attack journalists who oppose them, of course, by declaring war on individual journalists and the media. "For days and days, coverage of the Malala case has shown clearly that the Pakistani and international media are biased," says a Pakistani Taliban commander in South Waziristan. "The Taliban cannot tolerate biased media." The commander, who calls himself Jihad Yar, argues that death threats against the press are justified: he says "99 percent" of the reporters on the story are only using the shooting as an self-justification to attack the Taliban. Jihad Yar does not apologize for the attempt to assassinate the girl. "We have no regrets about what happened to Malala," he says.
We are absolutely certain that Malala's case and all other cases which mentioned in last paragraph are examples of extremism, so then termination of Prof. Hoodbhoy on the biases of conflict with faculty members is also a kind of extremism but this time it appeared and showed there power not with gun but in a totally different way. These series of incidents pointing the upcoming danger of conflicts between the society, which is bad omen for a developing atomic power country and for world too.
We need to understand this believe everybody can not be agree with us so we need to give room for other thoughts for the long-run beneficial of society. At the end of my article I want to quote Aristotle "To avoid criticism say nothing, do nothing, be nothing."
Comments
comments