Asad Rahman, aka Chakar Khan, died of ill-treatment by Punjab Police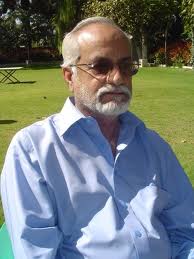 The Baloch Hal report
QUETTA: Asad Rahman,62, a renowned intellectual, social activist and ardent supporter of Baloch movement, passed away on Tuesday, media report.
Son of a former chief justice of Pakistan Supreme Court, Mr. Rahman had advocated for Baloch rights throughout his life. In 1970s, Mr. Rahman was part of the London Group, a study circle in England that later left their comfort life and education to join Baloch fighters in Marri hills, confronting a fierce military operation.
Other prominent members of the London Group were Najam Sethi, Ahmed Rashid, Rashid Rahman and Dilip Dass. Another prominent figure, Mohammad Ali Talpur, joined the group a year later.
In early September, Mr. Rahman, along with his 30-year-old son, were manhandled by Punjab Police in front of their residence in Lahore after they had tried to save life of a rickshaw driver who had sustained injury in a road accident. According to a report in the Daily Times, a liberal English daily edited by Mr. Ramhan's elder brother, Rashid Rahman, both father and son had badly been injured by the Punjab Police.
An activist on Facebook alleged that Mr. Rahman couldn't bear the humiliation and ill-treatment by Punjab Police and had fallen ill in the wake of the police beating.
His funeral prayers will be offered tomorrow in Lahore.
Daily Times Reported the incident on Sep, 3, 2012:
DT Editor's brother, nephew innocent victims of police brutality
LAHORE: On Saturday evening, police personnel brutally beat up the younger brother of Daily Times Editor Rashed Rahman as well as his nephew without reason or provocation. Asad Rahman, a 60-year-old heart patient, was brutally tortured by police SI Shabbir Raza and some constables without rhyme or reason or even bothering to ascertain the facts of the situation around a car accident near his residence in DHA. When his son Mahmood Rahman tried to save his father from the police, he was beaten even more mercilessly. During the beating, SI Shabbir Raza also fired two shots in the air from his official rifle.

As per details, the incident occurred in the remit of Defence Police Station B on Saturday when a car driven by a female friend of Asad Rahman's family collided with a rickshaw in V Block DHA near his residence. As a result of the collision, the rickshaw driver was injured, while both the rickshaw and car were damaged.
According to eyewitnesses, the female car driver became nervous after several attempts to call Rescue 1122, but being unable to make contact, drove to Asad Rahman's residence a few yards away for help.
Mahmood Rahman, 30, and his father Asad Rahman, 60, residents of 50 V DHA, reached the spot, called Rescuer 1122, and tried to help the injured man.
"When I with my son reached the accident site, some locals were trying to administer first aid themselves. I stopped them immediately that it could be dangerous for the injured person. Rescue 1122 officials excused their lack of response by claiming that they have a shortage of ambulances, so it may take some time," Asad Rahman told Daily Times, adding that the DHA security also reached there and asked Asad to shift the injured man to hospital in his own vehicle but Asad refused on the ground that the injured man appeared in critical condition and "we should wait for the ambulance". After being informed of the accident, Defence B Police Station Sub-Inspector Shabbir Raza along with four police personnel arrived at the spot and started early investigation. The locality crowd that had gathered told the SI that the accident occurred between the rickshaw and the car of a friend of Asad Rahman's family.
When police asked Asad, he assured full cooperation but requested they first shift the injured man to hospital. "The sub-inspector without letting me complete my explanation grabbed me and dragged me towards the police pickup. When I tried to convince them to first think about the injured man, the sub-inspector immediately attacked me and he and the constables accompanying him started beating me brutally," Asad further said. When Asad's son Mahmood tried to save his father, he was also beaten brutally by the sub-inspector and his juniors.
"When I saw the sub-inspector beating my father brutally, I was shocked and intervened to save him as my father is a heart patient. In 2003, he had a heart bypass operation. I held my father upon which the police also beat me with batons," Mahmood said.
The police put the injured man, Asad and his son in the police pickup. Instead of shifting the rickshaw driver to hospital, the police brought him with Asad and his son to the police station.
According to Asad, the police continuously beat them all through the drive to the police station with batons and shoes.
Sources told Daily Times that Sub-Inspector Shabbir and his subordinates later concocted a false story for their high-ups that Asad and his son had a scuffle with the injured driver's relatives and the locals who were there to help him, on which they were arrested and taken into the lockup.
The sources added that the SHO concerned, Muhammad Raza, didn't try to further investigate the false story told by the sub-inspector and left his duty.
When the arrested Asad and Mahmood's family tried to approach the police high-ups and government officials for help, the SP concerned contacted the SHO who then told the false story to the SP, which had been concocted by Sub-Inspector Shabbir Raza.
SP Mahroof Wahla after ascertaining the true facts asked the SHO to release the arrested persons, as they have no nexus with this case.
When Asad and his son were leaving the police station for his house, the sub-inspector in order to save his false story, called and motivated the relatives of the injured driver to stage a protest outside the police station when Asad would come outside.
"When I came out of the police station, around 30 to 50 men and women who were relatives of the injured rickshaw driver rushed towards me, forcing me to retreat once again into the police station," Asad added.
After registering an FIR against an unidentified car driver, the police allowed Asad and his son to go home around 3:00am. SP Mahroof Wahla has ordered to hold an inquiry into the incident and called all parties, including the sub-inspector and SHO at his office on Monday (today) and said that strict action would be taken against those found guilty.
Comments
comments