Kudos to Faisal Abidi but the Anti-Christ in Supreme Court should die his natural death – by Arbab Zaheer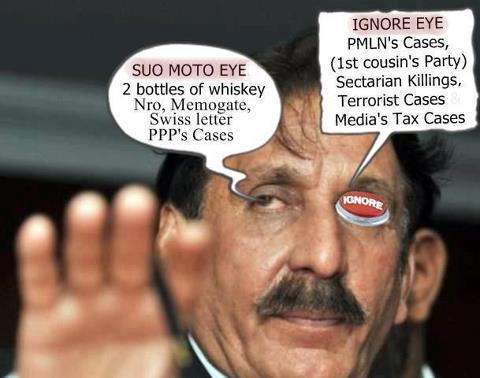 It was sheer pleasure listening to Senator Faisal Raza Abidi speak for 35 minutes in the Senate on 19th October, 2012. His speech and relevant quotations from judgments, rules, procedures, etc made a lot of sense and is to be appreciated, but whether anyone (Parliament, Supreme Judicial Council) takes action against the person of Iftikhar Muhammad Chaudhry, the incumbent Chief Justice of Pakistan, is a different matter altogether.
Faisal's speech can be heard on http://www.zemtv.com/2012/10/19/faisal-raza-abidi-speech-in-senate-19th-october-2012/.
The speech is also available on Youtube:
http://youtu.be/1zigpxQmO5U
While the right wing media and the janisaran-e-Iftikhar are out there ridiculing whatever Faisal said or they are pinpointing that he is no more a "Manzoor-e-nazar" of the PPP, no one realizes that Faisal has done a great service to the nation by making allegations against IMC which will eventually be proven. Whether they are proven during his tenure or a day after he reaches his superannuation day on 11th December, 2013, the fact remains that IMC is the most tainted judge ever in the history of Pakistan.
Some of the allegations that Faisal has made include:
IMC is an aadi mujrim by taking oath on PCO twice
He was hand in glove on the matter of his son's "business" dealings as letters / statements addressed to "F&A Enterprises" were reaching the CJ House in Islamabad. The letters weren't addressed to Arsalan Iftikhar
IMC used his influence and Arsalan bullied his way to get himself and his family upgraded to business class on PIA flights
IMC led judiciary has released thousands of alleged terrorists for want of evidence who have in turn become barbarians by killing people and then desecrating dead bodies
IMC has used a pick and choose policy in hearing cases. An important allegation is that he hears those cases that causes a loss of revenue to the state which affects the performance of his government
IMC is hand in glove with the terrorists who are targeting Shias across the country and also beheading armed forces in FATA
A passionate speech by all accounts, but whether it sets the ball rolling against IMC is a different matter.
The PPP has been a passive and defensive player in the last four and a half years by absorbing punches after punches from the Military Establishment, IMC led judiciary and their Janisaran in the media. While the PPP has survived and shown its utmost resilience, it has done one good thing by letting the attackers expose themselves.
The military's complicity and capabilities have been exposed on a number of matters especially the OBL killing, Mehran Base Attack, GHQ Attack, Kamra Air Base attack. The judges led by IMC have released thousands of terrorists and selectively targeted their actions that only protects themselves and targets the democratic government. The media plays to the whims and fancies of both the military and IMC to act like King-slayers in the country.
The PPP should not act in haste in the last few months of their tenure. Let IMC retire "honorably", if ever there is such a term for this one-eyed, anti Christ. If you target him now, he will become a victim and get support from military and media who are reeling at the possibility of their biggest failure being achieved in March 2013: A PPP led government completing its tenure!
Comments
comments