Malala Yousafzai: A child soldier in the war for Pakistan – by Sadanand Dhume
Fourteen-year-old Malala Yousafzai stood up for modernity. Few others do.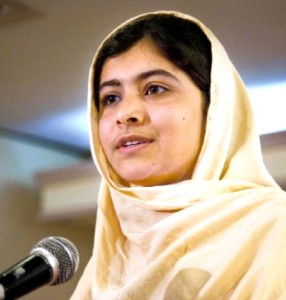 It's not every day that Barack Obama and Ban Ki-moon agree with the head of the Islamist group Jamaat-e-Islami or an America-bashing Pakistani politician. But Tuesday's Taliban attack on 14-year-old activist Malala Yousafzai in Pakistan's Swat Valley attracted universal condemnation cutting across countries and cultures.
A White House spokesman said President Obama found the attack, which left Ms. Yousafzai unconscious after gunmen waylaid her school bus and pumped bullets into her head and neck, "reprehensible and disgusting and tragic." Pakistanis across the political spectrum, including many with Islamist sympathies, reacted with similar outrage.
Ms. Yousafzai, a precocious and telegenic campaigner for a girl's right to an education, has become a symbol of raw courage in the face of implacable evil. As of Thursday evening, her condition was stable, but her prospects of recovering fully from the attack remain uncertain.
For Pakistan, this tragic incident presents a crossroads. Will the country's most vocal politicians and intellectuals continue to pretend that its terrorism problem is made in America? Or will they finally come to terms with a difficult but unavoidable truth: The men who shot Ms. Yousafzai, and promise to come back and finish the job should she survive, represent a homegrown ideology that threatens to drag the country back to the Middle Ages.
A Taliban spokesman justified the attack to a Pakistani newspaper by accusing Ms. Yousafzai of being "secular-minded" and "pro-West." A statement released by the terrorist group added several more charges: "Whom so ever leads campaign against Islam & Shariah is Ordered to be killed by Shariah," it reads in tortured syntax.
The statement goes on to accuse Ms. Yousafzai of "inviting muslims to hate mujahideen," or holy warriors, and of advocating "so called enlightened moderation." It ends with a threat whose menace to Pakistanis is no less clear for its mangled spelling: "Gain Conscious, Otherwise. . ." The statement doesn't mention America.
Clearly, neither a cessation of U.S. drone strikes in the tribal areas near the border with Afghanistan, nor a Pakistani offer to negotiate in good faith with the Taliban, will assuage the terrorists. If anything, as history shows, weakness only emboldens violent Islamists to believe that their medieval vision of utopia–a society governed by harsh religious laws at odds with women's rights, minority rights and freedom of expression–is a step closer to becoming reality. If the U.S. disengages militarily from the region, as the likes of populist cricketer-turned-politician Imran Khan insist it must, the result won't be peace but stepped-up murder and mayhem.
Yet it still may be too much to expect Pakistan to gain the kind of consciousness it needs to defeat the barbarism in its midst. On Wednesday, Army Chief Gen. Ashfaq Kayani visited the military hospital in Peshawar where Ms. Yousafzai is being treated and declared her "an icon of courage and hope." But the institution that Gen. Kayani heads has long made a dangerous distinction between two wings of the Taliban movement. It opposes the Pakistani Taliban who attacked Ms. Yousafzai (and which often takes on the Pakistani army), but is widely believed to back their Afghan cousins who target NATO forces and destabilize Afghanistan.
Similarly, Mr. Khan made a beeline for Ms. Yousafzai's grief-stricken family and offered to foot her medical bills. But the former cricketer's entire political career is built on the dodgy premise that the struggle against Islamist terrorism is "America's war," not Pakistan's. Just two days before the attack on Ms. Yousafzai, Mr. Khan led a procession to Khyber-Pakhtunkhwa province protesting U.S. drone strikes in Pakistan's tribal areas. Sticking to a well-worn script, he thundered about Guantanamo Bay, Pakistan's alleged subservience to America, and politicians who have hurt the country "more than the Jews could."
In short, while nearly all Pakistanis find it easy to condemn a brutal attack on a girl whose only crime is an outspoken belief in school, a lot fewer are willing to condemn her assailants directly, without apologies and evasions. Fewer still focus on the infrastructure of hatred in their midst: militant madrassas, a spy service in bed with jihadists, politicians more protective of terrorists than their victims, and intellectuals who prefer to make excuses for their country rather than honestly diagnose its ills. The brave few who go against the grain—mostly in the English press and sometimes from exile—risk being slandered as traitors when they ought to be applauded as patriots.
If you're an optimist, though, an idealistic 14-year-old in a hospital bed may have the power to finally nudge Pakistan's conversation with itself toward sanity. Perhaps more people will begin to recognize the obvious—that in the end they must choose whether they want to live in the country of Ms. Yousafzai's dreams or the Taliban's.
This isn't America's war. It's Pakistan's.
Mr. Dhume is a resident fellow at the American Enterprise Institute and a columnist for WSJ.com. Follow him on Twitter @dhume01
Source: WSJ 
Comments
comments