Hate content in Punjab, Sindh school curricula -by Mansoor Malik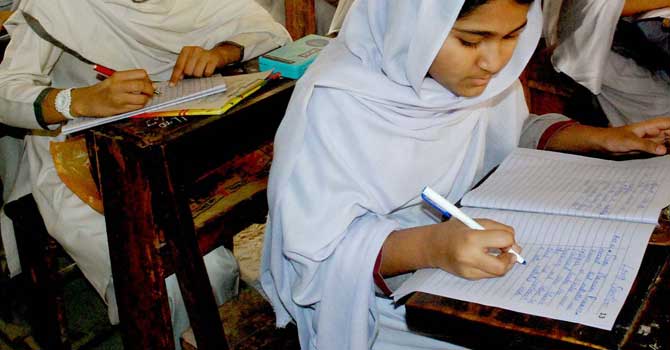 The primary and secondary schools curricula (being taught to children in public and private schools in Punjab and Sindh) is replete with content that can fan hatred, prejudices, torture, extremism and religious intolerance in society.
The curricula 'hate material' is mostly targeted at religious minorities including Hindus, Christians, Sikhs and the neighbouring country, India. There is also a lot of material that has the potential to turn innocent minds against the Englishmen.
Despite hectic and repeated efforts by human rights organisations and impartial educationists aimed at pointing out negativity being promoted through textbooks, especially for the last three decades, the latest textbooks have more hate content than those written previously.
A content analysis report (of the books published by Punjab and Sindh textbook boards) prepared by the National Commission for Justice and Peace (NCJP), entitled "Education or Fanning Hate" says the hate content has increased manifold with the passage of time. Many textbooks that had no hate material in their earlier versions, now carry such material both in Punjab and Sindh.
Educationists believe that now the issue of religious intolerance should be discussed openly and that must lead to some action to save younger students from such influences at the outset.
The content analysis report on Punjab textbooks states that there were 45 lines containing hate material in the books published in 2009-11, which rose to 122 lines in 2012. Urdu and Pakistan Studies' textbooks for Class-VII, VIII, IX and X were found to be the "most-affected" as the hate material swelled from 15 lines to 86 lines this year. In all, 22 lessons in the current primary and secondary schools curricula have hate content.
According to the report, the 2009 textbooks for Class-IX and X Urdu (grammar and composition), Class-IX Pakistan Studies textbook, Class-VI History book and Class-VIII social studies had no hate content but the latest versions of these textbooks have three, three, one and four lessons, respectively, that contain such material. The Class-VIII Urdu textbook had also one such lesson, but in the new book the number has risen to three.
The report also mentions that hate material lessons which were part of Class-VII Islamiyat and Class-VIII social studies were removed from the latest textbooks. It is worth mentioning, as per the report, that Punjab's textbooks carry no hate content against Sikhs.
Similarly, the hate material lessons in Sindh Textbook Board (STB) books being taught from Class-I to Class-X in public schools has doubled as compared to 2009-11 textbooks.
The STB Urdu books published during 2009-11 for Class-V, VIII, IX and X carried no hate material but those produced in 2012-13 have one, seven, and one hate material lessons, respectively. The STB, however, removed such material from Class-VI social studies and Class-VII Islamiyat textbooks.
The speakers at a seminar on "Biases in Textbooks and Education Policy" lauded the NCJP's executive director Peter Jacob and researchers Yousaf Benjamin and Attaur Rehman Saman for highlighting the hate content in the textbooks. They said the effort could lead to removal of such material from curriculum to help build a peaceful and tolerant society in Pakistan. Punjab education minister Mujtaba Shujaur Rahman was conspicuous by his absence from the seminar. Educationist Dr A.H Nayyar said the report had precisely pointed out the rot that was pushing Pakistani society and its future generations towards devastation. "Still, there are no signs that these howlers in textbooks will be removed," he said dejectedly.
Sharing his past experiences, he said, the anti-liberal and anti-secular forces were working systematically in Pakistan and frustrated all efforts being made in the right direction with one subtle entry. "In 1997, we worked hard to develop an education policy and developed seven policy drafts one after another. Then, the eighth draft came from nowhere that carried a chapter on 'Islamic education'," he said.
Educationist Dr Baela Raza Jamil said the 1997-like situation was again witnessed in 2009, when Chapter-IV on 'Islamic education' was inserted in the education policy from "backdoor". Within a month's time, the education policy was approved by the federal cabinet.
She said the National Curriculum made in 2006 was much better in many ways but it was never implemented. Still, she said, textbooks were being produced that carried hate material and fostering intolerance among Muslims against Hindus, Christians, Sikhs and the Englishmen.
Dr Jamil called for original thinking and its promotion at all levels to change the rotten mindset prevailing in society. She also urged joint efforts, even in terms of subtle actions, rather than just talking on the issue in seminars.
Educationist Dr Mehdi Hassan said the whole world was afraid of religious education being imparted to children in local madrassahs. Stating that only four per cent children were seeking education in madrassahs, he added that if the government ensured quality and unbiased education to 96 children in public and private schools then that four per cent would become irrelevant. "Teachers are neither competent, nor educated and trained enough to develop a nation that could compete at international level," he regretted.
Commenting that the level of gender discrimination in textbooks was very high, he said, the responsibility to develop a tolerant society lied with the teachers and curriculum-makers.
NCJP's Peter Jacob stressed that hate material must be eliminated form textbooks otherwise incidents like Hindus migration to India and arrest of 11-year Christian girl Rimsha would continue to happen.
He also called for judicial activism and stressed that different discriminatory matters relating to minorities and biased content in textbooks should be taken to courts.
Source: DAWN
Comments
comments