Congratulations Bilawal, my emerging 'Benazir leader'… – by Maleeha Manzoor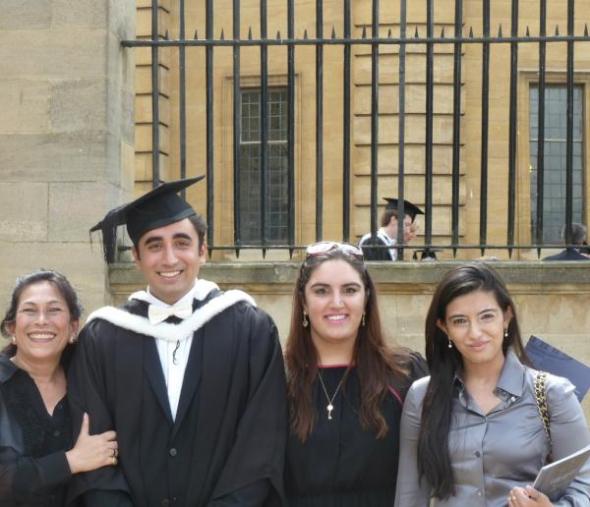 'Bhutto is back!' – Elated with extreme delight, my heart shouts out loud as I perceive the physical traits, features, expressions, elegance and charisma of Bhutto, the man of Millennium, in the young Bilawal Bhutto-Zardari, who turns out to be the successor of martyrs. Nevertheless, eyes mist and heart breaks into trillions when I look at the 24 year old Bilawal – for whom fate chooses the most difficult life – suffering from the pang of losing his 'Benazir Mother', he vows to dedicate his whole life to continue the legacy of the only party of masses to help the country to get out of obscurity. For he is the BENAZIR SON – firm to rip off all types of oppression from his homeland, his family had laid down lives for.
"jo aap (workers) ki takleef hai woh meri takleef hai, hum jiyen ge to akathay hum marenge tou akathay" Bilawal articulates like his Grandfather – who had been an epitome for the trillions. When he addresses, people behold the same attributes, which were seen in his mother and grandfather. Pledging to put forward the legacy bequeathed after the murky December 27; 2007, he becomes the emblem of gallantry. Only few know to live for others, and Bilawal is one of them, for he has spent the electrifying days of youth in mourning for his great mother and striving for the better future of his country. "Ye baazi khoon ka baazi hai, yeh baazi hum hi jeetangay / tum kitnay Bhutto qatal karogey har ghar sey Bhutto nikley ga" Only Bilawal could chant it as he is the only youngster from the Bhutto family, who has endured a lot, yet promised to actualize the dreams of his mother – "My mother died fighting for a Peaceful, Prosperous and Progressive Pakistan. I will never give up on my mother's Pakistan. I will never give up on the woman who sacrificed herself so Pakistan could be free. Her dreams are now my dreams — that is my promise to you; that is my promise to her."
Politics is not inherited; one has to go through thick and thin to make his place. Correspondingly, not politics, but Bilawal is inherited that blood which has been making the soil proud – for decades. Along with studying, he is emerging as the future leader – Dauntlessly speaking against all odds, whether it's bloody terrorism or cursed ethnic violence; whether about Pakistan's sovereignty or courts' verdicts, he justifies being the leader. 'You cannot murder a legacy' – to me, this phrase proves out to be true when I look at Bilawal Bhutto-Zardari, for he is the Benazir's existence.
 "My generation wants peace not war. Must we invest in enough nuclear weapons to destroy each other a hundred times over. Isn't once enough? We would rather have the best schools not just the best tanks. We would rather have the best doctors and best nurses not just the best jets. We would rather our people were fed, clothed and sheltered not armed to the teeth guns locked and loaded ready to kill. We have grown up in a security state our generation will bring about a welfare state."
What Bilawal is destined to do in future, is discernible in essence from his early speeches and writings. Undoubtedly, an intelligent heir to the family he is. But his flair flourishes even more as The Oxford, one of the top most universities of the world, polishes the gem – Bilawal graduates from the university, his mother has dreamed for. The chairman of Pakistan Peoples Party graduates from the institute from which both the martyred chairpersons of party had graduated – A proud moment for his supporters, who are always ready to shed the last drop of blood for him. Though his looks convey certain resemblance of his grandfather, but his academic achievements make him the 'reflection of Shaheed Bhutto'.
It would not be erroneous to say that Shaheed Zulfiqar Ali Bhutto is reliving in the persona of Bilawal Bhutto-Zardari! InshaAllah, Pakistan would be having the third Oxford graduate, from Peoples Party, as its prime minister. For he, Bilawal, is the third Bhutto to chair the party of masses, which is the platform where all democracy lovers are gathered to stand tall against the dual standards. Today, my eyes haze with happiness to see the elder son of my Benazir, following the footsteps of my martyred leaders in true means and converting their dreams and imaginations into actualities.
My Chairman; My leader graduates from the best institute… 
A big 'CONGRATULATIONS' to Bilawal Bhutto-Zardari – the future of Pakistan. Today I celebrate this victorious moment in a manner in which I have never celebrated before, when the eldest son my Bibi is awarded B.A Honors degree in History and Politics from the same institute, my martyred heroes had studied in – As this is not only his success, but all of his diehard supporters, who see their martyred leaders reliving in his persona. Heart bleeds to see that my Benazir is not here with you to celebrate this success, but she would surely be smiling and looking down at you to see her son fulfilling her dreams and commitments. This moment is the happiest one for your father – President Asif Ali Zardari – who had chosen you to become the beacon of hope for the people. He would definitely be proud to find his choice perfect. No one else could be daring like you to sit on your grandfather's and mother's chair to not let martyrs'  blood go in vain. I wish you the best of luck for the future. May you always be protected from the evil sights; May you continue to be a BENAZIR son and becomes a BENAZIR LEADER in future! Pakistan looks forward to have its 'Bhutto' again!
You are not alone. Together we will vanquish over the evil forces and will make our BENAZIR PAKISTAN, InshaAllah! You would never find this 'jiyala' away from you until her last breath – this life is dedicated to you.
Jo faisla hoga nahin woh faisla kardengey hum!
Congratulations once again, our dashing; young and idealistic prince! You are the emblem of heroism. <3 Congrats Grad! <3
I am proud to have you as my future leader (InshaAllah)!
Jeay Bhutto,
Jeay Benazir,
Jeay Bilawal!
Comments
comments