Kohenoor TV studio fire kills five during Ramzan transmission. Thank you, corporate media!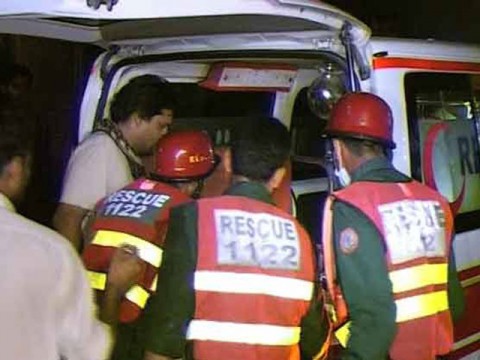 Related post: Dunya News must not politicize the murder case against Mian Amer, Atif Aslam and Qasmi
"Corporate media" refers to a system of mass media production, distribution, ownership, and funding which is dominated by corporations and their CEOs. It is sometimes used to indicate a media system which does not serve the public interest.
In Pakistan, corporate media is dominated by the Jang Group and its Geo TV network and also other channels (ARY, Express, Dunya TV etc). It's the CEOs such as Mir Shakeel-ur-Rahman, Mian Aamir Mehmood, Abdur Rahim Yaqub etc who are real criminals of Pakistani society.
Almost all of these channels are only interested in making quick money, spreading disinformation and hate speech, and reinforcing and propagating the narratives of the powerful institutions and elites.
Their Ramzan transmissions are the single major evidence of their hypocrisy and misappropriation of religion for financial gains.
The Kohenoor TV tragedy is one such example:
At least five people were killed and eight others were injured when fire erupted at Kohenoor TV building during Monday's Sehr transmission in Garhi Shahu area of Lahore. According to media reports, the fire broke out due to a short circuit. Firefighters put the fire out after about one-hour operation. The dead bodies and injured were shifted to Mayo Hospital and Services Hospital. The condition of some of the injured is said to be critical. http://www.nation.com.pk/pakistan-news-newspaper-daily-english-online/lahore/30-Jul-2012/fire-erupts-at-private-tv-studio-5-killed
Two of the reasons of the casualties were that the building's central gate could not be opened promptly, and stairs were too narrow to help the staffers flee the scene on time. Clearly there were not appropriate safety and health procedures in place at the TV station, a typical hallmark of greedy corporations.
While naive activists keep campaigning against Maya Khan, Meher Bokhari, Aamir Liaquat Hussain, Dr. Shahid Masood, Hamid Mir etc, they fail to realize that the real criminals are the greedy media owners who are only interested in higher programme ratings in order to expand their viewership and advertising revenue. Instead of treating the symptoms we need to address the real reasons. Projects such as Aman Ki Asha are a farce when their chief sponsor (Jang Group) is the main source of hate India rhetoric 24/7.
As noted by Murtaza Solangi: Should we call it lack of sensitivity or greedy competition as news papers are not reporting the name of Kohenoor TV fire resulting in death
Here is a legitimate concern shown by a veteran journalist:
Dear all,

This is for the information for all colleagues that at least four persons (all guests who came for special ramadan show) at a private tv channel died while some employees including cameramen were injured because of fire, this morning.

All the guests were invited to recite Naat. This tragedy raise many questions how some of these channels are being run. It need proper inquiry and action.

mazhar abbas
Comments
comments