Stop the bashing against PPP in the name of Liberalism – Aamir Hussaini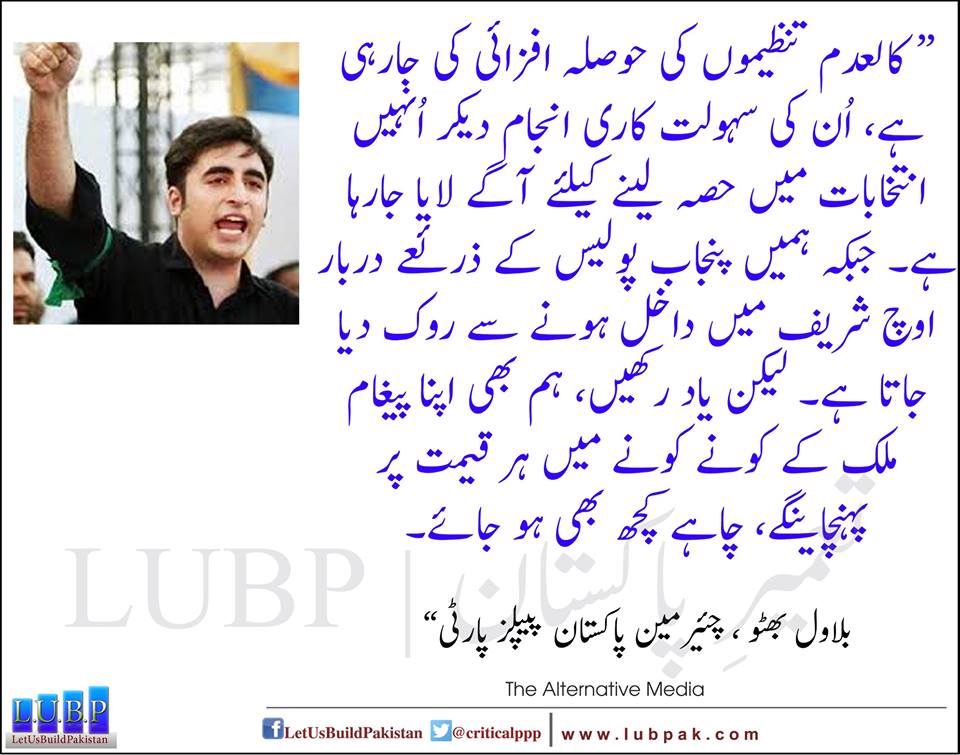 Daily Dawn has written good editorial today about contesting Militant candidates in Election 2018. But in start it writes that Farooqui is being backed in his constituency by the PTI, PML-N and a former provincial minister belonging to the PPP. 'Former provincial minister' is a dodging and obfuscated information because Muzafar Ali Shajra, former provincial minister in PPP's Sindh Government has been expelled from the Party after he he appeared along with Farooqi in Karachi Press Club and declared his support for him. He is contesting independently election while violating party discipline. PPP is the only single Parliamentary Party which has issued its three candidates in Karachi due to their alleged visits to office of #ASWJ and single party, whose Party Chairman and Oppsition leader in Senate categorically declared that PPP would not ask for support in Election from any banned organization even not banned but having sectarian leaning organizations also. Daily Dawn should have mention rather morally good stance taken by PPP.
Some other facts, which shows PPP's intention of defeating the extremist and sectarian candidates are not being highlighted by Pro-Nawaz Sharif liberals.
PPP workers, sympathizers and local office holders took serious notice after emerging news about seeking for ASWJ electrol cooperation from near about six candidates from Karachi, Islamabad, Sargodha Division and they not only showed their reservation publicly and through social media but they raised this issue in the party and with in 24 hours Party issued show cause notices and expelled its former provincial minister. Such Siprit was not shown by any other Party.
Another example is that PPP decided not putting its candidate in NA-115 and PP_125 PP-126 to save liberal votes from dividing but it put its strong candidate in all seats of Malir district to defeat #ASWJ .
Keep in Mind also that those people who are still fake propaganda against #PPP particularly in #Karachi in the name of Liberalism and progressiveness or they are wearing civil society masks, they never showed their solidarity with PPP candidate or with ANP candidate in NA_238 from where Farooqi is contesting election and he is supporting Javed provincial candidate Arsla Khan of PML_n because PTI has given ticket to a Shia person. Aurangzaib Farooqi is contesting also from NA-248 Karachi West and here Abdulqadir Patel is very strong candidate belongs to PPP having strong chances of winning but we did not find even a single statement from those who are wearing civil society mask and used very filthy language when fake propaganda started against Shahzad Memon PPP candidate.
Unfortunately Jibran Nasir choose NA-247 instead of choosing either NA-248 to contest the election where neither #ASWJ nor #ALLah_O_Akbar are contesting the election and here fight was among the three candidates Abdulaziz Memon of PPP, Arif Alavi of PTI and Farooq Sttar of MQM-P. Althouh my humble opinion is that he should not contest the election from those seats against those parties who have put secular and moderate strong candidates.
Another Shia civil society activist Rashid Rizvi,(Who has run very good and effective campaign for release of Shia Missing persons) surprisingly choose NA-254 Karachi Central where neither were #ASWJ #RHP nor #TLY put the candidate but there Liza Mehdi a Shia woman is contesting election on the PPP ticket and Sheikh Salah-ud-din ,a Sufi Sunni on MQM-P.
What was the logic behind the avoiding from contesting the election on NA-248, NA_238 to challenge directly Auranzeb Farooqi from Malir District or Karachi West?
Another way of challenging Aurangzeb Farooqi in Karachi was that both #JibranNasir and #RashidRizvi would announce strong candidates on NA_238 and NA-248 against Farooqi and run very strong campaign in NA-237, NA_238, NA-242, NA_248 from where #RHP 's candidates are contesting.
Please visit twitter handles of Jaffaria News Network, Rashid Rizvi and see on 19 July both again bashed PPP while uploading of pictures of PPP candidates's alleged meetings with leaders of #ASWJ despite on 18th July, PPP Karachi division has been issued Show cause notices to those PPP candidates who allegedly made meetings with #ASWJ leaders and Shahzad Memon has written explanation letter to Saeed Ghani and he has declared that he never asked #ASWJ for support him. Syed Khurshed Shah and Kaira both had apologized in the Party's CEC meeting before one year on their alleged meetings with #ASWJ. These all facts were obfuscated by these so called champions of #Shia_right.
کالعدم سپاہ صحابہ کے دہشت گرد لدھیانوی سے PPP کے قمر زمان کائرہ اور خورشید شاہ، کی ملا قات۔ بلاول بھٹو ایک جگہ پریس کانفرنس میں کالعدم جماعتوں کی مذمت کرتے ہیں دوسری طرف ان کالی بھیڑوں کے خلاف کوئی کارروائی نہیں کرتے۔ PPP نے ہی سندھ میں فاروقی اور تکفیریوں کو پالا ہوا ہے۔ pic.twitter.com/sAGd8Y67v6

— JAFERIA NEWS NETWORK Official (@JNNsms) July 19, 2018
My view is that Jibran Nasir and Rashid Rizvi along with their supporters adopted dubious and ambiguous strategy while posing themselves as real hardliners against sectarian and Takfiri Jihadi elements in #Election_2018 and their strategy created doubts about their intentions.
I have written all these things when bashing and propaganda against PPP could not be stopped in social media despite facts were placed in front of them again and again. I asked Rashid Rizvi and other people not obfuscate facts while criticizing the mainstream political parties's wrong strategy of making alliance or seeking support of banned organizations and demanded that they should mention good actions taken by PPP in this regard but they started bashing and deceiving propaganda against PPP.
During Election 2018, proportion of their criticism against #PPP is very massive and harsh as compared to their criticism against #PTI and #PML_n even they supported many times #PML_n while projecting Nawaz Sharif as Anti-Establishment and putting all blame just on Army and Judiciary on question of #Shia_Genocide and #Mainstreaming_of_Banned_ASWJ and sparing #PML_n. In other word they consciously or unconsciously followed the line of #Commercial_Liberal_mafia in service of #Sharifia_dynasty.
https://www.dawn.com/news/1421901/militant-candidates
Comments
comments