If I'm standing before you today, it may be you tomorrow, says Wahid Baloch's daughter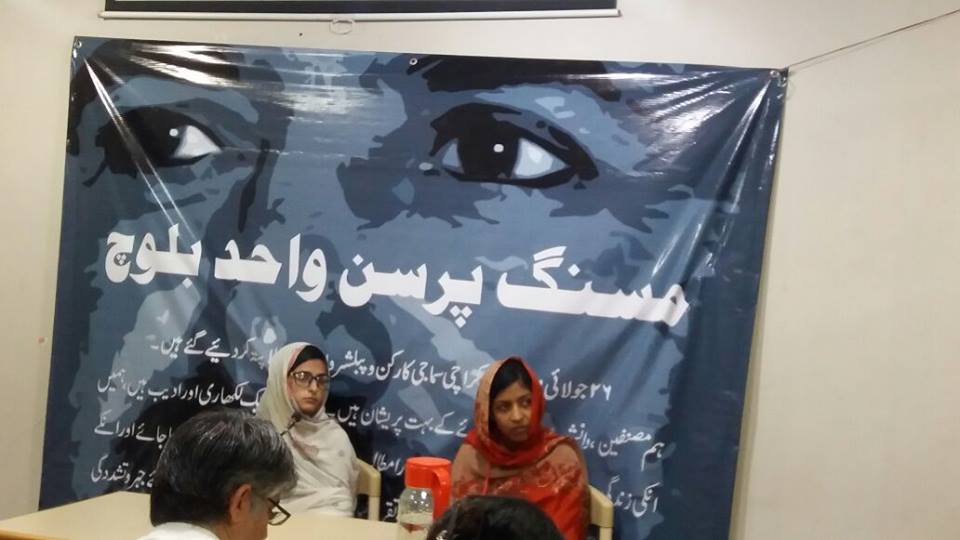 Speakers at seminar say missing persons now a national issue
"If I'm standing before you today, it could be you in my position tomorrow," Hani Baloch, daughter of literary figure Wahid Baloch who has been missing for over two and a half months in what is alleged to be a case of enforced disappearance, told an audience at a seminar on Saturday evening.
"As time ticks away, I want to reaffirm my resolve to fight for him and want to encourage everyone else to do the same because if a peace-loving man who was vested in books can't be spared, nobody else can be," she added.
The seminar titled "Democratic Struggle and Missing Persons" was held at the Irtiqa Institute.
Hani, who sat with her sister Maheen, was impassive before she was called to speak about Wahid Baloch, who was  abducted on July 26, but she was able to rouse the people sitting in the room who shared their own experiences of dealing with cases of missing persons.
"We gloat with pride because we are a democracy but am I allowed to demand about the whereabouts of my father in accordance with my democratic rights?" she asked.
'Doesn't my family deserve to at least know the list of allegations lodged against him so he could be tried before law?"
She added that if the State wished to provide them with guidelines as to how they should live in the country, she would comply with them because she was perturbed by the recent development especially for her father, who was known as a person devoted to literary progress.
Taking an overview of the scenario, the speakers at the seminar said the issue of missing persons was not confined to cities or a province rather it was now growing and could be dubbed as a national issue.
Dr Hafeez Jamali, a professor of social sciences, observed that it was hard to find someone in Balochistan who would not know a missing person: "The young men have nightmares because they fear they would be next. Rather even in 2010, the fisherfolk in Gwadar who were away from the conflict zones wouldn't think of heading to Karachi because the thought of their bus being stopped frightened them."
He pointed out that with every passing year, the shift in power spelt out the destination for the state.
"We are heading back to the same colonisation from which we achieved independence – there were two dominant features of the colonisers, they used to transform the place into garrisons and secondly they divided the residents on the basis of ethnicities, race and religion. Life of anyone dubbed as 'lesser' or 'backward' had no worth and the people were routinely subjugated.  The same pattern can be seen here as well."
Abdul Hai of the Human Rights Commission of Pakistan said many a time, people did not report out of fear of authorities but given that this was happening almost everywhere, it should be dealt with through collaborative efforts.
Riaz Ahmed, an activist and a professor at University of Karachi, said the narrative legitimising illegal detentions needs to be changed.
"The idea that anyone who is being picked up is a militant or a threat to national security should be addressed because this is an inhumane narrative. It implies that anyone who questions the State's policies can face a similar fate."
Agreeing with Ahmed, Dr Jamali said the notion "give a dog a bad name and hang him" must be stopped because it created suspicion about who ended up in the gallows or on the streets.
It was concluded by all that the only way to counter this was to rally against those responsible for it because finding the missing persons was not the premise, rather it was to provide them with justice. All attendees later signed a petition demanding speeding up efforts for Wahid Baloch's release.
Source:
https://www.thenews.com.pk/print/157653-If-Im-standing-before-you-today-it-may-be-you-tomorrow-says-Wahid-Balochs-daughter
Comments
comments