Abdul Wahid Baloch:My father is not less important than Son of CJ Sindh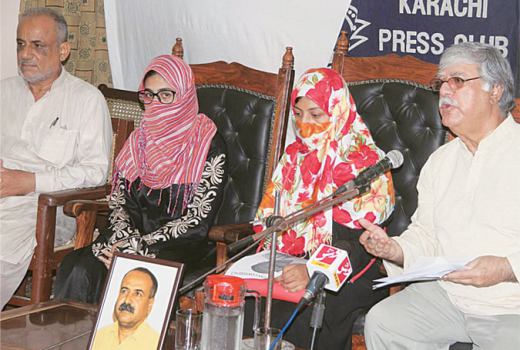 A renowned Baloch writer, poet Abdul Wahid Baloch is missing since 26th July,2016.It means 57 days have been passed.According to daughter of the said missing Baloch writer, Abdul Wahid Baloch is coming from MirpurKhas a city of interior Sindh along with his friend Sabir Nughman Baloch after attending a marriage ceremony of his friend in a bus coming to Karachi.When bus arrived at a toll plaza on highway connecting Karachi to other cities of Sindh (Irony is that this place  always remains under surveillance of Pakistan Rangers Sindh and other Pakistani Intelligence Agencies), bus was stopped and there were two men in plain clothes entered the bus and started checking identity cards of passengers sitting in the Bus.
They came toward those seats where Abdul Wahid Baloch and his friend were sitting.When they saw word "Baloch " at the and of Abdul Wahid on his identity card, they quickly held Wahid Baloch and tried to take him to a blue car which was standing there. Nughman Baloch friend of Wahid Baloch objected on arrest of his friend ,persons in plain clothes  dragged him also to blue car without number plate.After some time Nughman was released because they did not find name Baloch at the end of Nughman on his identity card.
From here a series of events started which expose real face of Police, Pakistan Rangers Sindh, provincial and federal authorities.
"We went to Gadap Police Station Karachi and gave an application for filing a case of abduction.After receiving our application Police officials at Gadap Police station asked us to go and come next day.We went next day again Gadap Police station but Police did not registered First Information Report-FIR and asked us again to come next day.On 3rd day when we arrived at Gadap Police station then there was a changed environment and now Gadap Police clearly informed us that Abdul Wahid Baloch was picked up by agencies and they are not able to register a FIR.When we insisted then Gadap police wrote our complaint against unknown persons in police's daily Diary  but they refused to hand over copy of that.And Police of Gadap Police station threatened and frightened us." , said Hani Baloch daughter of Abdul Wahid Baloch.
" After police refusal to give copy of complaint written in police's daily diary of Gadap Police Station we approached to Human right Commission for Pakistan-HRCP. Where concerned person gave us a farm to fill.We filled the farm.Then HRCP wrote letters to I.G Sindh , D.G Rangers Sindh and SHO of Gadap Police station and asked them to register FIR but not single official responded.Even Gadap Police Station Karachi did not received that letter sent through Registry from post office and through TCS-a private courier service." , told Hani Baloch while tears were in her eyes.
When neither I.G Sindh, D.G Rangers Sindh and other provincial authorities did not responded after many days passed then on 2 August,2016 we submitted a writ petition to Sindh High Court.SHC issued notices to federal ministry , federal interior ministry , D.G Rangers Sindh, Home secretary Sindh and Gadap Police station Karachi.First hearing was on 15th August ,2016." , Said Hani Baloch.
Meanwhile Asad Iqbal Butt , Vice Chairman of HRCP of Sindh chapter held a press conference in Karachi Press Club along with two daughters of missing writer Abdul Wahid Baloch and revealed that all letters sent to officials of law enforcement agencies were returned and not a single institution bothered to receive their letter in case of Abdul Wahid Baloch.According to Asad Iqbal Butt, Vice Chairman of HRCP Sindh chapter there was fact finding commission set up by HRCP on 3rd August,2016 and which saw strong evidences of involvement of intelligence agencies in missing of Abdul Wahid Baloch.
Statements were submitted to SHC two member bench  on behalf of DG Rangers Sindh, SHO Gadap Police station Karachi and others are in state of denial.All officials refuted claim of applicant of sending letters about missing of Abdul Wahid Baloch.SHO Gadap police station Karachi did not admit claim of applicant to come and file an application for registration of case against those persons who picked up Abdul Wahid Baloch at toll plaza Karachi.
" Ground check was carried out in all 8 sectors of  Rangers Sindh on order of SHC and it was revealed that Abdul Wahid Baloch neither was arrested  nor detained by Pakistan Rangers Sindh" , statement says submitted by Rangers Sindh on behalf of DG Rangers Sindh.
Same stance was taken by other officials in front of SHC.Now SHC two member bench is given dates for next hearing.
"Result of hearing is just pending nothing else.Wahid Baloch my father's case hearing once again put on pending till 26th September,2016."  , said Hani Baloch.
Response of Civil Society and Mainstream Media:
" I had knocked every door but could get only cold response from big names in anchor persons, media analysts.Even majority of big guns of civil society are not ready to raise issue of enforced missing of Abdul Wahid Baloch.Many famous anchors, journalists and civil society workers did not reply of my e-mails sent to them." , says Zulfiqar Ali Zulfi ,who is writer, blogger on social media.
I myself contacted to some journalists including Hamid Mir (Who calls himself champion of Baloch cause and blames of attack on him  to intelligence agency ISI due to his policy on Baloch Question but no response from them.Not a single T.V channel from our so called vibrant mainstream media offered to host a talk show on enforced missing of writer, poet Abdul Wahid Baloch.
I have sent messages to Progressive Writers Association-PWA, leaders of Pakistan Workers Party, International Socialists. Pakistan Mazdoor Mahaz and others persons (who are prominent in left and liberal circles of Pakistan) including Farzana Bari, Farooq Tariq, Shaan Taseer (son of former governor of Punjab Late Salman Taseer), Riaz Ahmad etc and requested to raise the said issue and start a social campaign for early recovery of Abdul Wahid Baloch.I am still waiting for their steps taken by them. Raza Rumi replied me that he was not in Pakistan and it was not possible for him to do something which would help this issue highlighting in mainstream media.
I am waiting for an open letter to Sindh government, Federal government of Pakistan with signatures of renowned writers, intellectuals from all over the country Pakistan in which demand for recovery of writer Abdul Wahid Baloch was made.
Abdul Wahid Baloch was working as Phone Operator in Civil Hospital in Karachi.He is writer , poet and in-charge of Sayed Hashmi Reference Library Liyari district of Karachi.He was editing a magazine for Balochi language and literature.He was very active for Baloch rights and struggling against enforced missing of Baloch people.Now he has himself included in list of enforced missing people.
My friend and editor of very progressive rights based  blog Let Us Build Pakistan-LUBP says, " Humanity seems dead here in Pakistan where Abdul Wahid Baloch a lover of books has been allegedly picked up by intelligence agencies and Takfiri Deobandi (Exclusionist Deobandi) Ramzan mengal is roaming freely in Balochistan."
There are some people on social media who are raising issue of enforced missing writer, poet and social activist Abdul Wahid Baloch and majority is also there indifferent.
Hani Baloch, daughter of Abdul Wahid Baloch wrote an open letter to his father which shakes everybody who reads it.
" Aamir Bahai! Nobody is not ready to listen my voice and to feel my pain here.Is my father not citizen of this country having importance equal to son of Chief Justice of Sindh High Court?" , Hani sent  a message to me on WhatsApp.
Source:
https://jagarti.wordpress.com/2016/09/22/abdul-wahid-balochmy-father-is-not-less-important-than-son-of-cj-sindh/
Comments
comments