Indian PM's hypocrisy on Saudi Arabia and their Cheerleader Zakir Naik – by Sushant Taing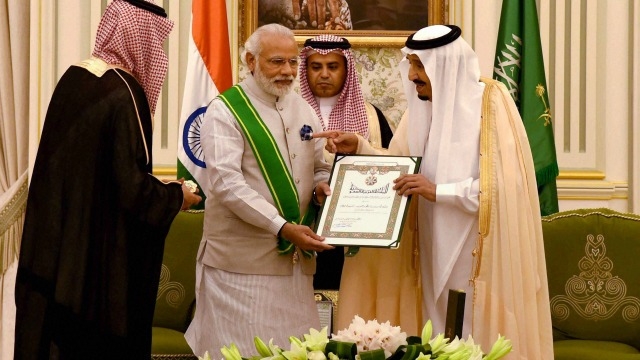 Yesterday Modi ji, while on an official visit to Kenya, addressed the students at University of Nairobi. He pitched for a world free from terror and hate and took a dig at Salafist hate monger Zakir Naik by saying that (verbatim in English only) –
"Preachers of hate and violence are threatening the fabric of our society,"
And you Modi ji, instead of arresting/prosecuting most of those preachers, make them ministers in your cabinet, be it the "Ramzaadi" Sadhvi Niranjan Jyoti (Minister of State for Food Processing Industries) or Pakistan immigration official Giriraj Singh (Minister of State for Micro, Small and Medium Enterprises).
And that's not all, Modi ji also added in his speech at University of Nairobi –
"Those giving shelter to terrorists and using them as political instruments must be condemned."
Wow. So when are you going to unequivocally condemn the Kingdom of Saudi Arabia and renounce their highest civilian honor, which was conferred on you by none other their King, Salman bin Abdulaziz Al Saud, when you visited their kingdom in April this year?
P.S. This post will have very few likes and probably no shares as it will piss off both Sanghis & Musanghis equally ? and that's what I  doing.
Refer –
http://m.timesofindia.com/…/Preach…/articleshow/53157660.cms
http://indianexpress.com/…/modi-saudi-arabia-king-abdulazi…/
Comments
comments