Muslim Man kills his 'estranged' young Hindu friend in Sindh, Pakistan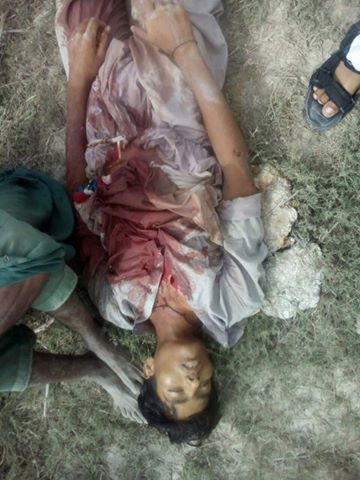 Brijmohan Das | HENB | Karachi | June 15, 2016: A Muslim man allegedly stabbed to death his estranged teenage Hindu friend while the latter was busy working in fields along with his family members in Abdullah Shah village near Matli on Tuesday.
Sohnu Kolhi told police that his 16-year-old son, Vijay Kumar, was stabbed to death in front of him and other family members. He alleged that assailant Ali Haider was accompanying a local Chandio man (Baloch tribe landlord of Islamic faith). He also stated that his son, a class-X student, was killed at the behest of Soomar Chandio, but could not explain a motive behind the murder.
Tando Mohammed Khan SSP Ghulam Shabbir Sethar has directed the Tando Ghulam Haider SHO to register an FIR against the three suspects.
A large number of people belonging to the Kolhi community (a large Hindu tribal community of Sindh) , along with the affected family, held a demonstration on Badin-Hyderabad Road and kept it blocked for two hours demanding arrest of the killer and his associates.
The SSP said it seemed to be an honour killing case as some one told that the deceased Kolhi Hindu boy had a affair with a Muslim Chandio community girl. But, an investigation can reveal the motive of the murder if it would be conducted from different angles.
Comments
comments