Deleted official report says Saudi key funder of Hillary Clinton campaign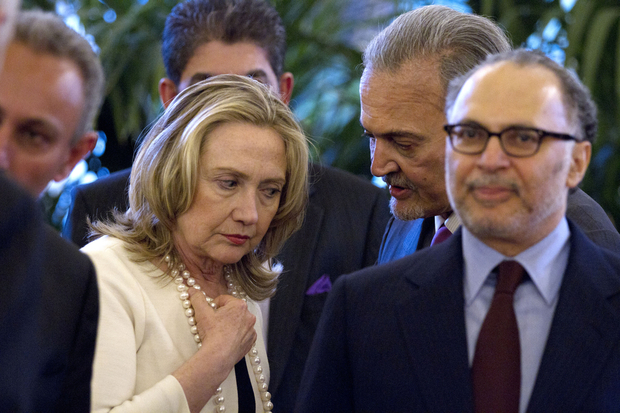 Saudi Arabia is a major funder of Hillary Clinton's campaign to become the next president of the United States, according to a report published by Jordan's official news agency.
The Petra News Agency published on Sunday what it described as exclusive comments from Saudi Deputy Crown Prince Mohammed bin Salman which included a claim that Riyadh has provided 20 percent of the total funding to the prospective Democratic candidate's campaign.
The report was later deleted and the news agency has not responded to requests for comment from Middle East Eye.
It is illegal in the United States for foreign countries to try to influence the outcome of elections by funding candidates.
The Washington-based Institute for Gulf Affairs has re-published the original Arabic Petra report, which quoted Prince Mohammed as having said Saudi Arabia had provided with "full enthusiasm" an undisclosed amount of money to Clinton.
"Saudi Arabia always has sponsored both Republican and Democratic Party of America and in America current election also provide with full enthusiasm 20 percent of the cost of Hillary Clinton's election even though some events in the country don't have a positive look to support the king of a woman (sic) for presidency," the report quoted Prince Mohammed as having said.
The US Federal Election commission reports that over the past two years Clinton has raised a little more than $211.78m. Twenty percent of this sum is $42.35m.
A screenshot of the English report published and then deleted by the Petra News Agency
The report was published on the eve of Prince Mohammed making an official visit to the United States.
The Saudi Press Agency reported on Monday that the senior royal was due to fly to Washington where he will meet officials to discuss US-Saudi ties.
He will remain in the American capital until 16 June, when he will travel to New York for meetings with financial companies, the Saudi Gazette reported.
Prince Mohammed will discuss regional issues with American officials, and he will hold talks with the financial companies about his vision for diversifying Saudi Arabia's economy away from oil dependency.
Links between Saudi Arabia and the Clinton family, including with Hillary's campaign, are well reported.
In 2008, it was revealed that the Gulf kingdom had donated between $10m and $25m to the Clinton Foundation, a charity set up by Hillary's husband and former US President Bill Clinton.
Last year the Centre for Studies and Media Affairs at the Saudi Royal Court paid public relations firm the Podesta Group $200,000 for a month-long project to provide "public relations services".
The Podesta Group was founded in 1988 by brothers John and Tony Podesta. John Podesta is the chair of Hillary Clinton's campaign to become the next US president.
Hillary Clinton's campaign did not respond to a request for comment at the time of publication.
Source:
http://www.middleeasteye.net/news/deleted-official-report-says-saudi-key-funder-hillary-clinton-presidential-campaign-223282807
Comments
comments