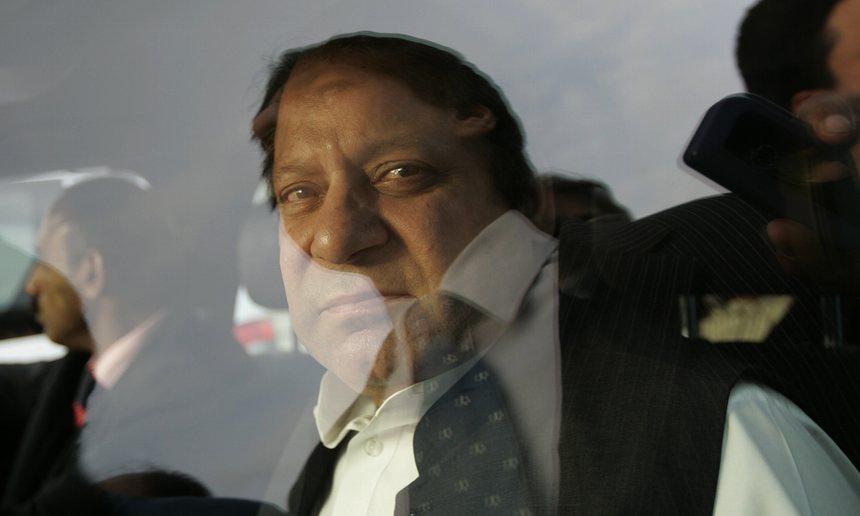 The children of Pakistan's prime minister, Nawaz Sharif, raised a £7m loan from Deutsche Bank against four flats in Park Lane in London owned by offshore companies.
Acquired while Sharif was in opposition, the properties were owned by British Virgin Islands shelf companies on the books of the offshore agent Mossack Fonseca, the Panama Papers show.
The Sharif family's investment in upmarket London property was disclosed in 1998 by Rehman Malik, a political opponent and the head of Pakistan's Federal Investigation Agency, who had fled to London after allegedly being arrested and tortured.
Malik compiled a report that he claimed showed the Mayfair homes had been bought using "ill-gotten wealth earned through corrupt practices". He claimed they had not been declared on tax returns, in breach of Pakistani law.
In April 2000, after Sharif had been toppled from his second term as prime minister and put in prison by Pakistan's then military leader, Pervez Musharraf, the country's chief corruption prosecutor repeated the allegations, saying: "We believe the money used to buy these apartments was stolen from the people of Pakistan."
Sharif and members of his family have always denied any wrongdoing, and none have ever been convicted of any offence. Supporters say the charges against them are politically motivated. It is not illegal to own property through an offshore company.
Yesterday the family responded to the furore in Pakistan with a statement saying the Panama Papers "have made no allegations of wrongdoing against the Sharif family", and that "all of the corporations owned by the Sharif family are legal and financially sound".
In October 2008, Nawaz Sharif's son Hussain and daughter, Mariam, turned to the Swiss arm of Deutsche Bank to borrow large sums, using the flats as collateral.
Three BVI companies were used to raise the loan, which entitled Nawaz Sharif's adult children to borrow £3.5m in cash and a further £3.5m in money to be invested in "liquid assets" by Deutsche Bank.
Deutsche Bank said: "We fully recognise the importance of this issue. We have enhanced our procedures for bringing clients on board and verifying with whom we are doing business, and our policies, procedures and systems are designed to ensure that we comply with all applicable rules and regulations."
Deutsche began auditing its private banking clients in 2013, seeking confirmation that they complied with all relevant tax rules. Checks on its Swiss and Luxembourg clients are now understood to be complete.
The flats in question are at Avenfield House overlooking Park Lane, where Sharif was once photographed at a press conference with his political rival Benazir Bhutto. They are held by two BVI entities on the books of Mossack Fonseca, Nielsen Enterprises and Nescoll Limited.
Using her married name, Mariam Safdar, Sharif's daughter declared herself as the sole shareholder of Nescoll in 2006 in a letter filed with Mossack Fonseca.
Under the arrangement with Deutsche, Nescoll and Nielsen were allowed to borrow up to £1.75m each, and a third BVI company not represented by Mossack Fonseca, called Coomber Group, another £3.5m. Papers for Coomber were signed by Mariam and Hussain Nawaz Sharif in June 2007.
In their statement, the family said the companies in question belonged to Hussain Nawaz Sharif and not his sister, and that he had filed all relevant tax returns. "None of the corporations mentioned are owned or run by Mr Nawaz Sharif, the prime minister of Pakistan. Ms Mariam Nawaz Sharif is not a beneficiary or owner of any of these companies." The statement added that Ms Nawaz Sharif had not received any income or financial benefits from the corporations owned by her brother "that warrant any tax disclosures or implications".
"Ms Mariam Sharif is merely a trustee of the corporations owned by Mr Hussain Nawaz, which only entitle her to distribute the assets to Mr Hussain Nawaz's family if required. Mrs Hussain Nawaz has unequivocally and clearly disclosed all corporations mentioned in the leaks, their sources of funding – primarily the sales of the steel mill in Jeddah – and other financial facts in recently televised interviews."
Seen as a rising star in her father's Pakistan Muslim League party, Mariam Safdar launched a political career of her own in the most recent general elections in Pakistan, campaigning in her home city of Lahore.
Investments in sugar and iron businesses in the 1980s have made the Sharifs one of the wealthiest families in south Asia. The Park Lane flats were bought between 1993 and 1996, but the companies behind them were not transferred to Mossack Fonseca until 2006.
Leaked data shows it took the firm until 2012 to realise that it was acting as agent for the companies. Sharif returned to power for a third term as prime minister in 2013. The firm was concerned enough to immediately place the companies on a watch list, ordering checks every six months.
A note on the files warned not to offer Mossack Fonseca's own staff as nominee directors or shareholders. The British Virgin Islands authorities were alerted, in a letter that mentioned Mariam Safdar was the owner of Nielsen and that the company had a loan with Deutsche Bank in Geneva.
But the firm appears to have carried on processing paperwork, including the appointment of new directors, and acted for the Sharifs until their companies were transferred to another representative two years later.
Anti-money-laundering laws and guidelines require licensed organisations and individuals, including banks, accountants and lawyers, to carry out enhanced checks on politicians, public officials, their friends and associates. So-called politically exposed persons (PEPs) have the same legal right to be directors and shareholders in offshore companies as other individuals. But their dealings are supposed to attract additional scrutiny, particularly with regard to the sources of funds.
Mossack Fonseca said: "PEPs do not have to be rejected just for being so, it is just a matter of proper risk analysis and administration. We have duly established policies and procedures to identify and handle those cases where individuals either qualify as PEPs or are related to them. PEPs are considered to be high risk individuals. Hence, enhanced due diligence procedures apply in these cases. Periodic follow-up is conducted to assure that no negative results are found."
Source:
http://www.theguardian.com/global/2016/apr/05/pakistan-prime-minister-nawaz-sharif-children-deutsche-bank-panama-papers?CMP=share_btn_tw