Saudis arrest activist who got 'courage' award from Clinton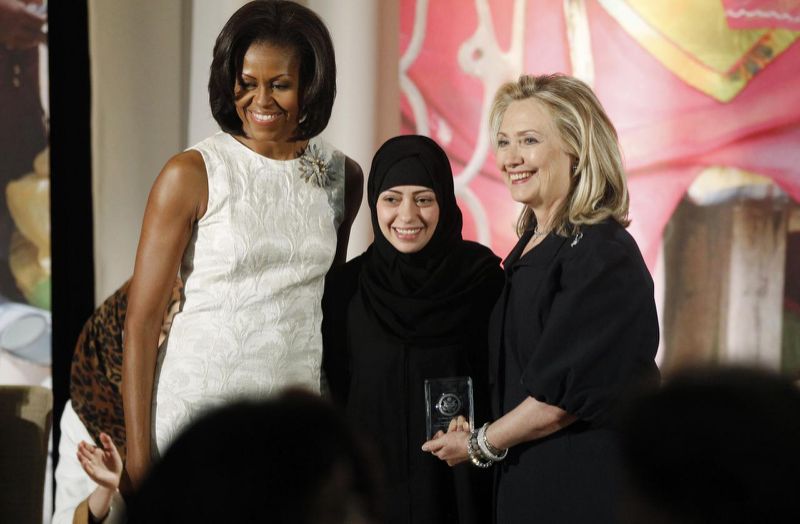 Hillary Clinton and Michelle Obama present an International Women of Courage Award to Samar Badawi in 2012. (Photo: Charles Dharapak/AP)
In what appears to be latest sign of an intensifying crackdown on political dissidents, the Saudi government has arrested a prominent human rights activist who was awarded an International Women of Courage Award in 2012 from then Secretary of State Clinton.
Samar Badawi was arrested in Jidda Tuesday morning and taken, along with her 2-year-old daughter, to a police station for questioning over postings she made on the Twitter account of her imprisoned husband, a human rights lawyer, according to a report on her arrest by Amnesty International.
She was then transferred to a local prison and is due to appear before a prosecutor Wednesday.
The arrest, following last week's executions of 47 prisoners, including a prominent Shiite cleric, drew an immediate protest from a senior State Department official who said Badawi appeared to have been imprisoned for exercising her "freedom of expression."
"We're very concerned about this," Tom Malinowski, assistant secretary of state for human rights, told Yahoo News. "We would urge the Saudi authorities to release her and drop any charges."
A press spokesman for the Saudi Embassy did not respond to a request for comment.
The case presents yet another potential dilemma for the Obama administration, which has tried to walk a fine line between speaking out against perceived human rights abuses by the Saudis and not alienating one of the closest U.S. allies in the Middle East.
It could also create awkward questions for Clinton, whose former assistant secretary of legislative affairs, David Adams, was recently hired to lobby for the Saudi government in his new role as a principal of the Podesta Group (a major D.C. lobbying group headed by Clinton campaign fundraiser Tony Podesta).
"Needless to say, Hillary Clinton is alarmed by the arrest of Samar Badawi, who has been a courageous champion for human rights in Saudi Arabia," said a statement from the Clinton campaign. Adams and Podesta did not respond to a request for comment.
When Clinton gave Badawi the Women of Courage award in 2012, the State Department hailed her as a "powerful voice" for women's issues in the country, citing her efforts on behalf of women's suffrage and challenging the country's guardianship system, which prevents women from working and traveling without a male guardian's permission.
As part of receiving the award, Badawi came to the U.S. and met with Clinton and first lady Michelle Obama. On Tuesday, U.S.-based Saudi human rights activist Ali al-Ahmed posted a picture of the trio on Twitter and asked, "Will you call for her freedom?"
Source:
https://www.yahoo.com/politics/saudis-arrest-activist-who-got-1341938295775286.html?soc_src=social-sh&soc_trk=tw
Comments
comments